Stephanie Reinhart wanted to get married at City Hall. Her partner, Mark Jockel, wanted a huge wedding with all their friends and family there. So the couple compromised: they invited all their friends and family to their wedding, but they didn't get married in a lavish ceremony. Instead, the couple got hitched at mile eight of the Bank of America Chicago Marathon on Sunday.
According to People, the wedding took only four minutes (the couple had another 18 miles to run), and while Reinhart got the short-and-sweet ceremony of her dreams, Jockel got to declare his love for his new wife in front of 40,000 people (many of whom did not expect a wedding during the marathon). Plus, the newlyweds say that all their friends showed up to support them, some traveling from as far as Washington and Colorado. But it's not like this was just a stunt—the couple met while training for a marathon in 2013. And Jockel wasn't even that enthused about the whole thing at first.
Jockel admits that at first he wasn't so sure about tying the knot on the busy course. "It took me a day or two to come around to the idea," he said. "But everyone I talked to about it was like, 'That's the most incredible thing I've ever heard. You've got to do it.' "
That actually sounds pretty lovely and is a refreshing take on the public proposal/marriage because the couple didn't make it all about themselves, didn't take up everyone's time for more than a few minutes, and still completed the run afterwards, which is a sign of their stamina and commitment, if nothing else. Plus, there's no mention of a reception, so maybe Reinhart and Jockel were able to feign being tired after the run, freeing them up to go home and watch TV instead of having to deal with their friends and family. Sounds like a perfect day to be honest.
Oh, and the couple got something special from the marathon, too:
...when they finished, race officials had a special treat for the newlyweds: bibs that read "Bride" and "Groom," which they happily wore for pictures.

"The marathon reached out to us to say we should swing by the media center afterward," Reinhart said. "And I figured it was either something really cool or it was an arrest warrant."
G/O Media may get a commission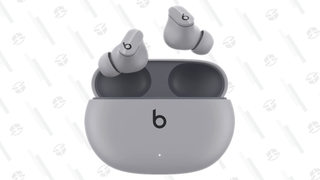 ---
Contact the author at mark.shrayber@jezebel.com.