In years past, the CMT Music Awards could be counted on to provide clouds of big hair, a sea of sequins, and waves of taffeta. Unfortunately, modernization has caused country stars to tone it down a little bit.
But apparently, things aren't that modern. Of all the 100s of pictures I looked through, I only spotted three people of color: Ludacris, Hines Ward, and this guy, Cowboy Troy. I honestly would like to know how Cowboy Troy feels when he sees guys like this one wearing scary patches all over his shirt. (Two of those patches were about shooting guns at people.)
On to more pleasant ensembles: Sunny Sweeney, Cheryl Hines, and Melissa Peterman did short and sparkly.

G/O Media may get a commission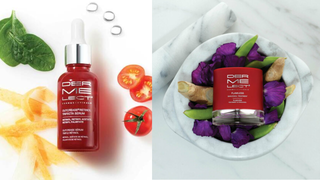 Save $19
Retinol Renewal Kit
Shania Twain, Sara Evans, and Jennifer Nettles (from Sugarland) are among the most successful country music acts of this century. You wouldn't know it from these dresses.

Lauren Bell Bundy's purse looks like woven magazine clippings. Did she get it from Etsy or something?

American Idol runner-up Lauren Alaina came the closest to what I consider to be a classic country look: Some shiny shit, some fluffy shit, and some big hair.

What the fuck is happening here? Nicole Kidman's dress is ill-fitting, weirdly-cut, with a Charlie Brown shirt pattern thrown in for good measure just to completely confuse everyone.

Ashton Shepherd, Dianne Warren, and Martina McBride are a little too casual.

Recognizable celebrities like Kristin Chenoweth, Mary Steenburgen, and Sheryl Crow recognize that gowns are perhaps the way to go for an awards show.

I'm being completely sincere when I say that I thought Justin Bieber had the best shoes.

Aside from the names attached to their photos—Sarah Darling, Susie Brown, Danelle Leverett, and Jana Kramer—I have no idea who any of these women are, but they seem like teenagers…especially that one in the middle in what can only be a Betsey Johnson dress.

You'd probably never guess it but the three on the left: Big Kenny, Gretchen Wilson, and John Rich are very wealthy people. The chick in the middle is from that band Paramore. She played her vagina like it was a guitar at the VMAs one year. The ones are the right are from the Band Perry. While I'm sure the brother in the leather pants isn't going for irony, he could easily fit in in Brooklyn.

Ugh. I can practically smell the Axe body spray coming through the screen. I feel like Mystery and Criss Angel are equal parts responsible for this.