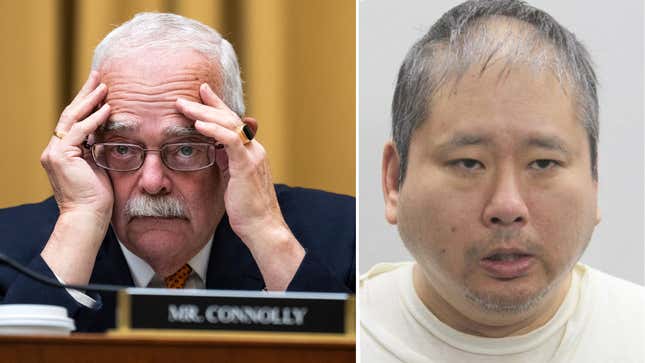 On Monday, two staffers for Rep. Gerry Connolly (D-Va.)—including one intern who was working her first day in the Congressman's district office—were assaulted by a constituent of the district, Connolly has confirmed in a statement. The man who attacked the staffers first asked for Connolly, who was at a ribbon-cutting ceremony for a new food bank.

Republicans Pull Out All the Stupid Stops While Debating Abortion
The assailant, who's since been detained by police, was armed with a metal baseball bat and reportedly struck a senior aide in the head with the bat as well as the intern, CNN's Manu Raju first reported. In a press release shared with Jezebel, Fairfax Police Department, which responded to the attack, identified the assailant as Xuan-Kha Tran Pham, 49, and said "no motive has been determined" at this time.
"This morning, an individual entered my District Office armed with a baseball bat and asked for me before committing an act of violence against two members of my staff," Connolly said in the statement. "The individual is in police custody and both members of my team were transferred to the hospital with non-life-threatening injuries."
The assailant also shattered glass doors in the office and destroyed multiple computers, before police arrived on the scene within five minutes of receiving an emergency call for help. In addition to the two Congressional staffers, Fairfax PD said in its press release that one police officer also "sustained a minor injury and is receiving medical treatment." Pham is being held at the Fairfax County Adult Detention Center without bond, police confirmed.
The attacks on Connolly's staffers come at a time of rising violence targeting especially Democratic lawmakers and those close to them. In February, Rep. Angie Craig (D-Minn.) was violently assaulted by a man who punched her in the face and grabbed her neck in the elevator of her D.C. apartment building. In the fall, Rep. Nancy Pelosi's (D-Calif.) husband, Paul, was violently beaten by a home invader who was looking for Pelosi. Prior to that, Pelosi and other top Democrats have been the subject of several bomb threats from openly right-wing actors in recent years. And all of this comes after the Jan. 6 insurrection saw Trump supporters storm the Capitol, actively seeking top Democratic lawmakers to attack, while on the state level, Democratic governors like Michigan Gov. Gretchen Whitmer have been the subjects of numerous threats and plots against their lives.

Connolly has served in Congress representing the D.C.-adjacent suburbs of Northern Virginia since 2009. "I have the best team in Congress. My District Office staff make themselves available to constituents and members of the public every day," Connolly's statement concluded. "The thought that someone would take advantage of my staff's accessibility to commit an act of violence is unconscionable and devastating."