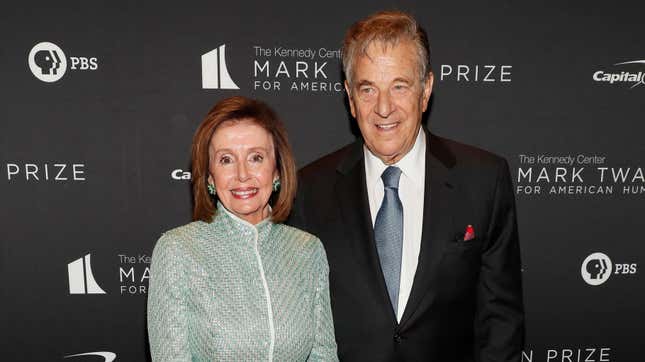 Update, Oct. 31, 3:17 pm: As of Monday afternoon, a newly released report by the FBI debunks several right-wing conspiracy theories that have since emerged about the attack on Paul Pelosi. The suspect, David Depape, himself admitted to breaking into the home using a hammer, stated that he was "going to hold Nancy Pelosi hostage," and explained that he was motivated because he saw her as "the leader of the pack." The FBI report comes as right-wing media have pushed the homophobic theory that Depape wasn't an intruder attempting to kidnap the Speaker, but Paul's gay lover whom he'd voluntarily welcomed into the house.
Republicans Pull Out All the Stupid Stops While Debating Abortion
Update, Oct. 28, 1:40 p.m.: The suspect in this attack has been identified as David Depape, 42, of Berkeley. He's reportedly a "former Castro nudest protester" and is being charged with attempted homicide, assault with a deadly weapon, elder abuse, and burglary. Later, a review of Depape's social media activities by CNN revealed a history of posts spreading lies about the outcome of the 2020 election, transphobic posts, videos spreading right-wing conspiracy theories from the far-right MyPillow CEO Mike Lindell, attacks on the Congressional Jan. 6 Committee, and racist commentary about George Floyd.
Early Friday, the office of Speaker Nancy Pelosi (D-CA) issued a statement confirming that her husband, Paul Pelosi, 82, had been the victim of a violent assault when their San Francisco home was broken into overnight. Pelosi herself was not in the district at the time.

At around noon on Friday, law enforcement sources told ABC News that the attack was politically motivated. The male assailant, who broke in through a sliding glass door wielding a hammer, was allegedly looking for the Speaker and repeatedly shouted, "Where is Nancy, where is Nancy?" CNN later reported that the assailant attempted to tie up the Speaker's husband to hold him hostage until Pelosi got home. When police arrived on the scene, the man told them, "We are waiting for Nancy."
Paul's injuries are reportedly "significant," but he's expected to recover.
The assailant has been in police custody since of Friday morning. According to Pelosi's statement, Paul was taken to the hospital after the attack and "is receiving excellent medical care and is expected to make a full recovery." San Francisco police told the Daily Beast that an official statement on the attack from the department will come later on Friday.
"Thank God [Nancy Pelosi's] husband Paul is safe after being attacked in their home by an assailant," Rep. Jackie Speier (D-CA), another San Francisco-based House member, tweeted on Friday. "While the motive is still unknown we know where this kind of violence is sanctioned and modeled."

The targeted attack on Pelosi's home, which seems to have been an attempt on her life, comes after right-wing media and politicians have spent years demonizing and inciting violence against the Speaker, as well as other prominent female Democratic politicians. The day before the attack on Pelosi's home, fake New York Post headlines called for the rape and assassination of New York Gov. Kathy Hochul and Rep. Alexandria Ocasio-Cortez (D-NY), respectively.
Pelosi, herself, has been the subject of several bomb threats from right-wing actors, most recently amid her 2022 trip to Taiwan. During the Jan. 6 insurrection, rioters actively searched for the Speaker and raided her office. The repeated, politically motivated threats to Pelosi's life reflect the prevalence of often gendered harassment and violence targeting women politicians. Yet, Fox News has already managed to run several segments characterizing the assault on Paul Pelosi—again, an attempt on the Speaker's life—as just the latest manifestation of Democrats' "crime wave." In one segment, Fox News anchors criticized President Joe Biden for condemning the attack on Paul, but not condemning every other hammer attack.
I think it's safe to say we all condemn hammer attacks in general. But there are some much deeper issues to be interrogated here.