On Friday, Elizabeth Lauten (some may know her as DC GOP Girl) took to Facebook to talk about what really matters in this country: the appearance and respectability of the Presidents' daughters, Sasha and Malia.
As you may know, earlier this week the Obama girls joined their father in saving the life of a couple of turkeys. They were almost completely apathetic, but had juuuust enough emotional investment to be embarrassed with the whole ordeal. And it was amazing.
But for one Communications Director of a certain US representative for Tennessee's 8th congressional district, Sasha and Malia's presence was a reminder of how much the President, the First Lady, and basically all of America have lost respect for themselves. Elizabeth Lauten posted her quite passionate thoughts to her Facebook, telling the two First Daughters to "dress like you deserve respect, not a spot at a bar." Yep. Someone wrote to Sasha and Malia Obama to stop dressing like 1) people who are old enough to drink legally and 2) damn hussies or some such. The whole thing:
G/O Media may get a commission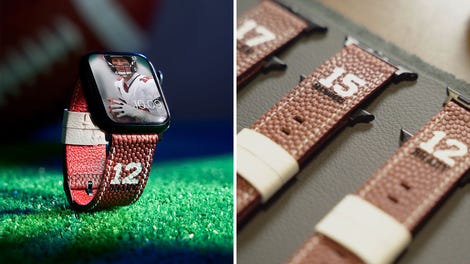 Official NFL PRODUCTS
Official NFL Apple Watch Bands
I think the point of Sasha and Malia's faces is that they weren't making faces. Those are just their faces. I'm assuming Lauten received a buttload of criticism regarding the post because woman seems to have taken it down following it up with this apology after "many hours of prayer." Also, the apology has either been taken town or switched to private:
Not a bad apology, to be honest. And this isn't the first time Lauten's social media activity has gotten her in trouble. Earlier this year she accidentally posted a song she was playing on Pandora to Congressman Fincher's Twitter with the description: "God I love this song. And beach music. AND shagging #pandora." I kind of wish that tweet didn't get deleted. It's honest and raw and does not criticize a couple of teenagers.
Moral of the story: don't fuck with the Obama girls. Just don't do it.
Image via Getty.