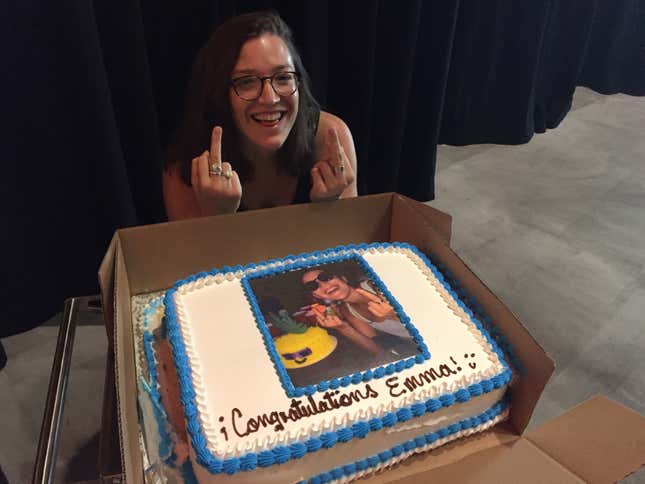 After stints at Deadspin, Gawker (RIP), Deadspin again, a trip outside the GMG universe to The Hairpin, and then the past three years at Jezebel, Emma Carmichael's last day as Editor-in-Chief of the site you are reading is today.
A defining characteristic of Emma is how many friends she has—not in the way that some people collect acquaintances, but genuine relationships, something that's quite obvious when you look at how many different staffs at one company wanted to keep her around for this long. As is often traditional around these parts, I sent an email to a large portion of people who have worked with her at these various properties asking for their good memories and bad photos of her in honor of her departure. Those who responded and those who I didn't accidentally overlook—because, as it will be clear soon if it isn't already, there are too many of you and only one of her—are below.

For the rest of you, you know what to do—take it to Kinja.
---
Jane Marie, Contributor at Jezebel
Early last year Emma and I almost got matching "Fuck 2015" tattoos. How quaint, in retrospect.
Hamilton Nolan, Staff Writer at Fusion
I think one of the most remarkable things about Emma is how she never got tired of this picture. She always said that she wants this picture to define her. Even as her career grew and she became accomplished and respected, she would always bring it back to this one picture. "Look at me in this picture—the real me," she would often say. I guess that's how we will all have to remember her.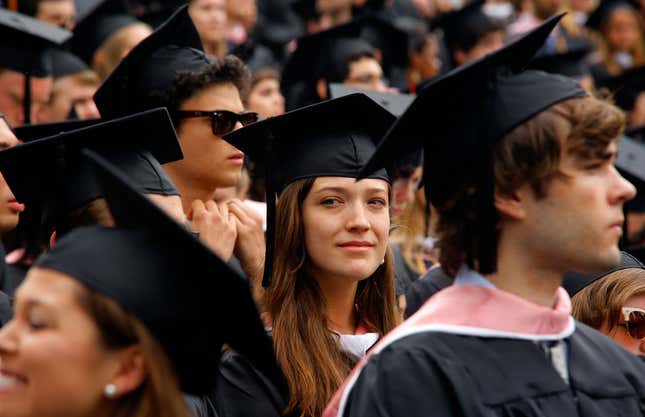 Kate Drummond, Executive Editor of The Outline
I was terrified of Emma before I met her, because she was so talented and so clearly a force to be reckoned with. I was also jealous, because she seemed really cool based on her Twitter. Once I did meet her, that terror turned to awe, because while Emma is absolutely a force to be reckoned with, she's way too kind and hilarious to be terrified of. I am still jealous of her though, especially because she can pull off a tucked shirt with jeans.
Aimée Lutkin, Contributor at Jezebel
Long ago, I cold emailed her a video sketch and she posted it on the Hairpin, which was very nice. Also, every time we have met in person, she paid for food and drinks. I respect that and wish her all the best.
Joel Johnson, Principal at Special Circumstances
Hope someone already sent this...
Dayna Evans, Senior Writer at The Cut and New York
I know these things are always great opportunities to roast the person who is leaving, but Emma is pretty much singularly responsible for my professional writing career, so she's hard to roast. Emma (and Jia!) was the only editor insane enough to let me publish "My Correspondence with Spam Gary Sanise, PAGE SEVEN," a practically incoherent follow-up to the anonymous Page Six report on the Kimye wedding, and "A Day in the Life of the Dopeass Tea Wizard," three pieces she paid me real American currency for. She has always been an advocate for writers who need a boost, and a calming presence for the many neurotic maniacs (all men) she is surrounded by. She excels in everything she does, except playing tambourine and setting me up with her brother. Most people don't know this but Emma, myself, and Intercept staff writer Sam Biddle all play professionally—full-time—in the band Haim. We are sisters!
Bye-bye to one of the greatest living Italian vocalists of all time. Here's to a long future of daps to your mouth-hand.
Jia Tolentino, Staff Writer at The New Yorker
If I could only work with one other person for the rest of my life, I would pick Emma Carmichael. I'm not only saying that because I owe my career to Emma emailing me out of the blue in 2012 and asking if I wanted to edit the Hairpin with her, either. (At the time, we hadn't yet met, and in retrospect it's funny to remember that we didn't actually hang out until six months later, when we took a week of simultaneous blog vacation and spent it sharing an air mattress at SXSW—wisely, I refrained from cuddling Emma, who would have hated it.) To get to process and approach the world next to Emma feels like a little miracle; everything is clearer, funnier, more galvanizing, more low-key. I've learned so much from her—these are just a few examples of how.

Oddly, none of those chats were from the day Emma put up what's possibly the best thing she'll ever publish—the essay "One Weird Trick to Control Your Boyfriend's Mind (the Trick Is Pouring Juice in His Dickhole)." If you've never read it, you simply must. Also, if you've tried it, let us know, because neither of us ever got up the nerve.

I think Max Read gave us the headline, which outlasted a lot of workshopping.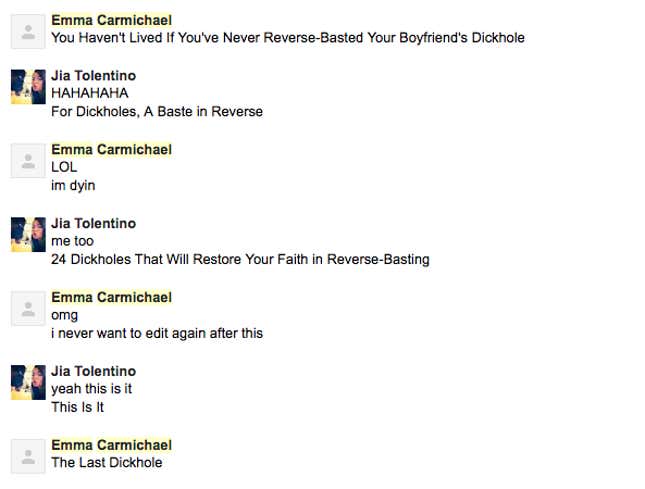 This is it, Emma—the last dickhole. Thank you for being so wonderful that it took me a full 18 months of working on the Internet to realize that the Internet was actually bad.

Stephen Totilo, Editor-in-Chief of Kotaku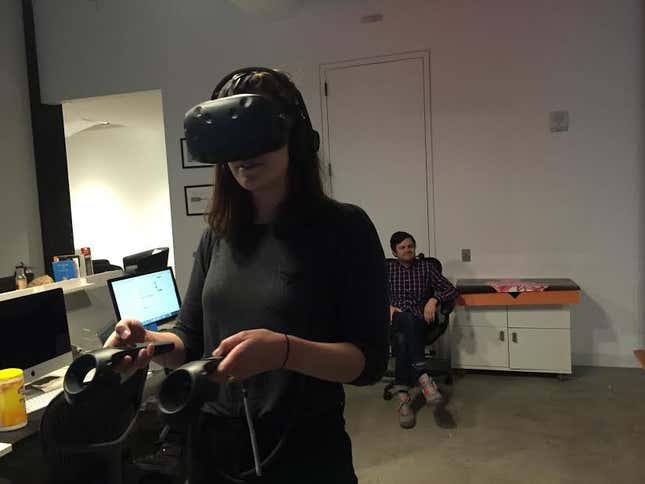 Not quite a memory but... Emma and I crossed paths too few times given all our mutual years at the company, but I always admired her work and was so happy when she returned to the company three years ago to run Jezebel. She had a vision for a women's site that didn't traffic in the outrage that was increasingly expected of progressive sites. She wound up, to my eyes, ensuring Jezebel was a must-read for everyone. She can rightly claim to have published some of the smartest writing to ever appear on a Gawker Media site, as well as much of the best politics coverage and all of the best Titanic content.

I thought I had funnier pictures of Emma trying virtual reality in the Kotaku pod but this is all I got....Emma, always the trooper, being willing to check out some VR for us.
If the photo fits the bill, it's all yours. Cameo by Biddle, as you can see, sitting and lounging while Emma does the work. Typical.
Tom Ley, Managing Editor of Deadspin
I will miss Emma because she has been a good friend and colleague, and I will remain forever indebted to her for bringing the world's attention to Penise Blord. The day of that discovery will always be one of my greatest memories as a Deadspin employee, and for that I owe her a great thanks. May she never give up the hunt for Ms. Blord.
Diana Moskowitz, Senior Editor at Deadspin
My good memory is not a memory really but an appreciation. Emma worked at and managed Deadspin without giving into the completely reasonable urge to kill all of them. I don't know how she did it. She is truly the strongest woman alive.
A.J. Daulerio
————- Forwarded message —————

From: Emma Carmichael

Date: Tue, Aug 24, 2010 at 1:09 PM

Subject: Jobs at Deadspin

To: ajd@deadspin.com

Dear AJ,


How are you? Scott Kidder forwarded me your contact info and suggested I get in touch with you regarding jobs at Deadspin. I'm aware that "job" might be synonymous with "unpaid internship" in this case, and I understand. I just graduated from Vassar College this past May and, after a summer of fulfilling the stereotype to go home and live with mom and dad for a bit, I am now fulfilling a new stereotype by moving to Brooklyn and looking for jobs "in media."


I have a lot of experience working specifically in sports media. I was a sportswriter for the Burlington Free Press one summer, and then a researcher for NBC Olympics during the Beijing Games, and last summer I was the editorial and reporting intern at Sports Illustrated Kids. I got to interview some amazing athletes (Steve Nash, Serena Williams, Sue Bird) and also the Jonas Brothers. They said they were equal part Dodgers and Yankees fans "because of Joe Torre." Whatever. I also wrote for the athletics website at Vassar College and I've had essays published at SLAM Magazine online and The Awl.


I follow Deadspin regularly and I really love the content and the style of the site. I think Katie Baker is so great, and I think having varied female perspectives could only do good things for the content. I don't know what kind of available work you have this fall and throughout the year, but I will be in Brooklyn in early September and I am eager to work. I'd really love to contribute to Deadspin in some way. I've attached my resume as a PDF, and I am happy to send my writing clips if you'd like to take a look. I will also likely be in New York later in the week for a meeting — either Wednesday or Friday, I'm waiting to hear back — and I'd be happy to come into the offices if you're available and would like to meet then.


Thanks for your time, and I look forward to hearing from you.


Best,


Emma Carmichael

Kara Brown, Staff Writer for College-ish
Max Read, Senior Editor at New York and Editor of Select/All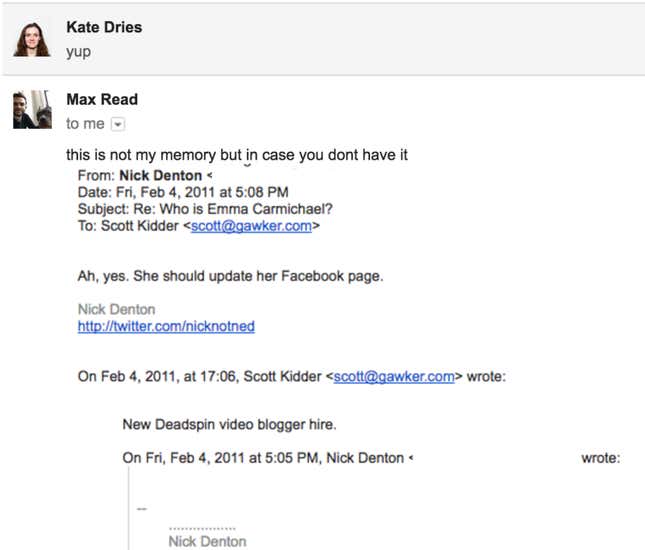 Jezebel is one of the best sites on the internet. Emma's editorial vision has been expansive without ever losing its edge; broad without ever being shallow; approachable without ever being dumb. No one else could have accomplished that kind of steady growth without severely compromising the site (I speak from experience). Deep reporting, intelligent criticism, diverse voices, sharp humor. What else do you want in a publication? Really, the soul of Gawker came to rest at Jezebel. Over and over I have found myself deeply jealous of what Emma was producing every day, which is the kind of gut-level reaction that marks a true compliment. The scale of the talent she inherited and hired and developed is immense. Every writer at Jezebel is skilled, smart, and versatile. And extremely funny. Because of this foundation—because like any great editor she coaches rather than orders people—she leaves the site as strong as it's ever been. Originally, I wanted to write something pithy and ball-busting for this. Only, I don't think I have the heart. Keep it up, Emma.

Sam Biddle, Senior Writer at The Intercept
I'm an only child, which is why I'm starting out my tribute to someone who means the world to me by talking about myself. But it's also why I have been such a giant pain in Emma's ass since we met seven years ago—I never had a sister to torture, so over the years I've ragged on ("trolled," in the parlance of our time) her to a nearly pathological degree. While she was at Deadspin, I once bought her thousands of fake Twitter followers, which landed her on some sort of "most dishonest sports journalists of the year" list. On another occasion I stole her web domain name and redirected it to a gif of her dancing at karaoke. I'm not proud of it, no matter how funny and awesome it may or may not have been, and have toned it down in recent years, because the prospect of permanently pissing off my closest friend, someone I love so much, just wasn't worth the extremely good jokes. Meeting Emma so soon after I first moved to New York after college without a doubt changed my life, and her friendship has without a doubt made me a better person, while working in close proximity for many years without a doubt made me a better writer. It's for this reason that I've stopped trolling her so hard. To show just how far back our friendship goes, and why I decided to no longer embarrass her online, below is the first email exchange we ever had: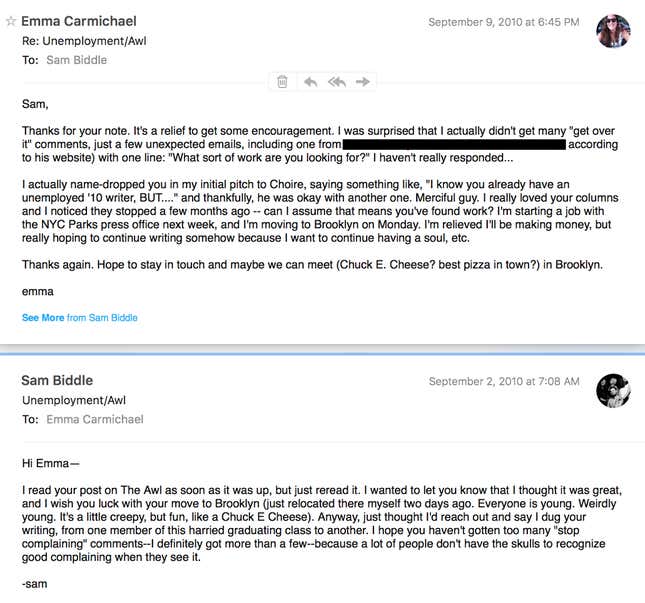 The fact that Emma still wanted to meet and befriend me after that tells you almost everything you need to know. If you can find some way to make your life overlap with hers, I advise you to do so. If not, well buddy, that fucking sucks for you.
Kelly Stout, Senior Editor at the Special Projects Desk
It may seem from these tributes that Emma has always been "cool," but as the only person here who knew her in 2006, I'm here to tell you that she was once a huge herb. Here's the headline from a story we wrote together in the Vassar College Miscellany News on a topic that absolutely did not require a double byline:

Writing this terrible "article" was exceptionally fun, though, and it made me dream about growing up and being a "real journalist" with Emma, who is a profoundly generous editor and friend. I still can't believe my luck that I actually got to.
Julianne Escobedo Shepherd, Culture Editor at Jezebel
Looking back at Emma's and my first correspondences—way back in 2013 when she asked me to write for The Hairpin after we bonded at a mutual friend's birthday party about an email I had received from what was allegedly Shia LeBeouf('s publicist)—I am retroactively shocked that she would ever want to hire me for this job. She consistently administered sharp edits with her trademark measuredness, while I responded with overeager, overcaffeinated "OMG HIHIHIH YES NO PROB YEAHHHH BOIIIIII," like if a sugar-high 9-year-old had been possessed by the spirit of Flava Flav. It is a testament to how much I've learned from her that I now feel embarrassed by this fact; Emma Carmichael is the kindest, most leveling editor and friend whose centrifugal pull I have ever been fortunate enough to experience—a calming force whose even-keel is a consistent beacon, and the best boss I've ever had. Her next job should be a TLC show called The Writer Whisperer, wherein she reclines in a robe and administers great advice like "Never tweet."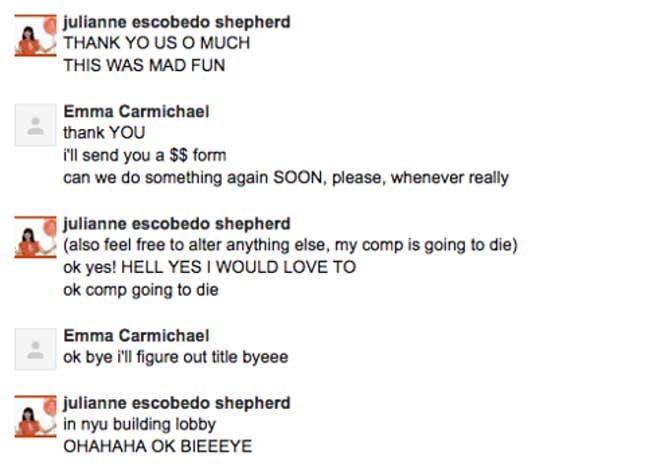 Prachi Gupta, Senior Writer at Jezebel
I have a good memory of Emma, which is that when I thought I'd lost my laptop she told me not to freakout. It turns out I didn't lose it, after all, but Emma was very chill throughout. Thanks, Emma, for being so calm and understanding (about the laptop...but also in general). You rock and will be missed!
Kelly Faircloth, Staff Writer at Jezebel
You know, if I HAD to age a decade in a single year thanks to the apocalyptic trio of corporate trouble, the election of Trump, and having a kid, I can't imagine better company than Emma Carmichael, the least flappable boss who's ever lived. Also, I've been meaning to ask for years: Where'd you get the dress in that vid of you doing karaoke? Because it's cute. [pls include video if it's not already included]
Madeleine Davies, Senior Writer at Jezebel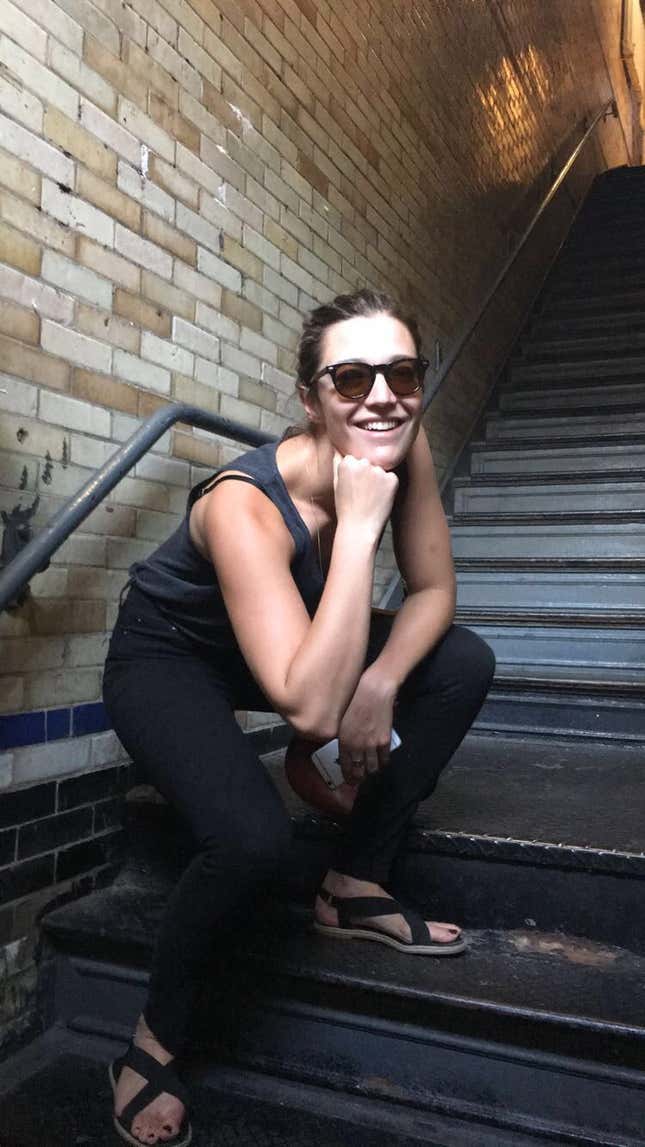 This idiotic photo was taken one evening when we were walking past the old GMG offices in Nolita and Emma and I decided to try and break in because we thought it would remind us of the last time we felt joy. We started by trying the door and—-it was open. So I had her pose in the stairwell and then we left for the bar, having accomplished nothing, but still feeling undeservedly proud of ourselves. Kind of a metaphor for new media when you think about it.
Emma has been my boss for three years and my friend for longer. In either role, she shows integrity and loyalty. As EIC of Jezebel, she has fostered an open, creative environment and collected some of the smartest and most insightful writers on the web. She has an instinct for tone—knowing exactly when to be serious and when to be silly and stupid. In fact, I've written some of my stupidest and best work under her editorial guidance.
I love Emma and will visit her grave often.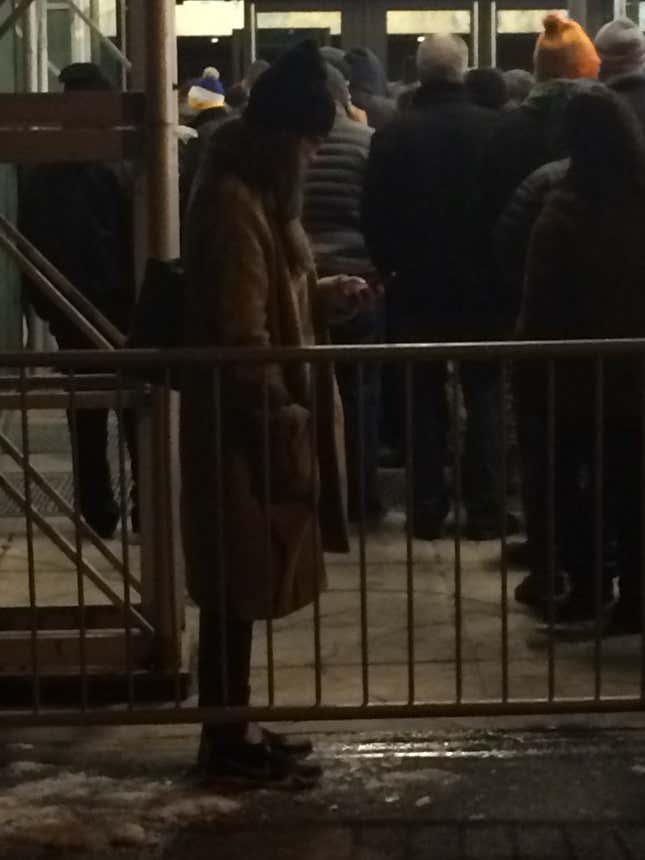 Kyle Wagner, Senior Editor at FiveThirtyEight
I don't have anything bad to say about Emma, who has terrible sitting posture, so here is a pic of her waiting to get into a Golden State Warriors game, like a herb.
Rich Juzwiak, Senior Writer at Jezebel
Emma and I have been through so much (she single-handedly convinced me to work at this company) that I'll date our relationship by sharing that we attended a Jessie Ware show together during the promo of her first album and got real mellow together and also I cried. I don't think she did. I'm crying inside now; I don't think she is. The world changes and looks wholly unfamiliar one day, and yet we remain ourselves. Whatever, love her forever.
Ashley Feinberg, Senior Writer at Wired
A lot of people are probably saying things like "Emma is one of the kindest people I know" and that she is "smart" and "a loyal friend" and "somehow good at everything she does." I can't speak to any of this, though, because, throughout the entirety of our "friendship," Emma has owned me mercilessly at every turn. Here are just a few examples that span the course of the past several years: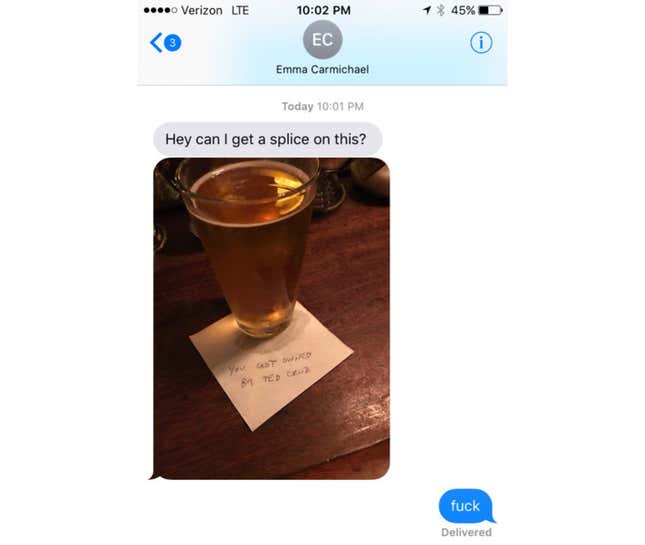 And just now, as I was in the middle of compiling these ownings, Emma proceeded to own me again.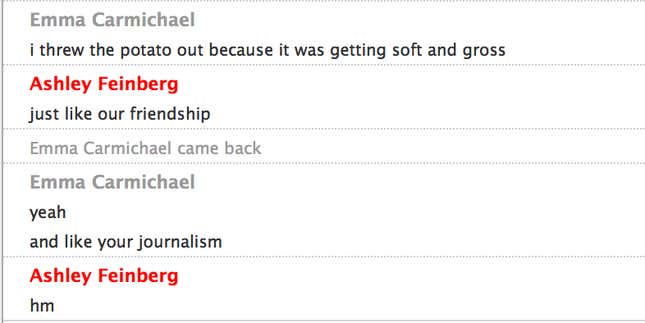 I, for one, look forward to a 20% nicer Jezebel. Good riddance.
Ellie Shechet, Staff Writer at Jezebel
In the 2.5 years I've worked for Emma, which included a highly publicized trial and, at one point, metal rods sticking out of her pelvis, she has maintained at least the outer appearance of total calm, like a cross between Bruce Willis and Athena and the nice alien squid from Arrival. She did get a weird look on her face once when she came over to pat my back while I cried on election night, but I think that's because it was very uncomfortable. Emma is a steady and brilliant leader who inspires an unusual kind of worshipful protectiveness in her employees, not because she wants or need protecting—she's very good at sports—but because she is so wildly unselfish, and has built a tight-knit work family that's made most of our lives fundamentally better.
Something I particularly want to celebrate about Emma is her sense of inclusivity, perhaps best documented in Jezebel's sporadic column Would U? where we debate which distasteful public figures we would have sex with. ICYMI: Donald Trump if he lived inside Jason Momoa's Body? Emma's a yes. Paul Ryan when he had a beard? Yeah, and guess what, she probably would without the beard, too. Leonardo DiCaprio if he was wearing headphones and listening to MGMT throughout? Emma Carmichael absolutely Would:

Leo—just want to make sure you heard?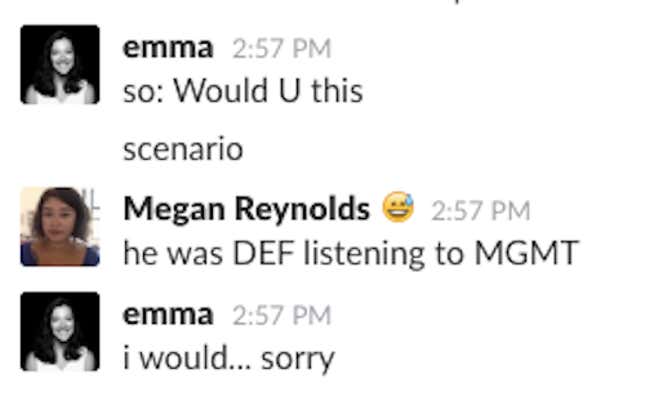 Bye! Also: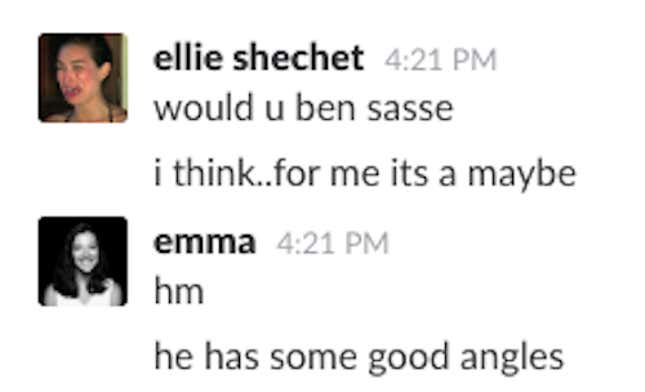 Clover Hope, Senior Writer at Jezebel

I wish I had a good bad pic to share. But in memoriam of Emma, I'll never forget the day we remembered our memories of Titanic.Jezebel.com:

Tom Scocca, Deputy Editor at the Special Projects Desk
Everyone who ever worked with Emma comes away feeling a direct personal connection, but it's a rare privilege to have been directly interchangeable with her. One panicky and arbitrary decision by Tommy Craggs and John Cook, and our timelines crossed. She became part of Deadspin, and I became part of Gawker. Even the act of physically carrying out the exchange found us in perfect resonance: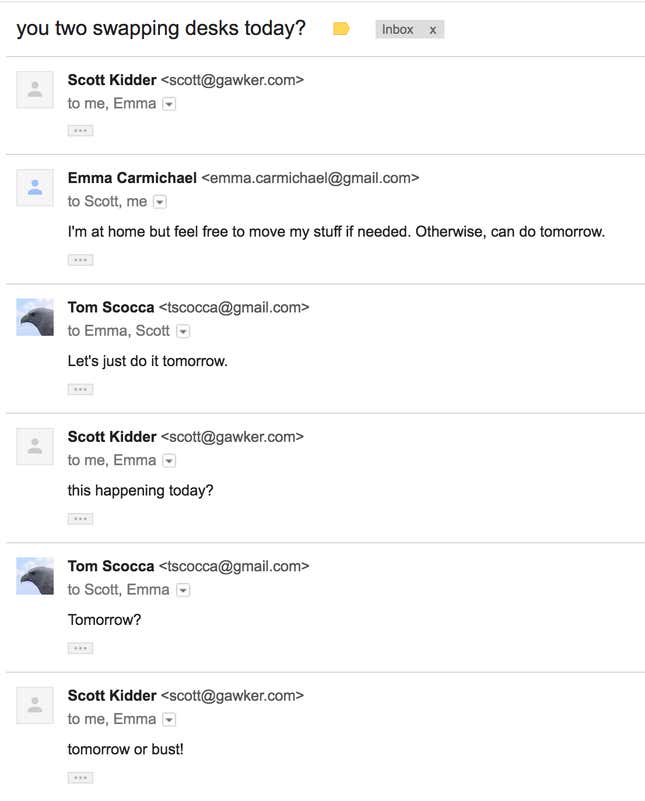 Thus one professional life becomes another. There is another world, right on the other side of the membrane of this one, where Emma was up to her elbows in the Rob Ford coverage while I quit to edit The Hairpin. Or there are multiple ones, where all the strange and terrible events that happened in these years are divided up differently among different people. No matter how fate might have been redistributed, Emma's heroic integrity and brilliance would have held constant, making things as much better as they could possibly be made. Possibly somewhere, on all the branching tracks of fate, there is even a timeline where Craggs stops hiding long enough for Emma to beat him in basketball one-on-one, as I have always known she would.

Tara Jacoby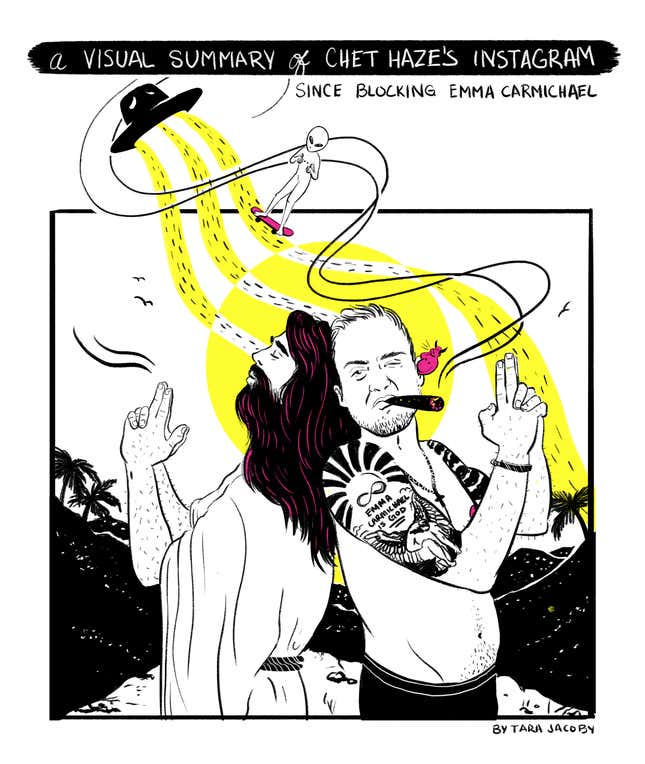 Leah Beckmann
Two years ago, after a bunch of unspeakable shit happened to Emma—including getting run over by a truck on a bridge—she came to visit me out in Hollywood, Baby. Still on crutches, she hobbled into my house in a lot of pain and on a lot of chill pills. No offense, but she looked awful. She looked like she had just been run over by a truck on a bridge. And yet here she was, ready to visit the Burrito King of the west, Spencer Pratt.
Spencer and Emma had become casual Twitter friends, and he was maybe going to write a column for Jezebel. He lives about an hour from LA, and when she told him that she was coming out for a visit, he invited her to spend the day at his home. Emma asked him if "her driver" - me, very cool, and a huge fan of both crystals and Spencer - could come along. We drove up the coast listening to Natasha Bedingfield's gorgeous ballad "Unwritten" on repeat. When we arrived at the Pratt home, Spencer opened the door dressed head to toe as the Grinch Who Stole Christmas. Heidi was dressed as Cindy Lou Who, which is confusing mostly because Cindy Lou Who and the Grinch do not fuck each other. One is a child, the other is a monster with a heart condition. It is incredibly bold to invite people into your home and not tell them you will be staging an elaborate Christmas card shoot first. They looked stunning. For two hours, we held pillows in front of the windows to help block the sun for the professional photographer while they and their four small dogs - also in full Grinch-themed costume - posed. We drank wine, and Spencer gave me a tour of his vast crystal collection. They then took us out to their favorite sushi spot in town. (We drove to the restaurant together in one car like they were the parents and we were their children; it was thrilling.) Most to all of the sushi contained an extreme amount of mayo and we ate so. Goddamned. Much. We chased it with ice cream and this selfie.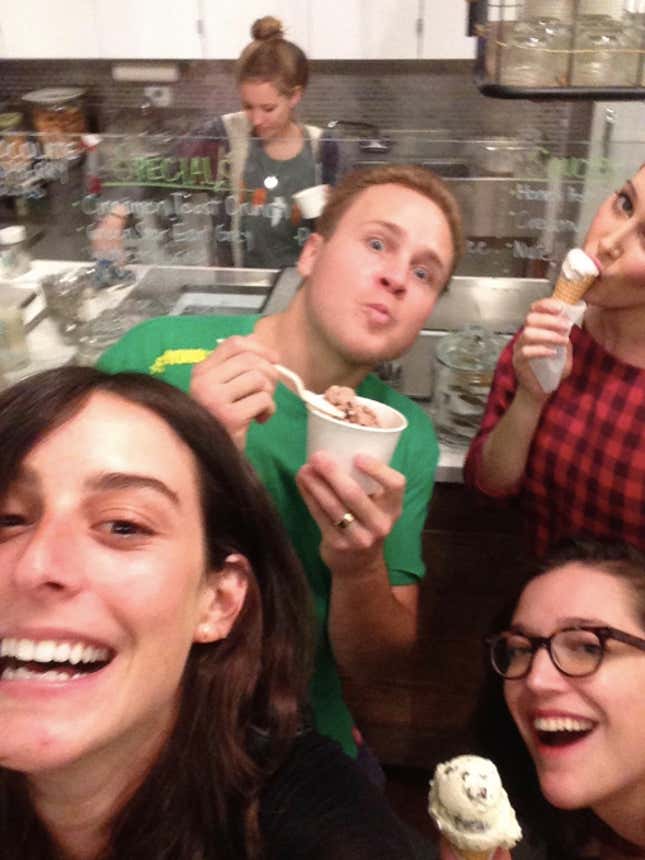 Before we left that night, Spencer gave us each a round pink crystal to ensure that we would have "a safe drive home," Heidi gave us some of the most beautiful relationship advice I've ever received and which moved us to tears, and the mayo sushi gave us several days of violently explosive diarrhea. Here is a picture of Emma taken the moment we returned to my house.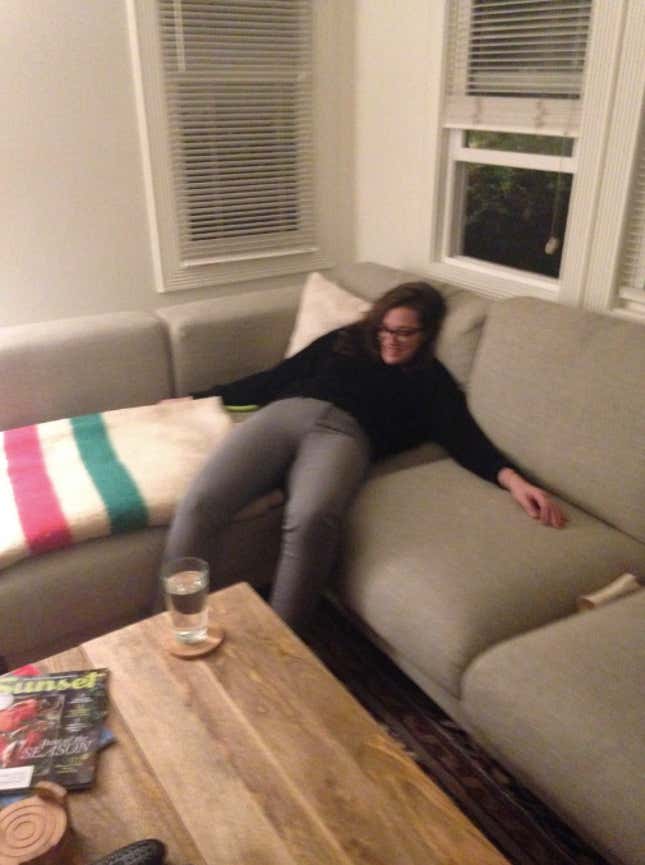 Emma is truly one of the best and strongest people I know. But even the strongest person I know should not consume that much raw fish bathed in mayo. All of which is to say, Emma, that as you are staring at the blank page before you, open up the dirty window. Let the sun illuminate the words that you could not find. Feel the rain on your skin, no one else can feel it for you. Live your life with arms wide open, today is where your book begins. The rest is still unwritten.

Joanna Rothkopf, Managing Editor of Jezebel
I feel extremely grateful that I got to work with and hang with Emma. She is one of the smartest, funniest, dumbest people I've ever met, has made working at Jez feel like being drunk but in a fun way, and I have blogged approximately 50 percent of my blogs just so that she would laugh at them. Thank you to Emma for revolutionizing women's media:

and for this blog:

John Cook, Executive Editor of the Special Projects Desk
At Gawker we had a guy emailing us claiming to be a Fox News insider and asking to meet. The editor at the time, A.J. Daulerio, dispatched me and Emma to meet him at "Chinese Fantastico," our nearby watering hole and restaurant. We figured we'd hit the mother lode. We sat with the guy—who had been a producer at Fox News for 8 years—for two hours trying to squeeze some tidbit of news or gossip out of him, but all we got is that there were a lot of Republicans and Bill O'Reilly was exactly like he was on camera. Emma and I kept looking at each other trying to figure out what we were doing wrong, but the guy had nothing. I felt like we were in Burn After Reading—a clandestine encounter with a coveted source from the Evil Empire who had… nothing. Emma wrote up the results of our debriefing to A.J. by saying the guy "doesn't have any straight dirt on the network"—a clarifying phrase that rings in my ears to this day as a good despcription of what makes for a juicy story. We ended up having him write anonymously for us from the inside as "The Fox Mole" until he got caught and fired two days later. He got a book deal out of it.
Puja Patel, Editor-in-Chief of Spin
Emma and I have known each other for a long time and though we've never directly worked together, watching her run Jezebel with the same qualities that make her a singular friend has been a refreshing lesson in the miserable, brutal hellscape of online journalism. (And, uh, "women's media.") It's rare that a friend's brilliance is so easily complemented by generosity of spirit and humor—that "it's fine!" is the phrase she's most frequently heard screaming into chaos shows some instinctive sense of perspective, in my opinion. It's also telling that for how measured Em is as a person, the easiest way to make her outwardly emotional is by pointing out why being a fan of the cheating, New England Region Patriots is wildly embarrassing ... or by playing a live video of Beyoncé covering Kings of Leons' "Sex on Fire" ... or by showing her a photo of her freakin' dog. A good editor is encouraging and loyal to the particular, wonderful insanities of their staff and has some of their own, too.
I'm sincerely endlessly impressed with Emma and the way she and the writers of Jezebel have created a necessary, delightful place for all of us to find some solace. It's a shame that she's leaving media to pursue a networking career at The Wing, but I have faith we'll see her again soon.
Tommy Craggs