Aaron Glaser, a comic who was banned from the Upright Citizens' Brigade amid anonymous allegations of rape, which subsequently went viral, has—as promised—sued UCB, UCB artistic director Shannon O'Neill, and managing director Alex Sidtis in federal district court for allegedly failing to conduct a formal hearing process against Glaser, the New York Post reports. The suit claims negligence, gender discrimination, wrongful termination and a "hostile work environment."

"UCB puts the safety and wellbeing of its community first," a UCB representative said in a statement to Jezebel when reached for comment. "While we have not seen Mr. Glaser's complaint yet we intend to vigorously defend any allegations against the UCB." (UCB did not immediately respond when sent a copy of the complaint.)
Glaser told the Post that "somehow, I've been convicted of a very, very serious crime by what is literally a clown college." He also told the Post that he believes a recent SNL sketch about #TimesUp is about him, claiming: "I'm a punch line."
Glaser had previously sued comic Jasmine Pierce for $38 million after she'd referred to him as a "rapist" on social media; his suit accused Pierce, who is African-American, of attempting to "cyber lynch" him. (Pierce didn't claim to have been assaulted by Glaser, but told Jezebel that she chose to speak on behalf of others.) As the Daily Beast and other outlets reported at the time, in August 2016, a woman wrote in a private Facebook group for women in comedy that Glaser was permanently banned from UCB for "raping women in the comedy community for years."
G/O Media may get a commission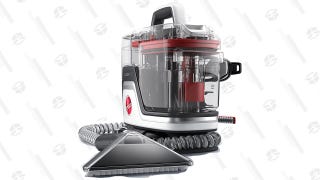 Save $10
Hoover CleanSlate Plus Carpet & Upholstery Cleaner
One woman comedian later anonymously told The Revelist that Glaser sexually assaulted her after they'd had a drink at a bar, implying that she had been drugged (Glaser's then-lawyer denied this incident to The Revelist, and Glaser has repeatedly denied allegations against him). The allegations gained notoriety when Inside Amy Schumer writer Kurt Metzger weighed in with a now-infamous series of rants, compelling Amy Schumer to publicly disavow him.
Glaser eventually dropped the defamation suit, telling Jezebel that he ran out of money; he said that he'd sued Pierce to clear his reputation but also to "get information," i.e. in the hopes that she would subpoena UCB for the details he sought from their investigation.

"I was simply trying to clear my name, the numbers of it don't matter to me," he told Jezebel, when asked why he sued Pierce for a staggering $38 million.
Glaser's lawyer Mark Shirian declined a comment request from Jezebel seeking to clarify where the money for this second lawsuit comes from, or whether Glaser is being financially assisted by any outside groups.
The suit claims that "UCB's disciplinary process violated Title IX," following a growing trend of 'reverse Title IX suits' in which men accused of sexual misconduct claim they are being discriminated against for being men.
"Plaintiff Glaser firmly believes that there was a gender bias at UCB, especially because of the movement that followed within the community was labeled 'believe all women,'" the complaint reads. "Plaintiff Glaser also believes that O'Neill, for whatever reason, labeled Glaser a 'privileged white man' and decided that he must be guilty because he looks like other people who have been guilty of crimes in the past."
Glaser's suit also cites a violation of the Clery Act, which cannot be enforced through a lawsuit, as well as New York State Human Rights Law. It claims that he lost his girlfriend, apartment and job opportunities after the banning became public—a leak he blamed on UCB—and that he subsequently became suicidal.
The full complaint can be viewed below.