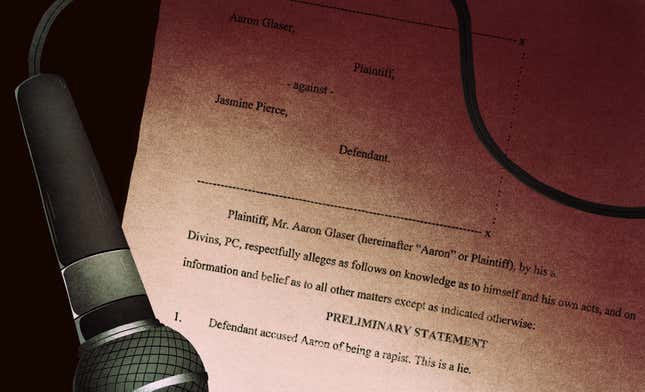 "It was probably one of the scariest things that ever happened to me," New York-based comedian Jasmine Pierce said in a video posted to her Facebook page on October 15. Wearing a red baseball hat that read "Game On," Pierce recounted her experience being served with an eye-popping $38 million defamation lawsuit by the comedian Aaron Glaser after she'd referred to him as a "rapist" on social media.
"In my opinion, this was an attempt to silence me, and it was successful," she said in the video. Pierce didn't claim to have been assaulted by Glaser (they don't know each other personally), but says she chose to speak out on behalf of others.
"I wrote my post because I care about the safety of the women and people in my community," she told Jezebel in an email.
Last summer, Glaser was banned from performing his monthly stand-up show at the Upright Citizens Brigade amid anonymous allegations of rape, which he denies. A few months later, according to the complaint, Glaser sued Pierce; among the claims were "false and intentional defamation," "intentional infliction of emotional distress," and the catchall "prima facie tort."
The lawsuit alleged that Pierce "falsely and intentionally" accused Glaser of rape, and that because of this, he lost his apartment, his girlfriend, and his career, and was forced to move back in with his parents in Long Island. It accuses Pierce, a UCB alum who now writes for The Tonight Show Starring Jimmy Fallon and the satirical feminist site Reductress, of "ruining Aaron's reputation and turning his life asunder: losing friends, his girlfriend, roommates and home, performance career, and causing obvious mental anguish."

The complaint also accuses Pierce, who is African-American, of attempting to "cyber-lynch" Glaser. ("The document is 100 percent written by a lawyer, and I think that's how those things generally are," Glaser told Jezebel regarding the use of the term "cyber-lynch.")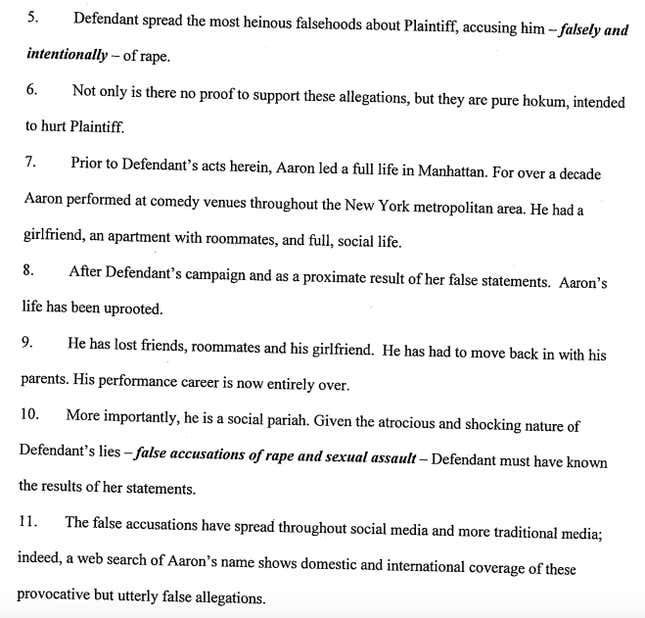 As relentless allegations against Harvey Weinstein unfolded earlier this month, followed by a wave of new sexual misconduct allegations and the release of the anonymous "Shitty Media Men" list that's formed the basis for tangible consequences against several prominent men, the concept of the "whisper network"—or an informal warning system amongst women in a particular community—has been funneled into mainstream consciousness, along with many ponderous critiques of its efficacy. Faced with the threat of quiet retaliation, and/or the knowledge that the vast majority of rapists reported to the cops end up walking free, speaking out can often seem like the best in a bad set of options. As this case demonstrates, however, that course of action is not without risks—particularly in a legal landscape that's increasingly open to protecting men from false accusations (which are not a particularly common occurrence).

"It's interesting to see more and more accused people forcing it into the legal system, because they're really trying to make a bet that the system will support them," Laura L. Dunn, Esq., a victims' rights attorney and founder of nonprofit SurvJustice, told Jezebel in a phone call.
---
As the Daily Beast and other outlets reported at the time, in August 2016, a woman wrote in a private Facebook group for women in comedy that Glaser was permanently banned from UCB for "raping women in the comedy community for years." Speaking anonymously, one woman comedian later told The Revelist that Glaser sexually assaulted her after they'd had a drink at a bar, implying that she had been drugged (Glaser's then-lawyer denied this incident to The Revelist, and Glaser denied all allegations against him to Jezebel).

"I wasn't able to give consent, I couldn't speak, it was like my body was too heavy," she said. "By the same token, I couldn't say no. In my snapshots, I am trying to move away but again, my body was too heavy to move. As soon as I was physically able I got the hell out."
In a since-deleted Facebook post from around that time, Glaser confirmed that he'd been banned from UCB after "one or more women" accused him of rape. He referred to the allegations and subsequent banning as a "witch hunt" and denied all accusations, writing: "Let me be clear: I have not sexually assaulted anyone. My reputation, my only asset as a performer, is being dragged through the mud because UCB did some back-room, kangaroo court investigation and then decided to publicly ban and shame me."
The allegations got substantially more attention after Inside Amy Schumer writer Kurt Metzger opted to weigh in with a now-infamous series of rants, forcing Amy Schumer to publicly disavow him.
"Hey he's guilty let's start with that! What happens when the next guy isn't?" Metzger wrote on Facebook as allegations swirled around Glaser. "Is that just worth it to get rapist? So sometimes we gotta break a few eggs is that the argument? I know it is. And you think I'm supposed to not have a massive fucking problem with this? You disgust me. And what you want to establish is WORSE than actual rape. Please quote that last line angrily to other imbeciles. Because I so mean it."
UCB didn't directly address the allegations against Glaser at the time, but a UCB representative told The Cut in August 2016:
"The UCB is not formally commenting on this matter, but I will say that UCB has always had an open-door policy and encourages anyone with a complaint or concern regarding sexual harassment to report it immediately to any of our Directors of Student Affairs, who are trained professionals. Any such complaints are always taken very seriously."
"Aaron Glaser is a rapist, don't book him. The only place he shouldn't be banned from is prison," Pierce wrote on August 13, 2016 in one of the Facebook posts cited in Glaser's lawsuit, linking to a post by Rebecca Trent, owner of the comedy venue The Creek and The Cave.

In another post cited in the lawsuit, Pierce wrote: "Must suck when the only thing worse than you being a rapist is your jokes."
More recently, this past summer, another anonymous allegation surfaced on Facebook claiming that eight women came forward in total with allegations against Glaser and that, while sleeping on his roommate's couch, Glaser "woke me up in the living room and raped me."
(Attempts to get in touch with this post's author were unsuccessful. Glaser suggested I reach out to a person he said was the roommate mentioned in this post; she did not return multiple phone calls.)
"I have never in my life raped anyone, and I have certainly never popped out of my room in the middle of the night and attacked someone," Glaser told Jezebel on the phone. "I would never do anything like that."
(Glaser later emailed with a more specific denial. "None of that happened—my roommate never hosted someone and said that to them, nor did she host someone who threw up on our couch, nor did I ever climb on top of another human being or sexually assault someone.")
"Online, there are tons and tons and tons of anonymous claims," he added. "People can say anything they want and it sticks."
In the case of the lawsuit against Pierce, Laura Dunn said, "accusations arose elsewhere, and the decisions about [Glaser's] responsibility arose elsewhere, so it is very unusual to have sued this individual comedian."
"Let's say someone ruined your career, and they said terrible things about you... how do you refute claims?" Glaser asked during our phone conversation. He says he has not been given any details by UCB about the accusations against him, and was therefore unable to counter them.
"If you have no other choice, you have to call the courts in. I feel I'm being made to be this monster who sues people but simply all I've been trying to do is get the [information] I was promised by UCB for over a year."
Glaser says that his counsel at the time advised him to sue Pierce so that she would subpoena UCB for the details he sought from their investigation. He said that he was advised to sue Pierce specifically "because she said that I am a rapist, and that I should not perform anywhere."
"All Jasmine was trying to do was protect her community—I don't think that's wrong," he said. "I was just trying to get information."
Glaser dropped his lawsuit in September 2017; he told Jezebel that he ran out of money. He says he is now planning to sue UCB for gender discrimination. In a lengthy emailed statement, he claimed that he was promised both the findings of the investigation and the chance to appeal, both of which he says he did not receive. "I was never contacted or questioned for any UCB investigation," he wrote. "I went into UCB one day for a meeting with Shannon O'Neill and Alex Sidtis. During that meeting I was told at least two women said or felt as if I raped them. I was not told any details - no names, no specifics - I was just banned."
(O'Neill and Sidtis did not respond to individual requests for comment, and UCB declined multiple requests for comment for this piece.)
In a statement emailed to Jezebel, his lawyer Mark Shirian elaborated on the lawsuit they plan to file:
This lawsuit that will be filed against the UCB will hopefully shed light on the fact that many employers are ill-equipped, uneducated and clueless when it comes to investigating complaints of sexual harassment and assault. Our goal with this litigation will be to empower employers to conduct investigations in a non-negligent matter [sic] so victims will feel more comfortable to make complaints against harassers. Moreover, we hope that employers will conduct investigations in a manner that ensures that guilty harasser's [sic] are disciplined accordingly.

The investigation that the UCB was negligent because Mr. Glaser was never given the opportunity to participate in the investigation. The UCB owed a duty of care to Mr. Glaser and others to conduct that process in a non-negligent manner and with due care. The applicable standard of care is also informed by the requirements of Title IX and the Clery Act, as the UCB is also school that has received federal funding The UCB's conduct, as described above, fell below the applicable standard of care and amounted to a breach of the UCB's duty of care. Moreover, the failure to conduct a hearing deprived Mr. Glaser of his rights. This deprivation, in violation of the Clery Act, was also a breach of the UCB's duty of care.
This alleged breach, Shirian argued, caused Glaser "substantial injury."
"We have more women speaking out publicly against very powerful men, more and more every day," Laura Dunn told Jezebel. Defamation suits and gender discrimination suits are becoming a more common response to sexual misconduct allegations, she said, particularly as Education Sec. Betsy DeVos prioritizes rolling back Title IX protections on college campuses. (Dunn also noted in a later email that the Clery Act cannot be enforced through a lawsuit, as Shirian's above statement suggests.)
"Groups of men and their attorneys who are filing defamation suits are trying what in the campus space has been called 'reverse Title IX suits'—so rather than Title IX protecting victims of sex discrimination, they're saying that the accused are being discriminated against because they're men," she explained.
The original allegations against Glaser entered public conversation as comedy communities around the US reckoned with proliferating accusations against Bill Cosby and persistent rumors of sexual harassment swirling around Louis C.K. Six months earlier, comedians Beth Stelling and Courtney Pauroso had publicly claimed that they'd been raped and abused by LA comedian Cale Hartmann (who denied these claims, and has since commiserated with "Proud Boy" Gavin McInness in a Rebel Media segment titled "the war on white men"). In January 2016, amidst its own reckoning with entrenched misogyny in the Chicago comedy community, the Chicago-based nonprofit Women in Comedy circulated a Google form titled circulated an anonymized Google form titled "Gross Things That Happened to Me As A Woman in Comedy. Like women in media, women in the comedy world had become emboldened enough—or angry enough—to start sharing allegations.
"When Beth Stelling spoke out about her trauma last year, I think it made it seem more possible to stand up against those in our community who are harming others," Pierce told the Daily Beast in 2016, prior to being sued.
But, as my colleague Stassa Edwards wrote in the aftermath of the Shitty Media Men outcry, "there is no perfect way to warn other women, there is no perfect way to whisper about sexual harassment, because the minute a whisper becomes slightly more vocal, it's immediately rendered suspect."
"The Court should not allow this attempt to chill free speech on a matter of clear public interest," Pierce's motion to dismiss the lawsuit reads, arguing that her statements were made with a qualified privilege, or "made to those having a common interest in the subject and/or out of a moral or social duty." The motion argues that Glaser doesn't prove Pierce's statements were made with "gross irresponsibility," as his complaint claimed, and that Pierce made statements of opinion about Glaser "based on her own surmise of the reported facts."
"At the time I received the complaint from Glaser's lawyers, I was a part-time babysitter and part-time comedy writer, and had exactly the amount of money you would assume someone would have from those jobs," Pierce told Jezebel in an email. "I do not have millions of dollars."
A GoFundMe was set up to help pay for her defense, raising a little over $14,000. (The woman who organized the GoFundMe declined to speak with Jezebel.)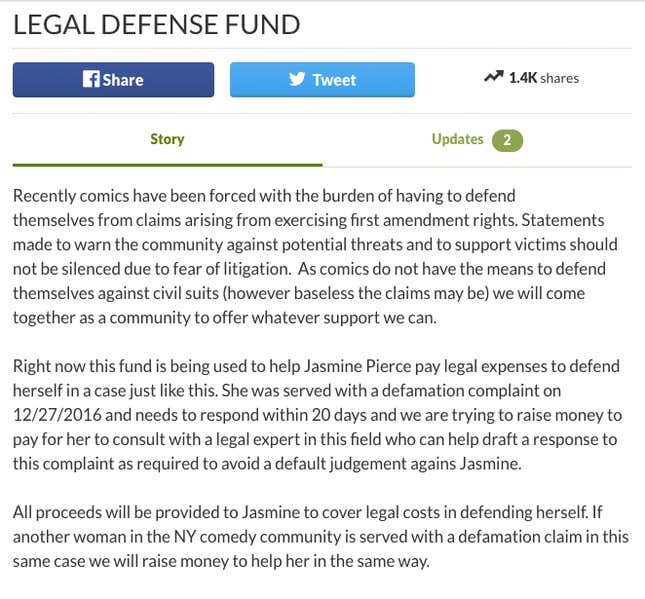 "The lawyers are the ones who chose that, I'm not a legal mind," Glaser said of the $38 million estimate. "I was simply trying to clear my name, the numbers of it don't matter to me."
The defendant's perspective on the lawsuit differs somewhat.
"Psychologically, this has been one of the most challenging experiences of my life," Pierce wrote in her email to Jezebel.
In Glaser's case, things haven't worked out as planned. According to court documents, in June 2017 Glaser parted ways with his attorney, Byron Divins, Jr., Esq., and opted to represent himself in court. He told Jezebel that this is because he could "no longer afford it" and wanted to close out the lawsuit; he also cited a desire to speak to the media, which he couldn't do while a lawsuit was ongoing. (Divins, Jr. declined to comment, citing attorney-client privilege.) On September 1, Glaser dropped the case against Pierce. Mark Shirian, his current lawyer, did not elaborate as to when they plan to file the gender discrimination suit.
Although she's free to talk about the lawsuit now, Pierce continues to be cautious with her words. She declined to speak with me over the phone.
"I believe that victims of sexual assault should speak up if that's what they wish to do, and the rest of us should listen to them, trust them, and do what we can speak out against rape culture," Pierce wrote in an email. "Just make sure you use the word 'alleged.'"