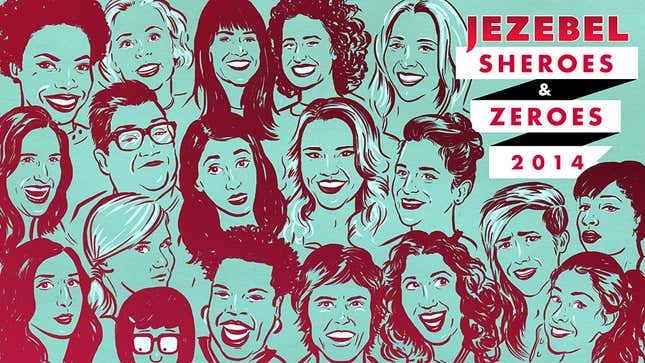 This is a series called Sheroes & Zeroes, about the people who defined our year in culture in both terrific and terrible ways.
2014 was, as the ancient Greeks would say, "a pretty shit year" for pretty much everything—well, everything other than women in comedy, because these funny-ass broads have been killing it for the past 12 months. Here's a small collection of comedians who deserve our admiration this year.
---
Tig Notaro
While history will probably consider 2012 to be the year that Tig Notaro got her big break (thanks to a—by all accounts—transcendent set at Largo in L.A. and her comedy album Live), her well-deserved success has continued into 2014. Most noteworthy: the set she performed topless, revealing the scars from her double mastectomy.
---
Aparna Nancherla
You may not know Aparna Nancherla if you don't frequent New York standup shows, but please trust me on this one — she is an absolute fucking gem. Follow her on Twitter and she will make you laugh every day.
---
Leslie Jones
Back in May, rookie Saturday Night Live writer Leslie Jones caused controversy when she appeared on Weekend Update to perform a variation of her standup set in which she jokes about slave breeding and her love life. Some people loved it, others despised it, but, either way, Jones successfully made her mark with a comedic voice that's distinctly hers. Since then, she's become a SNL feature player and continues to be both a bold and talented asset for the show.
---
Megan Amram
Parks and Recreation writer Megan Amram has always been a crowd favorite thanks to her absurdist and hilarious Twitter account. This year, Amram released her first book, a women's mag parody called Science...for Her!, and somehow managed to burrow even deeper into our hearts.
---
Sarah Silverman
Vaped at the Emmys, forever a hero.
---
Cameron Esposito
Cameron Esposito released her second comedy album, Same Sex Symbol, in 2014. Watch her very funny Conan set here.
---
Amy Schumer
Inside Amy, in its sophomore season, was one of the funniest shows of the year. The proof is in her sketches.
---
Kate Berlant
Like Aparna Nancherla, Kate Berlant isn't be exceedingly well-known outside of the coastal comedy scene, but is more than worthy of your attention. She is a creative, abstract and a totally delightful weirdo who—after touring alongside Father John Misty and producing brilliantly funny videos with her friend John Early—will surely be popping up more and more in 2015.
---
Sasheer Zamata
2014 was bound to be a big year for Sasheer Zamata, the comedian who, after years of performing at the Upright Citizens Brigade, was added to the cast of SNL when the show was put under extreme pressure to diversify their very white cast. It was inevitable that some viewers would question Zamata's place initially, but fuck those people: Zamata proves them wrong week after week with her stellar performance.
---
Kate McKinnon
Oh, forget my long winded yammering and watch this.
---
Maria Bamford
Bamford has always been straightforward about her struggles with mental illness, but this year—thanks to her standup and recognition from The International Obsessive Compulsive Disorder Foundation—she was even more prolific.
From her New York Times profile:
Bamford talks about mental illness the same way Sarah Silverman talks about being Jewish or Louis C.K. talks about being divorced, with the flippant knowingness of an insider. Occasionally, the sharper pieces of her agenda poke through. One of her more jarring bits is about war veterans. She points out that more than 7,000 U.S. veterans die of suicide every year. "Which is funny," she says, breaking into a giggle as a predictable hush falls over the room, "Because you'd think they'd die overthere, but they come home. . . . " The audience quickly explodes into laughter — not because it's funny, but because it's funny coming from her.
I said this about 2013 and I will say this about 2015—let [insert current year here] be the year of Maria Bamford.
---
Lisa Kudrow
Valerie Cherish is baaaaaaaack.
---
Lea DeLaria
Not only does Lea DeLaria continue to delight (and upset) on Orange Is the New Black—she also became a real life Subway Hero after telling a homophobic subway preacher to shut the fuck up on a crowded train car.
---
Chelsea Peretti
Chelsea Peretti's One of the Greats (which debuted on Netflix this fall) was the best comedy hour to come out all year (please don't let the trailer make you think otherwise). In it, Peretti—who also plays Gina on the highly enjoyable Brooklyn 99—addresses sexism, confidence and double standards and presents it all with stage presence and expert comedic sensibilities of—yes—one of the greats.
---
Jenny Slate
Jenny Slate—thanks to her stints on Saturday Night Live, Kroll Show and Parks and Recreation—has long been adored by comedy fans. This year, she took things to a new level with her star-making turn in the feature length Obvious Child. A safe bet: We'll be seeing Slate in much more high profile roles (both comedic and dramatic) in the years to come.
---
Broad City
We've been needing a show like Broad City (created by Abbi Jacobson and Ilana Glazer) for a long time and I'm glad to say that it doesn't disappoint. While the series could easily be yet another self-indulgent look at highly (WINK WINK) flawed 20-somethings, it somehow manages to avoid pretension and self-congratulations—replacing them with finely crafted jokes and characters who, despite their problems, are enthralling and charming.
---
Tina Belcher
---
Jessica Williams
BE STILL OUR HEARTS. JESSICA WILLIAMS IS WOMAN OF THE YEAR.
---
And an honorable mention to Jan Hooks and Joan Rivers, two comedy angels.
Thank you, hilarious women, for making our miserable lives a little more bearable.
Image by Tara Jacoby.