Tig Notaro is the fucking coolest. Two years ago, she performed what quickly became one of the most legendary stand-up sets of all time, tearing the roof off Los Angeles' Club Largo with a searing, heartbreaking, hilarious set about being diagnosed with breast cancer. Last night at Town Hall in New York, she followed that up by doing most of her routine topless, displaying her double mastectomy scars.
We repeat: Tig Notaro is a fucking legend.
Both the New York Times and the New Yorker attended Tig's set last night; the New Yorker writes that she disrobed at the end of a bit about getting a patdown from a disquieted TSA agent, a woman who was clearly concerned when she couldn't find a bra or breasts on Tig's person. The magazine adds:
Notaro was wearing a gray sports jacket, jeans, and a pink button-down shirt. She finished the bit and unbuttoned her jacket. From the back of the house, someone shouted "Whooo!"—a catcall, or a catcall in scare quotes.

Notaro, with one arm still in her jacket, looked surprised. "Did you not hear the story I was just telling?" she asked. She paused, letting a small wave of laughter roll over the crowd. (Anaheed Alani, of Rookie magazine, once wrote that Notaro "uses long pauses . . . better than probably any other comedian in the world.")
"You know, it's funny," Notaro continued. "I was going to do this show with my shirt off, anyway. I'm about one more 'Whooo' away from going topless." It was a joke, obviously. But, predictably, several whoops emerged from the crowd. Notaro made an instant calculation. Then she ripped her shirt open, Superman-like, and she was topless.
The Times, in what amounts to a rave review for them, says the set was "meticulous":
Like a master magician, she gives the audience members the illusion of control, while pushing their buttons the whole time. The difference in this show was that the way she manipulated the crowd was more pointedly overt, and manipulation was actually the show's dominant theme. Taking her shirt off is not a subtle attention grab, but neither is orchestrating a standing ovation through some funny passive-aggressiveness.
G/O Media may get a commission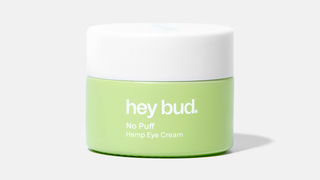 15% off
Hey Bud - No Puff Hemp Eye Cream
The audience stumbled out of her show dazed and dazzled because—once again, just in case you're not getting this—Tig is a god.
Notaro performs at the Grammys earlier this year. Photo via AP Images