Teens trading nude pictures is nothing new, but parents, teachers, and administrators at a Colorado high school in Cañon City have been left in shock by the revelation that hundreds of naked pictures had been traded by students like Pokemon trading cards under their noses and without their knowledge.
The New York Times reports that authorities don't know yet whether they'll press child pornography charges against the participants (as many are minors themselves), but they do know that the high school's football team is at the center of the sexting ring, which used "vault apps" to trade pictures of classmates.
From The New York Times:
[Superintendent] Mr. Welsh said a significant percentage of the student body at Cañon City High School had participated, with boys and girls involved in seemingly equal numbers. The photo-sharing, some of which took place in school, was done largely on cellphone applications called "vault apps" that look innocent enough — some look like calculators — but are really secret troves of photographs accessible after entering a password.
The photos weren't just kids trading for fun, either. According to The Times, kids traded photos to rack up points, which allowed them to earn the respect and jealousy of their peers.
Students at the school described a competitive point system that classmates used to accrue photographs. Different point values were assigned to different students. Students who collected naked photographs gained points by adding these desirable children to their collections. Isaac Stringer, a junior interviewed outside the high school who said he did not participate in the photo-sharing, called the boy with the largest collection "the pimp of pictures."
G/O Media may get a commission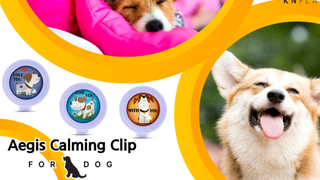 20% off
Aegis Calming Clip for Dogs
This is apparently not news to some parents. A mother interviewed by The Times said that she'd been speaking to the district since at least 2012 about the fact that students at the city's middle school were trading nude photos after discovering some pictures of another child on her daughter's phone. But, she says, officials didn't or couldn't do anything about it. The mother, Heidi Wolfgang, said she's now home-schooling her child. "He told me there was nothing the school could do because half the school was sexting," Ms. Wolfgang said about the response she received from a school counselor.
Now that the ring has been uncovered, school officials are scrambling to figure out next steps. While they're deciding how they'll go about keeping kids safe, however, there's one thing all administrators agreed on: The school's football team would not be playing their scheduled game this weekend.
From Superintendent Welsh's statement:
"because a large number of our high school football players were implicated in this behavior, the coaching staff and administration, after careful thought and consideration, decided that stepping on the field to play this weekend to represent the Cañon City community is just not an option."
Authorities will investigate whether adults were involved in the sexting ring and whether any of the students had been pressured or bullied into taking nude pictures of themselves and sharing them with others. No one, I think, would be surprised to learn that many teens weren't willingly involved but felt they had to participate in order to fit in.
---
Contact the author at mark.shrayber@jezebel.com.