Last month, former University of North Carolina assistant dean of students Melinda Manning, three students and one former student filed a complaint with the U.S. Department of Education's Office of Civil Rights on behalf of themselves and 64 other unnamed sexual assault survivors, alleging that university officials pressured Manning into underreporting cases and violated the Campus Sexual Assault Victims' Bill of Rights, the Clery Act and the Family Educational Rights and Privacy Act (FERPA), and equal opportunity mandates under Title IX of the Education Amendments of 1972, Titles VI and VII of the Civil Rights Act of 1964 and Title II of the Americans with Disabilities Act.
Now sophomore Landen Gambill, one of the students named in the case, says she's being punished by the Office of Student Conduct for "intimidating" her rapist by speaking to the press about her sexual assault.
Gambill recently told The Daily Tar Heel and a variety of other outlets about her traumatic experience reporting her assault to the administration. From a December 5th, 2012 article:
"It's incredibly clear that those people had no idea what sexual assault is, what consent is," said Landen Gambill, a sophomore whose assault case was processed by interim procedures.

"They were not only offensive and inappropriate, but they were so victim-blaming.
"They made it seem like my assault was completely my fault."

As a freshman, Gambill was continually abused - sexually and verbally - by her long-term boyfriend.

When the relationship ended, she said she was met with months of stalking, threats and harassment.

Those actions lead her to press charges with the Honor Court. In her trial, Gambill said she was forced to answer irrelevant and inappropriate questions.

"The woman student said to me, 'Landen, as a woman, I know that if that had happened to me, I would've broken up with him the first time it happened. Will you explain to me why you didn't?'" she said.

Gambill said the court used her history of clinical depression and her suicide attempt - which she said was a result of her abusive relationship - against her.

"They implied that I was emotionally unstable and couldn't be telling the truth because I had attempted suicide," she said.
G/O Media may get a commission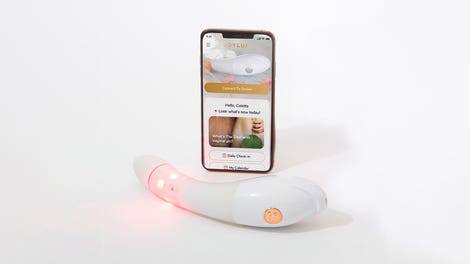 $50 Off
Joylux vFit Gold Device
On January 29th, 10 days after news broke about the OCR case, Landen received an email from Elizabeth Ireland, the Graduate & Professional Schools Student Attorney General, who wrote that she "received a report of a possible violation of the Honor Code on which you are listed as the reporting party." Since Landen knew she hadn't done anything wrong — she hadn't even (and still hasn't) publicly identified her rapist, even though he lives across the street from her on campus — she ignored the warning and continued to tell her story.
Last Friday, she received another email from Ireland saying she had determined that sufficient evidence existed to refer the matter to the Honor Court for consideration:
Accordingly, you are being charged with the following Honor Code violation(s):

II.C.1.c. - Disruptive or intimidating behavior that willfully abuses, disparages, or otherwise interferes with another (other than on the basis of protected classifications identified and addressed in the University's Policy on Prohibited Harassment and Discrimination) so as to adversely affect their academic pursuits, opportunities for University employment, participation in University-sponsored extracurricular activities, or opportunities to benefit from other aspects of University Life.

This decision was reached because the evidence provides a reasonable basis to believe that a violation of the Honor Code may have occurred. Please note that being charged with a violation does not imply guilt. It simply means that sufficient evidence of a possible violation exists to warrant a hearing before the Undergraduate Honor Court.
If UNC's Honor Court finds that Landen had indeed "intimidated" her rapist and "adversely" affected his life she could be subject to the following sanctions:
Expulsion (precludes matriculation at any UNC constituent institution)

Permanent Suspension

Definite or Indefinite Suspension

Definite or Indefinite Probation

Written Warning

Grade Penalty

Educational Assignment

Conduct Sanctions (such as community service and restitution)

Loss of Privileges
Landen said that she attended a preliminary Honor Court meeting and asked whether she could have violated the Honor Code simply by saying she was raped; the answer was yes.
"This type of gross injustice is the reason why UNC students are speaking out and demanding answers," Landen told us. "The reason why I'm so vocal about this isn't because I just want justice for my case. I want to make sure no one else has to go through this if they want to report an assault to the university."