The University of North Carolina pressured former dean of students Melinda Manning to underreport sexual assault cases, according to a complaint filed to the U.S. Department of Education by Manning, three students, and one former student. They say UNC has violated the Clery Act, Title IX of the Education Amendments of 1972, and Title VI and Title VII of the Civil Rights Act of 1964, among other federal laws.
The Daily Tar Heel read the complaint and has all the details; they're not pretty. In short:
The complaint alleges Manning was told by the University Counsel's office that the number of sexual assault cases she compiled for 2010 was "too high" before the total was decreased by three cases without her knowledge; that she was made the victim of a hostile work environment in the dean of students office; and that her efforts to reform the University's handling of sexual assault cases were stymied more than once by higher administrators.
Manning joined the University in 2001 as assistant dean of students, and spent most of her time advocating for sexual assault survivors and trying her hardest to change the system the school used for reporting sexual assault — a process multiple UNC students told us was incredibly flawed. This is how she alleges she was paid back for her hard work:
According to the complaint, in 2010, when [current Vice Chancellor for Student Affairs Winston Crisp] was promoted from dean of students to vice chancellor for student affairs, Manning met with Crisp to ask him about applying for the vacant dean of students position.

"Vice Chancellor Crisp told her that he would 'never hire her because she had a young child at home' and what that could mean," according to the complaint, which cites the action as a violation of TitleVII of the Civil Rights Act of 1964, which prohibits discrimination on the basis of gender.

[Dean of Students Jonathan Sauls] was hired for the position.

For the next two years, the complaint states, Manning endured persistent hostility from Sauls, her direct superior, who lashed out at her with threats, retaliation and silence - a stressful combination that eventually affected her health, according to the complaint. The document claims this hostility violated Title IX's guarantee to an equal opportunity work environment.
G/O Media may get a commission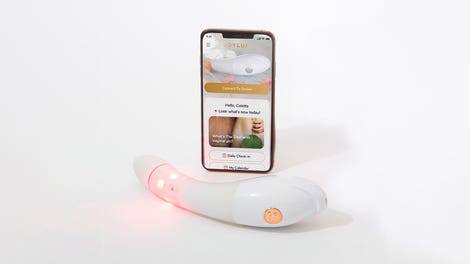 $50 Off
Joylux vFit Gold Device
We spoke with junior Andrea Pino, one of the students who submitted the complaint, last month. Pino, a rape survivor, couldn't say much at the time, but she told us that Manning was the reason she didn't drop out of school after her sexual assault. "Melinda is the reason I'm still here on campus," she said. "She's the one that helped me withdraw from the class that was triggering me. She's the only person who listens to us."
We also spoke with Manning, who was hesitant to say more regarding her future plans at the time. When asked why she was stepping down — which she did in December — she simply said, "I got tired of fighting."
Was she sad to leave the students she had fought so hard to help? Of course.
"I absolutely feel bad about leaving the students," she said, "but I also have a lot of faith in them. I know our students can do amazing things. I have a tremendous amount of faith."
For more on the case, check out The Daily Tar Heel's two stories published today — and we're sure they'll keep us updated. There's also a Change.org petition.