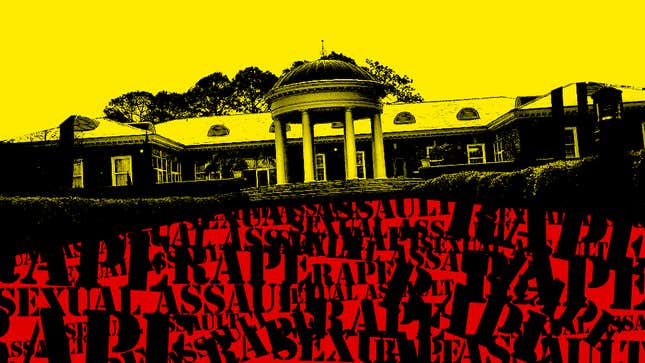 If the recent spate of federal suits filed against college administrations for mishandling sexual assault reports has taught us anything, it's that many institutions of higher learning are woefully under-equipped and inept when it comes instituting, and then effectively wielding, an effective sexual assault and harassment policy.
Through Title IX and the Clery Act, students are capable of holding college administrations responsible for these failures — which is, of course, a great thing. However, very troublingly, some colleges with inadequate sexual assault policies are more concerned about the PR crisis that would come from a highly-publicized sexual assault fuck-up than about their students' physical, mental and emotional safety. Silencing or refusing to listen to criticisms is patently awful, for several reasons: such institutional neglect permits a hostile sexual environment to flourish; it allows rapists to go free and quite possibly commit sexual assault again; and, according to new research, it exacerbates the psychological impact of sexual assault.
In universities like Occidental and Coastal Carolina University, administrations are actively trying to silence and intimidate critics — in both the student body and staff — in order to keep them from coming forward with their complaints. As Jessica Testa reported in an exhaustive piece on Buzzfeed, Occidental faculty allege that "they were verbally reprimanded or even lost jobs at the college after speaking up about the school's sexual misconduct policies or supporting those who did." Multiple staff members believe the administration is monitoring their phones and computers; Caroline Heldman, the chair of the politics department, says her office was broken into three times in the month prior to her filing Title IX and Clery Act suits against the school, on behalf of 37 complainants.
One year ago, Occidental president Jonathan Veitch sent a campus-wide email complaining about "a number of well-intentioned people [who] have chosen to cast our motives into doubt; vilify dedicated, hard-working members of Student Affairs; question the sincerity of our response; and actively sought to embarrass the College on the evening news." In a faculty meeting earlier this month, he said that the college's sexual assault problem is "a reputational concern for all of us."
This isn't an isolated case — something similar is also happening at Coastal Carolina University. Last October, CCU held a "Tea & Ethics" symposium about entitled "Sex and College Life: Hooking Up, STDs and Consent." A press release promoting the event billed it as discussion meant to focus in part on "the responsibilities of the institution, students and student organizations when it comes to promoting healthy sexual choices." According to a petition circulated afterward by the faculty, the Q&A immediately following the panel devolved into a stream of ignorant, victim-blaming statements made by students, a large number of whom responded to panelists by expressing "sentiments that reflected the view that a rape is the victim's fault and expressing an overall disrespect for the panelists' expert information." The petition goes on to reveal even more disgusting behavior:
[T]he students' comments that a person's revealing clothing could make them responsible for a rape, and that a person who is drinking is responsible for getting raped, are particularly troubling. Moreover, these comments resulted in cheers and applause from the audience, thus making a safe space for discussion impossible. One panelist ultimately left this forum in protest, resulting in cheers and applause. Several students continued their commentary on social media, including posting a photograph of the departing panelist with the tagline "walk of shame" and another calling her a "feminist bitch."
The panel resulted in the filing of a Title IX complaint (I mean, heckling an anti-rape expert offstage and cheering as she leaves fits the bill of "hostile sexual environment" pretty perfectly). A student petition was also created in addition to the one circulated by CCU faculty. Within a few weeks of the petition's launch, CCU President David DeCenzo sent an email to the staff — obtained by Jezebel — in which he expressed his disappointment in the faculty's criticism of the administration. In it, DeCenzo called the allegation that CCU doesn't take sexual assault seriously "simply wrong," adding:
"Personally I take umbrage that this administration ignores its responsibilities to the University community in such matters and the assertion that we support an environment where incivility and disrespect are permitted to flourish...Clearly the incident at the Tea and Ethics event and its aftermath reinforce our need to continue to promote civility in our personal interactions."
In addition, DeCenzo acknowledged but refused to comment on "the issues raised by the event," citing the "integrity of the investigation" and "privacy concerns." According to a current CCU student who wishes to stay anonymous, the student body never received any communication about the event and its aftermath, and the investigation closed quietly, in what she believes is an attempt to keep the controversy under wraps. No students were reprimanded for — or even asked to reflect on — their behavior. (I've reached out to the CCU President's Office for comment and will update if I hear back.)
Meanwhile, a hostile sexual environment continues to thrive on campus. One week after the panel, Coastal's football team beat the Presbyterian College Blue Hose; the win was celebrated on the front page of the student newspaper with the headline "COASTAL BEATS THOSE HOSE." In an op-ed published a week later (but not available online), four Coastal students decried the phrasing for "trivializing violence against women, especially women who enjoy sex" and urged the administration to "implement effective mandatory sexual assault awareness programming university-wide for faculty/staff, students, and administrators." This, obviously, didn't happen.
As of now, according to our source, several of the CCU sexual assault initiatives are not being done, or they're being "rushed through and under-publicized." Some particularly grim examples: at a recent forum on what to do if one's friend has been sexually assaulted, only two of the three panelists showed up (one of the two present was the Dean of Students, and he left before it finished). In addition, as part of CCU's annual homecoming competition, Greek organizations are able to win points for attending certain MultiCultural events — including sexual assault awareness programs. This results in disinterested frat members showing up at sexual assault panels/events en masse, which can create a very antagonistic environment. The "Tea & Ethics" panel was one such instance; in another, members of the Greek community were obligated to go to a Take Back the Night rally and reportedly made attendees uncomfortable by making loud and sarcastic comments.
Even more damningly, the administration seems to conflate "promoting civility" with "quashing dissent." Over email, the current Coastal student told me, "I've been reluctant to write in the school newspaper and [be] critical thereof because students have warned me they've been called in by administration after publishing op-ed pieces." CCU seems to believe that belonging to or benefiting from an organization obligates one not to voice any criticisms — even when such criticisms could save students from harm. One particularly egregious example of this: the Coastal student attends the university on scholarship that's funded, in part, by a donor from CCU's Women in Philanthropy and Leadership organization (WIPL). Interestingly enough, WIPL is run by the university president's wife, Terri DeCenzo. "I am critical of the organization because it has such a privileged, white, upper-class, Christian scaffolding," the Coastal student told me in an email. Such criticism is, of course, very unwelcome.
After she commented on a post on WIPL's Facebook criticizing CCU's lack of communication and transparency re: campus assault, her post was deleted. She soon received an email from Ms. DeCenzo admonishing her for her lack of gratitude. It read, in part:
I am offended and disappointed at the hypocrisy you have demonstrated by your negative comments and communications via social media and otherwise. There were numerous qualified students who needed and deserved the financial support we have given.

I hope that you receive this email as an honest attempt to help you learn and grow in the realities of the real world and not put down organizations and peoples without evaluating all information.
There is no "hypocrisy" in accepting a college scholarship and criticizing that college's administration for being intentionally opaque and negligent in its policies. You're not obligated to love and support (or at least quietly tolerate) everything your university does. And yet: "Every time I say something, within 24 hours I get a message over email or Twitter that the administration would like to meet with me," our source says. Wow, if only the administration spent half as much time combating rape culture as it did trying to hush up its critics.
It's quite evident that colleges can't simultaneously view sexual assault as a serious and pressing safety issue and a "reputational concern." It's impossible to fix something without first acknowledging that it's broken, and as long as university administrations fear that they'll take a PR hit for publicly recognizing that their sexual assault protocols are inadequate, then it's unlikely that effective reform will occur. Pointing out a hostile sexual environment on campus isn't an attempt to "embarrass the College," nor is it some kind of offense. It's part of a concerned effort to keep college students safe, which is good because that should be a priority for administrations. For instance, if the CCU administration had seen the failed Tea & Ethics panel — or the "COASTAL BEATS THOSE HOSE" headline, or our source's critical Facebook comment — as learning moment, an indication of how uninformed some of their students are about the nature of sexual assault, they could have come up with an effective and instructional response. That would have been a true promotion of civility — not to mention great PR! What Coastal did instead (and what Oxy did as well) by trying to intimidate and silence students and faculty wasn't civil: it was censorious and dangerous.
In short: the only way to avoid being embarrassed by your shoddy sexual assault policies is to write better ones.
Image by Jim Cooke, photo via Facebook.
UPDATE: We received the following email from CCU President David DeCenzo:
Related to the program entitled "Sex and College Life: Hooking Up, STDs, and Consent," The Provost's Office (Dean of Students) began an investigation within twenty four hours of the incident. Additionally, resources were allocated to make sure that all individuals were safe. That investigation involved personnel and students and cannot be discussed publicly due to privacy concerns.

Coastal Carolina University takes the matter of sexual assault seriously.
Mr. DeCenzo also included a list of woman-focused and anti gender violence events offered at the university.