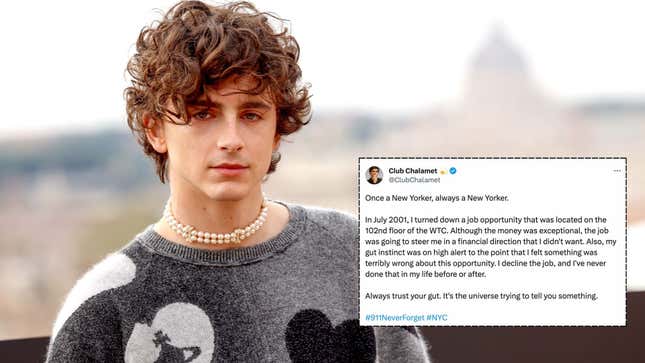 The week after Labor Day always feels so miserably long, and for no one was that truer than the woman behind prolific Timothée Chalamet stan account Club Chalamet, who had a rollercoaster of a long week. And that doesn't even include the huge reveal she dropped Monday morning, which I'll get to in a sec...

On Labor Day, at Beyoncé's birthday concert in Los Angeles, Chalamet and Kylie Jenner were papped full-frontal snogging. After months of dating rumors, some observers still reacted with shock. Once a denier of their unlikely romance myself, I had to hand it to the couple: They, and certainly their lips, seemed to be well-acquainted. But the news was borderline catastrophic for Simone Cromer, the 57-year-old woman reportedly running Club Chalamet, who's been interviewed about being on the older end of the Wonka star's fandom spectrum. After footage of the kiss circulated, Cromer recommended that her fellow fans "step away from social media for a couple of days" if they were "feeling distressed." Seems like helpful advice if you're having a bad day because two strangers smooched, and Cromer certainly was.
But Cromer did not take the recommended break and instead posted at least five more times on the grid that same day. One of the posts, featuring a heavily memed photo of Matthew McConaughey as Rust Cohle smoking a cigarette, delved into a conspiracy theory that Comer is pushing. Basically, she believes that someone, perhaps Kardashian-Jenner matriarch Kris Jenner, had been blackmailing Timothée into a relationship with Kylie. As such, her post alleged that after months of "gossip speculations, 'sources' from the kajenner camp, her people stalking Timmy's private residence, and his obvious avoidance of her, has finally paid off and had her primary objective met. Timothée has now played her [Kris? Kylie? I'm not totally sure] hand and relented."
While the post-Bey-Day posts leaned fanatical, they weren't totally atonal for this or other fan accounts. For example, Club Chalamet has discussed the SAG-AFTRA strike in the context of whether or not Timmy will get work. "His work will get bottlenecked, but he'll prosper," one post reads. Another points out that "not all actors have the talent, charisma, or the IT-factor to become highly paid and highly sought after" like Chalamet, who shouldn't have to "share" his salary with "random background actors" in support of the strike. A different post reads as gravely disappointed in Warner Bros. for not casting Chalamet in the blockbuster hit Barbie. Not everyone can be Timmy; Timmy can't be everywhere.
But the anger Comer harbors for Jenner specifically because she does not reach the arbitrary standards Comer holds for Chalamet is, to put it lightly, parasocially irrational and misogynistic. "[Kylie] attracts a certain crowd that has very low IQs," Comer wrote in a Club Chalamet tweet that is now deleted. "Kylie doesnt have anything to offer Timothee on an intellectual level." Frankly, the whole situation is a bit of a bummer—not the Chalamet-Jenner pairing itself, but the fact that a woman is dedicating this much emotional bandwidth, much of it negative, to a celebrity.
In a 2019 interview with Refinery 29, Comer explained of Club Chalamet, "I want to help carve out a niche fanbase of mature, well-balanced adults in support of his career." Unfortunately, the "well-balanced" aspect of this plan has not panned out. However—and please excuse me for this egregious pivot—another plan that did not pan out allegedly saved Comer's life.
On Monday, the morning of September 11, Comer tweeted (then deleted and reposted) from the Club Chalamet account about turning down "a job opportunity that was located on the 102nd floor of the WTC" months before the 2001 terrorist attacks: "Always trust your gut. It's the universe trying to tell you something." After the week of scrutiny she faced for her overblown reaction to Chalamet and Jenner's kiss, to step with two feet back into the spotlight with this statement was truly something! For the ultimate lesson to be about trusting your gut? I'm speechless!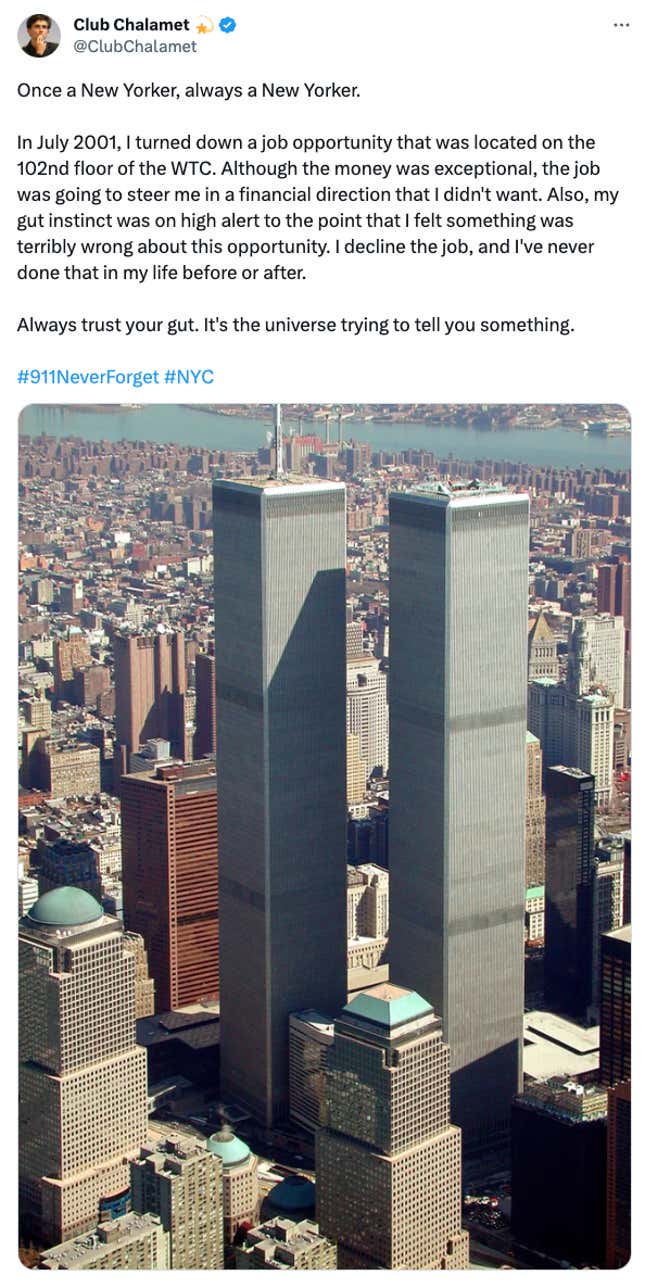 Since narrowly avoiding a tragic demise, what has Comer decided to do with her one precious life? Run a Timothée Chalamet stan account that harasses a woman she deems unworthy of him. What a journey.