The world has changed considerably since the last time I documented my daily product use, which was all the way back in February 2015. That's three-plus years. Life was simpler then. Climate was changing slightly less, racism barely existed :), and a bag of Cheetos was exactly the same price as it is now. Back then, I confessed to having a dirty assortment of beauty and makeup products on my dresser and under my sink, and posted sad photo documentation. In 2018, I still have that, but at least I've tossed out a lot of the products I never use.

What's also different is that I'm more attentive to my skin these days and have thus added a slate of products to my routine—not because I've had acne issues, but because my anxiety about getting older heightens with every passing second. Though I'm lucky I won't experience caucaging, ideally I'd like to stay as physically youthful as a newborn. I'll settle for skin that looks the same age as Lil Tay.
In the Morning
Lately, against my will, I've been waking up earlier than normal, for reasons unbeknownst to me, at the geriatric hour of 7 a.m.—sometimes 6:45!!! I don't like it. Around 8:15 a.m. is the time I wake up in the physical/mental sense and actually get out of bed. I'm proud to say I've gotten better at getting up instead of typing from my bed as my cat mews for breakfast even though there's food in her bowl already. The first thing I do is brush my teeth (though sometimes I'm gross and wait a couple hours) with a whitening toothpaste recommended by Jezebel's Joanna Rothkopf: Crest 3D White Brilliance. It has long been a goal of mine to have teeth as white as the whitest thing you can think of right now—a fresh Google doc page, the Chainsmokers, a gentrifier wearing Lululemon while dabbing and eating an avocado. I think it's the contrast of the pristine white teeth with my skin that appeals to me, like wearing your best clean white sneakers on a inhospitable summer day.
I've asked every dentist I've had about whitening but never gone through with it. I'll embrace vanity, but I don't feel like paying for a procedure that's not covered by dental insurance. There was a period where I was using Crest 3D Strips and seeing results, which may have been in my head, but I think they made my teeth sensitive, and it was also too much work. I can't tell yet if this Crest Brilliance is really "brilliant" or just false advertising, but I'm willing to continue the journey if it helps get me a set of blinding teeth, and if that doesn't happen, trust me, Joanna will pay.
G/O Media may get a commission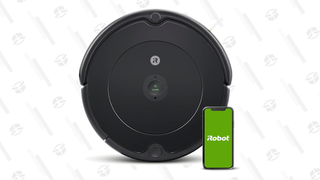 35% Off Black Friday Deal
iRobot Roomba 694 Robot Vacuum
Just as I did three years ago, I still wash my face with Trader Joe's tea tree face wash, followed by a rub of the face using Thayer's Witch Hazel toner, which I cannot recommend highly enough. I started using witch hazel after a tragic years-long battle with acne and it changed my life. That and the tea tree wash have single-handedly saved my face. Here is where my routine diverges from before. Everyone in the world of beauty in my life has talked about Drunk Elephant. So I recently bought the C-Ferma Day Serum, after former Jezebel writer Kara Brown generously publicized her skincare regimen. I use this serum once a week (I have no idea how often you're supposed to use it). I also bought an SPF that Kara recommended, Etude House Sunprise Mild Watery Light, and these exfoliating lemon pads, which smell good on the face. Thanks, Kara!
For general skincare, I've developed a Monday, Wednesday, Friday routine in the past few months, in addition to my basic face wash. On Mondays, I use the Drunk Elephant serum in the morning. The other days, it's a choice between a La Roche-Posay face scrub or Burt's Bees Peach and Willow Bark Deep Pore Scrub at night. Other than SPF, I don't use a regular moisturizer and prefer a bit of essential oil instead. I choose jojoba oil or pure Argan oil, which I picked up during a trip to Morocco in March.
I used to be averse to dabbing oil on my skin because I have oily skin, but it turns out it's fine!
Getting Ready for Work
Similar to the other Jezebel staffers, I work from home in the morning and commute to the office in the afternoon on one of New York City's many amazing trains. This means I shower in the middle of the day (I only use Dr. Bronner's Pure Castille bar soap and have for years; lavender is a fav), after which I lotion up with Brazilian Bum Bum cream or La Roche-Posay moisturizing lotion. I also recently bought the Bum Bum fragrance mist. Unnecessary? Well, close your eyes, open your nose, and imagine the scent experience.
My plan is to smell like a version of whatever Rihanna smells like whenever she walks into a room, even if it means layering and caking myself in an excess of warm vanilla scents and spritzes. That includes the Fenty Beauty Body Lava body luminizer, which costs $69 but can be used sparingly. I don't need it, per se. But who's to say I don't? What do we need really? The stuff smells sugary and helps me accomplish my smelling-like-Rihanna goal for now. Once summer is in full swing I'll be able to take more advantage of this.
When it's time to head to the office, it's time for makeup. On days when I want a dramatic look, I perk up my dead eyes with Marc Jacobs gel eyeliner and Velvet Noir Major Volume mascara. I choose to forego foundation and instead do spot concealing, using the Fenty Beauty Truffle skin-stick under my eyes and the Espresso one along my cheekbones for contouring. I then opt for a rosy blush from Tarte (pink or reddish hues) or Glossier Cloud Paint in Haze. The piéce de résistance is the Fenty Beauty Killawatt highlighter, Trophy Wife. It's bold, it's glittery, and I don't mind using it every day for an extra glamorous highlight. I finish with the Glossier lip gloss, or if I want lipstick, the red Fenty Stunna lip paint. You may have noticed that's a lot of Fenty. Is it? I didn't plan my life out this way. Rihanna just happens to make beauty products that are easily marketed to me.
And so I head off to work smelling what I hope is good, ready for whatever the day brings me, with a great mood that will surely not be deterred by delayed trains and track work because there's nothing wrong with the New York City subway system.
Bedtime Routine
Since I don't wear foundation that needs to be reapplied, I'm good for the workday until around 6 p.m. With summer approaching, I've been working out, which is an activity that's better to do without makeup. So before whichever ClassPass struggle-session I've chosen, I whip out a Burt's Bees makeup remover towelette—I like the cucumber one—to get my face naked. Once I get home, for my nightly routine around 10 or 11 p.m., I stick to my tea tree wash and witch hazel and I moisturize with just Argan oil. (I'm still searching for a good nighttime serum that'll let me take advantage of those precious skin regeneration hours.)

This seems like a good time to share a little advice: Brush your teeth twice a day. I know that sounds simple, but I tended to neglect the night brushing in my 20s and paid for it with cavities. Please also floss. While there's no real need for me to use a fancy floss, I do anyway—strawberry Cocofloss—and I don't regret any minute of it!
At night, I endure my hair routine, which is a beast on its own. I have black hair in its natural, textured state; therefore, I condition it every weekend and shampoo every other weekend. When I wash my hair on the weekends, there's an overwhelming number of options and I buy a lot of them. My current routine consists of Shea Moisture African Black Soap shampoo or Kinky-Curly Come Clean shampoo, then Giovanni 50:50 Balancing Conditioner or Carol's Daughter Black Vanilla Moisture and Shine Hydrating Conditioner, followed by 30 or more minutes with a conditioner cap, which I toss in the microwave before use, and a deep conditioner like Camille Rose Naturals Algae Renew. While the hair is still damp, I either twist or roll it into Bantu knots, spraying each section with Rose Water (a bottle that I got from Morocco), and a moisturizer (Oyin Handmade Hair Dew), and I seal that with a mixture of jojoba, castor, and Argan oil. Lately, to avoid doing my hair, I've been wearing a range of head wraps, a couple of which I got from The Wrap Life.
Before I slip into bed, if I've worked out, I'll do a night shower, at which point I do another spritz of Bum Bum fragrance mist for no reason but to smell myself while sleeping. I also like to spray a Lavender Fabric Mist on my bed sheets because the scent is soothing and is supposed to encourage sleep. What other good smelling things can I get? Help me.