Claws is the perfect summer show, establishing itself in three brief episodes as yet another entry in the cultural genre that is "Weird Florida"—somewhere on the same spectrum of Spring Breakers, with a dash of the standard "Florida Man Does Something Bizarre" story that surfaces in the news every now and then. It's a show that tries to cram a little bit of everything for everyone in it— there's a loose sisters-are-doing-it-for-themselves narrative butting up against a plot that could be pulled straight from Breaking Bad.

Niecey Nash plays Desna, the good-hearted owner of a nail salon in Palmetto, Florida, staffed by an assortment of colorful characters that, as Variety's Sonia Sariaya rightly notes, are usually confined to the sidelines for comic relief. There's Polly (Carrie Preston), a former Young Republican wearing an ankle monitor, fresh out of a stint in the clink for identity theft. There's Quiet Ann (Judy Reyes), the muscle for the nail salon, who sits outside with a baseball bat and acts as largely-silent witness. Jenn (Jenn Lyon) is Desna's right-hand woman, married to a former addict who also happens to be related to the big baddie—Uncle Daddy Clay (Dean Norris), loosely involved with the Dixie Mafia, who is running an Oxycontin ring through a shady doctor's clinic. Uncle Daddy's business is overseen by his son Roller—part Eminem, part Alien from Spring Breakers—who is eventually killed at the end of the first episode at the hands of Virginia (Karreuche Tran), a newcomer to the salon who replaced Polly while she was in jail. Both Desna and Virginia were having lurid, cable-TV sex with Roller, and they eventually dispose of his body by wiping it into a surf bag, tossing it on a motorboat and sending the whole thing out to sea—a makeshift Viking funeral.
Grumblings from the local residents of Palmetto, where Claws is set, started before the show's premiere. Speaking to the Bradenton Herald, Palmetto Mayor Shirley Groover Bryant said, "I don't know why they decided to set it in Palmetto. I'm not thrilled about it because it doesn't have anything to do with the characteristics of Palmetto. If they had talked to me about it, it might have been a different story."

The picture Claws paints of Florida and its denizens is indeed less than flattering—the women who work at the nail salon are all getting back on their feet after a tough first act. Desna is taking care of her developmentally challenged brother, Dean (Harold Perrineau); he serves as her main motivation for finding a new location for her salon and making real money. Polly wears an ankle monitor and appears to have multiple alter egos that surely relate to her time in prison. But Claws works so well not just because of its excellent cast or the setting, lush and lurid and bright, but because its central plot could very well be ripped from the headlines of any tabloid-esque story about the state of Florida and its denizens. When you consider the framework, Claws makes total sense.
G/O Media may get a commission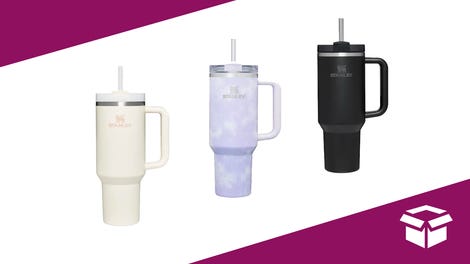 Up to 45% off
Stanley Cup Sale
Florida certainly seems aware of its own weirdness, perhaps even wearing it as a badge of honor. The Palm Beach Post and the Sun Sentinel have each cordoned off a section of their websites dedicated to weird, Florida-specific news. The Sun-Sentinel's FloriDUH blog is especially delightful, aggregating news from other, smaller Florida papers about crimes and incidents that later make their way to the Florida Man subreddit or Florida Man, a sporadically-updated Twitter account that aggregates news of Floridians being Floridians. Included in these stories are teens dragging a dead alligator into their dorm room in an attempt to become internet famous, and a man with a suspended license fleeing the cops n a riding lawnmower. 

Journalist and amateur state historian Craig Pittman tackled the question of Florida in a series of Slate columns in 2013, later turned into the book Oh! Florida How America's Weirdest State Influences the Rest of the Country. According to Pittman, Florida's unique weirdness is due in part to geography and weather, as well as its robust tourism culture. A monument to the Southernmost Point in the United States sits in the water off Key West, a giant concrete buoy that isn't actually the southernmost point in the United States, but close enough. Beautiful and far enough from the center to feel isolated, it's an ideal place to go if one wants to escape. The weather is temperate—pleasant, even—for most of the time, hurricanes and oppressive humidity aside. Those factors alone, plus Florida's open records law, means that journalists looking for stories on slow news days can comb the records and bring the strangest bits to light. Weird shit happens everywhere, but it often seems like the weirdest shit happens in Florida.
The literature of Florida, on the other hand, often skews serious, with an eye towards the darker, sadder side of the state. Sarah Gerhard's recently-released collection of essays, Sunshine State, is more Bloodline than it is Claws. Each essay in the collection could be read as a reason to leave the state, which creates its own sort of inertia for its residents longing for escape. In Swamplandia, Karen Russell leans in to the weirdness of it all, setting her story in an alligator-wrestling park imbued with a touch of magical realism. There are ghost boyfriends and seances, a Bird Man and swamps. If there were to be a Florida theme park—a haunted ride through the Everglades, perhaps—Swamplandia would be excellent source material. On the more comedic end of the spectrum, Carl Hiassen has made a hearty and healthy living writing fairly bonkers true crime comedies about Florida's sleazy, crime-riddled underbelly. Weird Florida isn't just grown men on riding lawnmowers driving through the plate glass door of a Publix and alligators on the street—it's also a fisherman off the Florida Keys finding a severed arm in the ocean, which actually belongs to a man on the hook for Medicare fraud, who is eventually killed by his wife and left for shark chum.
Television, too, has long been drawn to the state's seamier side, to comedic and melodramatic effect. Netflix's bloated, two-seasons-too-long series Bloodline focused on a family in Key West hiding a dark secret. Cougartown took a more humorous approach, in the vein of the classic Florida sitcom The Golden Girls, playing off the Sunshine State's population of old people looking to spend their dotage somewhere nice and sunny. What sets Claws and these other shows apart is the way they are compelled to make Florida itself a character of its own.
Take the salon: Nail Artisans of Manatee County is set in a desolate, sun-baked strip mall, which shares a parking lot with the Messianic Jewish Cafeteria and Internet Center and the pain-management clinic where Desna dutifully launders money for Uncle Daddy Clay. It's the kind of place you'd zip by on a road trip to somewhere much nicer, a blip through a car window of faded signs and blinking neon. While some may find a certain charm in strip malls, when left to pasture, they are nothing more than blight. If you'd like to take a tour of Florida's ugliest strip malls, there's a handy list for that. Strip away the unique details of Claws, from its setting to its characters to the wardrobe, and you'd have any other crime drama. But Claws—unlike, say, CSI: Miami—takes full advantage of the sordid gleam of the Sunshine State.
Writing in the New Yorker in 2013, Adam Gopnik clocked the writing of Hiassen and Elmore Leonard as "the fiction of Florida glare," a genre that shares some of the same DNA as Los Angeles noir, but is distinguished by the fact that the crimes in question take place not under the cover of night, but "matter-of-factly, in the middle of the day." After Virginia shoots Roller at the end of the pilot, she and Desna are left with the matter of what to do with the body. Because it is Florida and because the recently-deceased Roller was the son of a drug kingpin, there is a boat. Desna and Virginia, dressed to the nines in a casual Lucite mule, shredded jeans and pink fur in 90-degree heat, drag his body to the boat and set it on fire—an act that even Bloodline had the decency to do after dark.
Florida is strip malls and sun baked parking lots, palm trees and fried shrimp, gators lurking around every corner and women dressed as mermaids swimming in the water at Weeki Wachee. Florida firefighters rescue manatees seeking warmth in drainpipes. Florida can be trashy, but unabashedly so—and, as Claws posits, where's the trouble in that?
---
Claws airs Sundays on TNT.