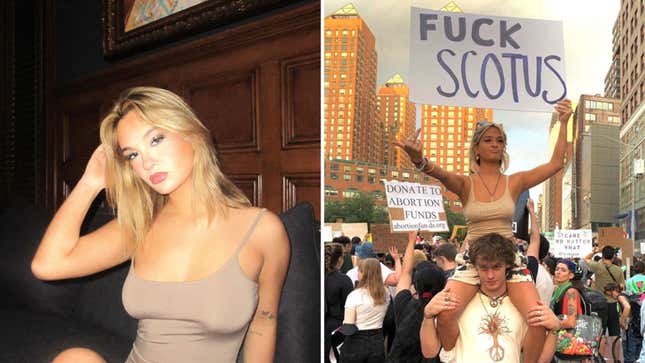 Claudia Conway, the 18-year-old daughter of former President Donald Trump's White House counselor Kellyanne Conway and attorney George Conway (who are going through a divorce), has become a Playboy bunny—well, in a very 2023 way.

Olivia Holt Didn't Originally Get the Part of Roxie Hart in 'Chicago'
As the controversial brand continues its efforts to modernize itself, Playboy has recently relaunched its magazine—this time, digitally—just months after instituting a subscription program for content creators à la Only Fans on its site. Conway has become one of the first ones—and a very popular one, at that.
"Claudia Conway is one of many women who have found freedom, autonomy, and major financial success on our creator platform," Playboy said in a statement to multiple outlets, including the New York Post and Newsweek. "We welcome her and support her choices."
"When I was 15-16, I was exploited by the media, preyed upon, and was forced into portraying myself as something I wasn't," Conway wrote of her new gig on Twitter. "My body was taken from me. Now, as a young adult, I am aiming to reclaim my womanhood and femininity in a way that is truly mine. I am putting myself out there in a way that is MY OWN and no one else's."
"I believe in writing your own narrative, like I've said in the past, and taking back what was once unjustly taken from you," she added. "Don't let someone capitalize off of your vulnerabilities— reclaim them."
It seems an odd choice to partner with Playboy—an empire constructed from capitalizing off women's vulnerabilities—but hey, she's young! And frankly, despite who her parents are, Conway kind of rocks? Take one look at her TikTok (which boasts 1.6 million followers), Instagram (161,000 followers) or, Twitter (519,500 followers) and you'll immediately note her loud and proud statements on abortion, queerness, and gun control. Then, if you're like me, you'll summon memories of returning home following your freshman year of college with pink hair, a tattooed ass, and Alison Bechdel in hand only to be met by raised eyebrows and your grandmother's tears.
You might remember Conway for her brief run on American Idol, but I will forever hold her in high regard for dragging her parents to hell via social media back in 2020. Oh, and this interview in which she candidly discussed growing up queer in a household that's waffled on support for LGBTQ+ people and recalled Donald Trump asking her in 2015—when she was a literal child—whether she thought he had a shot at becoming president: "I was like, 'I don't know.'"
All the best to you, Claudia!
---