Sometimes the Urban Outfitters catalog is depressing, with miserable models. Not for December 2010! Inside: Loopy hijinks, party clothes and ladies who look like they're actually having fun.
Polka-dot tights! Glitter shoes! And models who don't look like they're trying to survive the apocalypse. All good things.



G/O Media may get a commission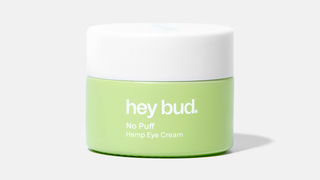 15% off
Hey Bud - No Puff Hemp Eye Cream
Actual smiles! This is a big deal. Also a big deal: This photo shoot location appears to be Bemelman's bar.


Silence + Noise Golden Ring dress, $79. Dove dress, $169. Looking like you're going to kick ass at the holiday party: Priceless.



There are some pretty good gift ideas here: The critter slippers are $24; the little kiss-lock coin purses are $10 each, and the aforementioned glitter oxfords are $48.



The model with the buzz cut is blowing my mind, because now that we're in the era of Lara Stone look-alikes, a model who actually stands out is rare. But dammit, this lady looks awesome, and I love a non-conventional look.



A little lezebel action? Sure. Why not.



The best part of this catalog are these grainy nighttime shots, in which the models look like they're up late after partying. Drunken ramen? We've all been there.



More dodgy after-dark adventures! Please note the upside-down kiss in the upper left.



Cool coat. Too bad it's $520.



Molly thought she'd walk home instead of taking a cab, but she was halfway through the park when she remembered she was wearing her ROB ME coat.



Molly looked up at him with questions in her eyes… and the next thing she knew, she was wearing the Poncho Of Sadness.



Eenie meeny miney moe, guess which one of us has been doing blow?



Every now and then, a catalog produces a beautiful image that is closer to art than advertising. Ladies and gentlemen, we have a winner. Suitable for framing.



Sebastian didn't care when he found out that The Outsiders wasn't a documentary. He still planned on changing his name to Soda Pop.



Molly regretted not paying her light bill, regretted getting dressed in the dark, and, most of all, regretted buying those terrible, terrible pants.





Molly and Alix liked to share stories, share shoes and share clothes.

Sometimes they even shared a bed.



Buzz cuts for everyone! It's a Christmas miracle!



If Santa brings you the leopard print roller skates ($169) and the iPhone/iPod boombox ($258), you're guaranteed a very merry Christmas indeed.
Urban Outfitters [Official Site]
Earlier: 12 Depressing Ensembles From Urban Outfitters' Apocalyptic Wasteland
Urban Outfitters: Seasonal Affective Disorder & See-Through Dresses
Urban Outfitters: Sequins, High-Waisted Trousers & The Return Of The Miserable Model
Related: J. Crew's Slightly Crappy Christmas
Free People Inflicts Rich Hippie Aesthetic On Children
Anthropologie's New Models Are Total Animals
See also: All "Today In Catalogs" posts