The new Urban Outfitters arrived in mailboxes recently, and its models are depressed, yet again. The photoshoot's gloomy, woodsy setting and the muted, colorless clothes only make things worse. It sums up that overwhelming melancholia than can grip a person who dreads shorter days and lack of sunlight as we head into fall. Misery loves company, after the jump.



A closer look at the young lady on the cover. It's noble how she models through the pain.
---
G/O Media may get a commission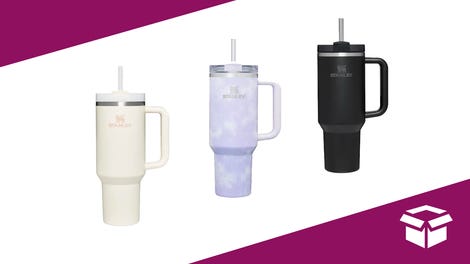 Up to 45% off
Stanley Cup Sale
Some of the moddles are so sad, they can't even show their faces. They can, however, show you that the shiny legging trend will not go away; neither will the hideous shoe trend. (Silence & Noise buffalo poncho, $68; leggings, $38. Jeffrey Campbell Marly platform shoe, $125.)
---
Luckily, Urban's got just the thing for those chilly winter months ahead: A sheer, see-through dress! Don't you feel better already? (Kimchi Blue chiffon twilight dress, $68.)
---
Where does depression hurt? Everywhere.
---
Who does depression hurt? Everyone.
---
In the first shot, it's as though she's thinking, "I'm so depressed. I wish there were a bridge I could jump off of." And the second shot is: "Wait a minute!" (Silence & Noise motorcycle jacket, $128.)
---
The first image, on the right: "What would Virginia Woolf do?" The second: "Hmm, too shallow." (Kimchi Blue shadow silk cami, 48; Silence & Noise coated jean, $78; Ruby leather lace-up boot, $88.)
---
This is basically a work of art. It should be titled "Ennui with coke spoon."
---
Lastly, in addition to all of the emotional depression, Urban Outfitters has convinced me that we are, indeed, heading toward financial depression. I base this assertion on their shoes, alone: No whimsical 80s-revival neon pumps, no dance-til-dawn party platforms. Instead, they offer the following hard-scrabble Dickensian specimens:
Urban Outfitters [Official Site] Earlier: The New Urban Outfitters: I Want To Sell You This Skirt But My Dog Just Died Urban Outfitters: Sequins, High-Waisted Trousers & The Return Of The Miserable Model