"Accelerate," the first single off Christina Aguilera's so-called comeback album Liberation, is your soundtrack for this weird time of the year when it's hot but not yet Memorial Day and every person you encounter is thirst-ridden and dying to make out.
The song, featuring Ty Dolla $ign and 2 Chainz, was produced by Kanye West (sorry), Che Pope and Mike Dean, according to Aguilera's rep. It's quite different than what one might think a new Christina Aguilera song would sound like—there are no shrieking melismatic runs and only a hint of growling. In fact, Aguilera doesn't feel that present at all—a sign of "job insecurity," as my colleague Rich Juzwiak put it—or perhaps a recognition on her part that times are changing and with them, she must, too.
In an interview with Billboard, Aguilera compared Liberation to 2002's Stripped, which signified her freedom from the Disney bubblegum star machine that had made her. This time, the prison she was trapped in was NBC's The Voice, and instead of making another "Dirrty," she's given us this, a horny song for a culture whose thirst cannot be slaked.
Milk, the drink of my enemies, is merely the first of many stand-ins for what I surmise is meant to be cum. Truly, it is too early in the morning for this, don't you think?
G/O Media may get a commission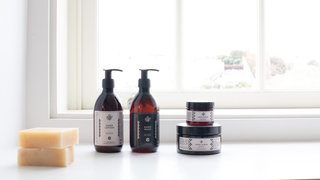 Exfoliate and Hydrate
The Handmade Soap Company
See. I was right!
Entertainment Weekly's read of the lyrics, which include the word "stamina" and the phrase "fill me up," is that it's about "flexing confidence and material swag." But the chorus seems to point to one thing and one thing only: "Accelerate, come on babe, pick up your speed/Stamina, fill me up, that's what I need."
Confidence, yes. Sure. But also sex.
Christina, we get it. Thanks.