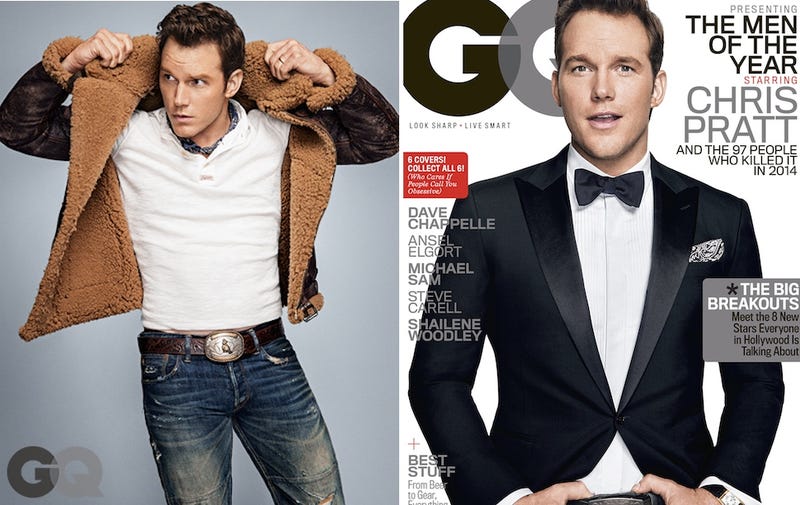 Oh hello Chris Pratt, it is you on the cover of GQ's December issue, a magazine that has proclaimed you A Man of the Year. (Other covers: Steve Carell, Ansel Elgort, Dave Chappelle, Michael Sam and Shailene Woodley. Interesting.). Which means only one thing: the odds that you will be People's SEXIEST Man Alive are very high. Very high indeed.
In a profile written by Deadspinner Drew Magary (Hello Drew!), Pratt comes off just as down-to-earth, polite and funny as he ever did. He loves his cool wife Anna Faris; he bought his mom a house; he enjoys hunting and has a large collection of guns, mostly because he likes "collecting shit"; and he's decided he's going to stay ripped by limiting his alcohol intake.
Nice, nice, very nice Chris. Congrats on your cover, even though we called all this Chris Pratt love AGES ago. But instead of wasting time talking about who gets credit for your rise, we need to talk about how this basically confirms that you'll be nabbing the elusive honor of being People's Sexiest Man Alive. The writing was on the wall when Lainey, the all-knowing gossip deity, nominated you, gave you 3 to 1 odds. She even wrote that "the mystery's gone because I still think it will be Chris Pratt," though there's a caveat: she does "have a dark horse in mind."
Say it isn't so! Let this continue to be the year of Pratt. Thankfully, we will know soon: Jimmy Kimmel will announce the Sexiest Man Alive tonight on his show.
Images via Ben Watts/GQ