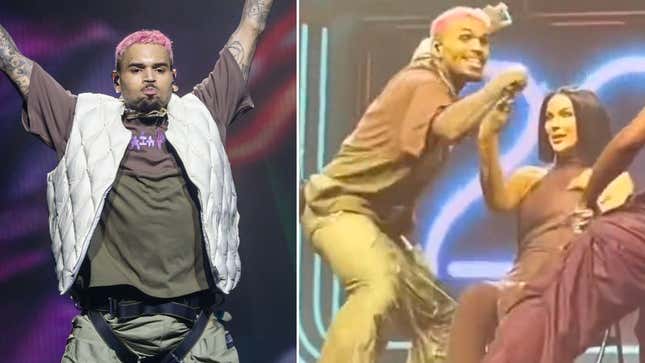 Chris Brown, who has been repeatedly accused of rape, stalking, and other violence against women, recently went on a rant in which he claimed that he's been unfairly targeted by "cancel culture"—despite winning a VMA last fall and being nominated for a Grammy last month. And his erratic behavior isn't slowing down: A TikTok shared on Wednesday night showed Brown throwing a fan's phone into the crowd at a concert because she was apparently not paying attention to him while he gave her a lap dance onstage.

In the video, Brown busts out into a series of dance moves reminiscent of a toddler begging the adults around him for attention. He asks the fan to put her phone away; she doesn't. He continues to dance, aggressively, terribly, at one point so desperate for someone who literally paid to attend the concert to notice him that he drops into the worm. Shortly after, he gets on the woman's lap and pantomimes thrusting into her, displaying some of the least sensual hip motions I've ever witnessed from a man.
Despite Brown's best efforts (which were frankly quite sad), the woman continues to look at her phone for extended periods (she's not just glancing to check the time). By the end of the TikTok footage captured by someone in the crowd, Brown has had it: He rips the phone out of her hand and throws it into the stratosphere, then continues dancing. Yet another reason to avoid Chris Brown concerts, if the extensive allegations of violence against women and general nasty vibes weren't enough of a repellant—you might get hit by an errant iPhone.
G/O Media may get a commission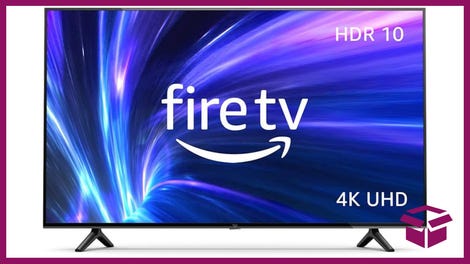 42% Off
Amazon Fire TV 50" 4K Smart TV
The video was all over social media by Thursday and, as they've managed to defend everything else this awful man does, Brown's fans were supporting the phone throwing. A cursory scroll of comments on the TikTok and replies to a tweet that featured the video showed commenters blaming the woman for not putting her phone away, insisting that Brown warned her—as if a "warning" merits violently trashing a young woman's property. As one user pointed out, this behavior toward a woman, from a man with Brown's record, isn't exactly surprising: "an abuser has no respect for other people's property?! who woulda thunk?"
In 2020, Brown was accused of drugging and raping a woman on a yacht in Miami. In 2019, he was accused of raping a woman in Paris, and shortly after, began selling $38 T-shirts mocking her. In 2016, he allegedly punched a woman in the face and, a year later, his ex-girlfriend Karrueche Tran won a five-year restraining order against him stemming from harassing, threatening messages he sent to her. Perhaps most famously, he violently beat Rihanna when they were dating in 2009.
I have to wonder how anyone could spend money on concert tickets and get on stage with him, given all of…that, but in any case, no one deserves to have their phone hurled into a crowd simply because they were looking at it.