Charlize Theron plays the closest thing we have to a female James Bond in the forthcoming Atomic Blonde, and it sounds like she went through an awful lot to get there.
Theron's on the cover of Variety, with an accompanying story that promises to tell us how she got "ripped, bruised and (naked!)." While it's fairly easy to figure out the last bit, the first two are less so. While training for the fight scenes in the film, Theron suffered the usual bruised ribs and endured what sounds like a gross and painful tooth injury that, as Variety writer Ramin Setoodeh surmises, would make any big, strong, burly dude action star "wince."
"It happened the first month of training," Theron says. "I had severe tooth pain, which I never had in my entire life." She thought it was just a cavity at first, until her dentist told her she'd need to have an operation before leaving for the shoot in Budapest. "Having to cut one of the teeth out and root canals," Theron says. "It was tough. You want to be in your best fighting shape, and it's hard. I had the removal and I had to put a donor bone in there to heal until I came back, and then I had another surgery to put a metal screw in there."
Work-related injuries and tonally strange gestures towards Theron's strength aside ("Theron tells the story matter-of-factly, offering a look to a reporter that signals: Next question?"), the rest of the article points towards a rising tide of female action hero movies, bolstered by the monumental success of Wonder Woman. Speaking to Patty Jenkins, who directed Wonder Woman and Monster, which starred Theron, she said:
"For our films to be successful and make a lot of money as well as having a female lead sends a huge message to the world that this is something possible," she says. "People are watching and paying attention."
G/O Media may get a commission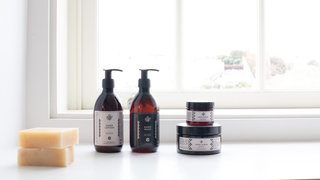 Exfoliate and Hydrate
The Handmade Soap Company
What sets Theron's character Lorraine aside from other women leads in action movies is that she's bereft of backstory. Her character's motivation isn't linked to avenging a death or revenge—a refreshing change for women characters that often have some sort of trauma as impetus for their actions. "You know nothing about this woman," Theron told Variety. "It's so rare that a female gets that in a movie. A lot of critics had issue with that—that's such old-school thinking. You don't need to be emotionally manipulated to feel something for someone."
According to the article, Theron took a pay cut to make this movie, which is a bit of a "passion project" for her. She did many of her own stunts, impressing her co-star James McAvoy who said of her dedication, "Even when she was sick, she's wearing a little miniskirt and kicking ass."
Peppered throughout the piece are little astonished nods at Theron simply doing her job—injuring herself while training and wearing the aforementioned "miniskirt" while "kicking ass"—as if these activities, which are part of her job, deserve extra praise. It's not quite sexism, but a weird sort of condescension that sits strangely. Of course it's notable that she's made this film, but what else would one expect her to do? If her job is to be an action star, that why wouldn't she?
Atomic Blonde is out in theatres July 28.