All charges have been dismissed against Martese Johnson, the black 20-year-old University of Virginia student who was beaten and violently arrested in March by special agents from the state Alcoholic and Beverage Control agency, who wrongly suspected him of having a fake ID. Johnson was charged with public intoxication and obstruction of justice; the ABC agents have been charged with zip.
Here's a statement Jezebel and other media outlets received from Johnson's attorneys, who report that his warrants for public intoxication and obstruction of justice have been dropped and he will no longer be prosecuted, after state police conducted an investigative report into the facts of the case:

On June 12, 2015, the Honorable Robert H. Downer, Jr. accepted Commonwealth's Attorney for Charlottesville Dave Chapman's motion to dismiss the arrest warrants against Martese Johnson for public intoxication and obstruction of justice based on an incident on March 18, 2015, near the University of Virginia campus.

Martese's attorney, Daniel Watkins of Williams Mullen, thanked the court and said that both he and his client are relieved. "This has been quite the ordeal for Martese, and we are happy that he no longer faces the threat of criminal prosecution."

Trial was previously set for September 30, 2015, but the prosecution withdrew the case after reviewing the Virginia State Police investigative report that Governor Terry McAuliffe demanded.
From the outset of this case, our two main objectives were to limit Martese's criminal liability and protect his reputation," Daniel Watkins told reporters outside of the courthouse.
The state police investigation found that Johnson cooperated with ABC officers before he was assaulted by them, and passed a breathalyzer test in custody, doing away with every justification for any criminal charges against him. According to the L.A. Times, that investigation is still underway. The ABC agents who beat Johnson remain on administrative leave and will never face charges, according to a statement from the agency:
Virginia ABC respects today's decision of the Charlottesville commonwealth's attorney to not pursue the charges of public swearing/intoxication and obstruction of justice without force against University of Virginia student Martese Johnson, and to not charge the ABC special agents involved in his arrest.
G/O Media may get a commission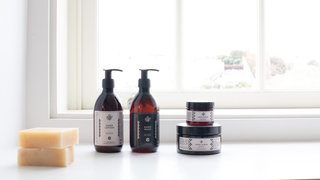 Exfoliate and Hydrate
The Handmade Soap Company
---
Contact the author at anna.merlan@jezebel.com.

Public PGP key
PGP fingerprint: 67B5 5767 9D6F 652E 8EFD 76F5 3CF0 DAF2 79E5 1FB6
Johnson after a March court appearance. Screenshot via CBS