Posing with book in hand and a gracious grin, Reese Witherspoon announced on Instagram last week that her April book club pick would be Romantic Comedy. Oprah's Book Club chose Hello Beautiful. Model Kaia Gerber selected In Memoriam, while rapper Noname went with Elite Capture by Olúfẹ́mi O. Táíwò. Musician Florence Welch of Florence and the Machine is prompting her book club members to join her for Patricia Lockwood's memoir Priestdaddy, and Jenna Bush Hager landed on Camp Zero. Read in between the lines, and you might glean who's missing: Do famous men know how to read?

To put it plainly, celebrity book clubs are girls clubs. While men are certainly allowed within their ranks, the literati within Hollywood is a matriarchy. Exceptions include former Indianapolis Colts quarterback Andrew Luck, who has not updated his club's Instagram since August 2020, and Flea of the Red Hot Chili Peppers, who on random occasion hops on Instagram Live to breathlessly discuss what he's reading. LeVar Burton, whose life work is promoting literacy, hosts a virtual book club on the app Fable. As far as famous men consistently and currently recommending books in reading-group format, that is it. One guy.
Considering the current landscape for fame-backed business endeavors, I'm actually quite surprised more famous men aren't tapping into the market. Even if they're free to join, celebrity-helmed book clubs have the capacity to be cash cows. And more than raking in that sweet, sweet money, leading a book club is a smart way to cultivate a fan base. Unfortunately, their lack of hustle only strengthens my suspicions that leading men aren't reading men.
---
"I love books," Oprah Winfrey told her show's live audience in 1996. "When I didn't have friends, I had books. And one of the greatest pleasures I have right now in life is to be reading a really good book and to know I have a really, really good book after that book to read." She then announced her inaugural book club pick, The Deep End of the Ocean by Jacquelyn Mitchard. Along with launching the first-ever celebrity book club, Oprah set the bar for the amount of reading enthusiasm future celebrity hosts would need to bring to their book clubs: a lot.
Sometimes that enthusiasm can border on hysteria. "I devoured In Memoriam through tears and tenderness," Gerber wrote, encouraging her followers to pick up a copy of Alice Winn's novel. "If you know me, you know I love a mystery, it's kind of my illness," Mindy Kaling claimed when announcing the latest release from her imprint Book Studio. These famous women keenly deploy the sensational language their readerships are fluent in. They understand the appeal of dramatic jargon—they are avid readers, after all! Witherspoon's oeuvre is filled with bookish, type-A characters who themselves would gush about starting a book club—Tracy Flick, Elle Woods, Madeline Martha Mackenzie—as if her self-proclaimed love of books was self-fulfilling.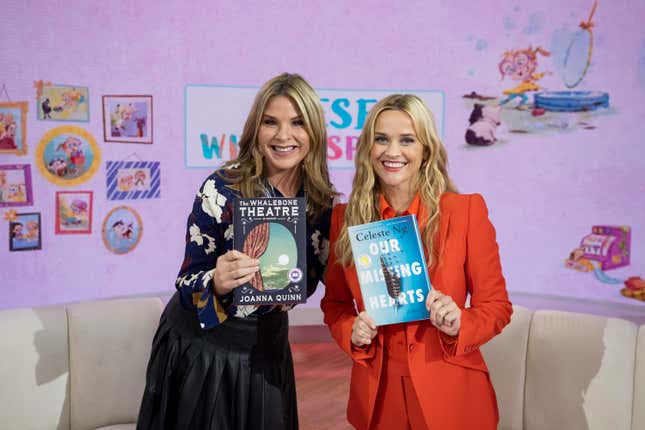 I wonder if celebrity men's hesitancy to embrace what they see as feminine frivolity keeps them from leading book clubs. Are they way too cool for school to grovel at the emotional undoings of fictional characters? To admit they stayed up well into the night engrossed by the inner-workings of another person's mind?

There's a vulnerability to reading, to being curious about another world, that is intensified when you open up your interpretation of that world to discussion. I suppose that inquisitiveness could be read as antithetical to the tropes Hollywood places men into: doofy bro, dashing gentleman, the bumbling dad. Even the pompous, archetypal male literary figure bears the weight of literature by himself. He lectures, he doesn't discuss. He has a command of words, not a susceptibility to them.
It's hard to imagine a male celebrity acknowledging his vulnerability and using it as an opportunity to, say, start a book club like Noname did. After drawing backlash for tweeting that "capitalism was not evil," Noname told PBS that she sought to educate herself on the complexities of a system that "keeps people poor and keeps people isolated and marginalized." After reading authors like Frantz Fanon and George L. Jackson, she "selfishly thought there might be people who in the meeting could help me understand the material that I was struggling to get by myself."
What's obvious is that book clubs of whatever size don't lend themselves to charlatans. Unlike a genderless skincare line upon which a celeb has smacked their name, leading a book club requires involvement beyond its launch. A quick Q&A with an industry mag and a few Instagram posts won't seal the deal. All book club wisecracks aside, these celebrities actually have to read the book. Considerable emotional labor—literally telling masses of people how you feel and requesting their thoughts and feelings in return—is required. I suppose in some ways it's easier to book a Marvel movie, don a motion capture bodysuit, and tell a cluster of styrofoam balls you're here to avenge your father's death than it is to emote over a book.
---
Celebrity book clubs are led by women because plebes' book clubs are also led by women. In 2019, Book Browse conducted a survey that found that 88% of private book clubs are all-women. If we flip back to the beginning of their history, we learn that women's exclusion from academic and intellectual circles forced them to seek out and create alternative spaces to discuss literature. From abolition to voting rights, these circles covered radical territory at a time when women were not given access to this sort of discourse. As society progressed, women's reasons for remaining in book clubs did, too. "Where women once joined book clubs to make up for the education they were denied, now they joined to extend the pleasures they enjoyed at college," Jess McHugh reported for the Washington Post in 2021.

Book clubs for men, however, are scarce. The Tough Guy Book Club describes its origins as "the beer drenched streets of Collingwood, Melbourne." The Man Book Club out in Marin County, California, lists "no books by women about women (the Eat, Pray, Love rule)" as one of its three criteria. A member of Books & Brews Book Club wrote in a piece for Today that "one member hosted the meeting in his woodshop and as our discussion was winding down he donned a set of shop glasses, switched on a screaming table-saw, cut some planks, and decide[d] we all needed to learn how to break them—with our hands." Apparently, there is quite a lot of heavy lifting for these men's book clubs to do in the fight against feminine stereotypes, lest anyone mistake them for a bunch of literate pussies.
Because, despite their radical origins, women's book clubs have become a euphemism for wine night with the gals. In 2006, Sutter Home, your go-to wine label for a guaranteed hangover, ran a promotion alongside publisher HarperCollins: Buy a $7 bottle of Pink Moscato and get $2 off a paperback. The 2018 movie Book Club gathered a who's-who of silver-haired actresses in their golden years, slurping comically large goblets of wine while reading Fifty Shades of Grey. (A sequel, which has the women headed to Italy for a bachelorette party as they read The Alchemist, is due out next month.) The mere mention of "book club" can read like a punchline to a Cathy cartoon.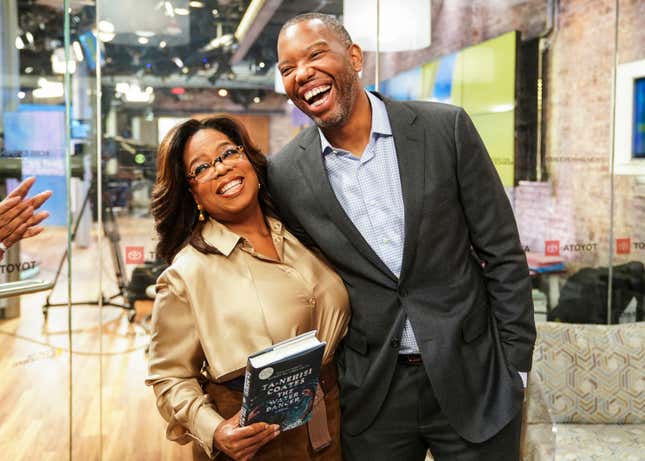 That reputation followed women celebrities into the book-verse. In 2001, critical darling Jonathan Franzen's The Corrections was chosen for Oprah's Book Club. In an interview at the time, Franzen commented that while he felt Oprah was "fighting the good fight" in terms of promoting reading, "she's picked enough schmaltzy, one-dimensional [books] that I cringe," presumably at the thought of his book keeping such company. Oprah rescinded her pick.

While Franzen's comments, which he has since not only apologized for but apologized to Oprah for, stank of a specific male-literary arrogance, he was frankly not entirely wrong. A lot of the selections in these clubs do skew "schmaltzy." You know the type that's taken over in recent years: their covers looking like someone upchucked the interior of an Anthropologie store onto a page, destined to be a Hulu miniseries in two years' time.
The mass appeal to (mostly) women of "schmaltzy" books selected by these clubs is probably by design. Like I mentioned earlier, celebrity women–led book clubs have the power to be kingmakers. In September 2018, Reese's Book Club selected Where The Crawdads Sing, which had an admirable initial print of 27,500 copies before being chosen. The novel is now one of the best-selling books of all time, at over 15 million copies. When it was released as a film last summer through Witherspoon's production company, Hello Sunshine, it grossed a total of $140.2 million. While that's an extraordinary example, Vox reported back in 2019 that not one of Reese's picks had ever sold below 10,000 copies. It's good business: Reese's Book Club is a self-serving pipeline for Hello Sunshine's film and television projects. Witherspoon herself starred in its adaption of Celeste Ng's Little Fires Everywhere, and it also took on Taylor Jenkins Reid's Daisy Jones & The Six. Emma Roberts' Belletrist and Kaling's Book Studio (a twee portmanteau of "book imprint" and "film studio") aim to do the same.
Not all book clubs are revolutionizing the film adaptation process or bringing in globs of money. As the Guardian pointed out in December, for some women celebrities, they are a genuine way to connect with their fanbase and share a part of their lives, or to signal intellect and morals. Noname's book club describes itself as "a Black-led worker cooperative connecting community members both inside and outside carceral facilities with radical books" and has at least 12 chapters that meet across the country at independent bookstores. Welch was approached by fans online asking her favorite books, which morphed into her giving them her recommendations, which now, 12 years later, is a monthly online book discussion group called Between Two Books. Natalie Portman peeks coyly from behind her book recommendations, hosts discussions with authors, and asks readers to chime in with their thoughts on her club's Instagram page.
In the early days of covid lockdown, Gerber started going live on Instagram with authors to discuss their writing and what inspires it. She's since received some intellectual cred for her choices, which include Ling Ma's Severance and The Overstory by Richard Powers. As author Alisson Wood, whose book Being Lolita was picked up by Gerber and Emily Ratajkowski, told the New York Times in 2021, this allows "beautiful women to also be smart, and for smart women to also be beautiful."
I suppose the issue could be that men of the non-Hollywood variety are not reading at the same levels as the common woman. A 2019 Deloitte survey showed that across the board, women's reading habits eclipse men's. But straight male celebrities court women fanbases. That isn't the barrier stopping them. Boy bands exist. Fabio gets to enjoy going by a mononym because of a women-dominated romance novel readership. Men have planted flags in plenty of other predominantly femme territories: skincare, beauty, fashion. Gender roles are being eagerly forsaken in the interest of the great American pastime of Making More Money.
And yet, this arena, which has the ability to bring in multi-millions, fortify personal brands, and communicate personal values, has the gender breakdown of a Lilith Fair. From a pure financial standpoint, why aren't celebrity men capitalizing off of a rabid, reading fanbase? Why aren't they tapping into a pipeline of devoted followers eager to support the trajectory of a story from book to box office? From a less cynical outlook, why aren't famous men using book club structures to solidify themselves as intellectuals or even just insatiable bookworms? Is it perhaps because they…can't read? Sorry. I'm joking. I think.
---
Here's the thing: Men do read! There, I said it! And famous men read, too! Every year, former President Barack Obama presents us with a list of books he likes. Despite rarely getting past the first page, NBA superstar LeBron James has a reputation for having his nose in a book courtside and in the locker room. Chris Pine suggested a dozen books alongside his cover feature in Esquire. "Dude still loves to read," the intro read. Rock on, Chris! One time Welch allowed Paul Mescal to guest-run her book club. His selection was Normal People. But still! My point stands. Famous guys are, against all odds, reading.

But something is stopping them from gathering legions of men—or women or book lovers of any gender, for that matter—and diving into the Neapolitan novels. I would join Sebastian Stan's Reading Clan and enter my email into the listserv for Samuel L. Jackson's Monthly Book Chat. And while I wouldn't join, I'm sure there's a demographic hungry for Chris Pratt's Macho Man Superhero Book Revival or whatever.
Maybe leading men aren't leading book clubs simply because they don't have to. They don't face public pressure to communicate their morals in the same way famous women do. Maybe their vulnerability is of no interest to fans who will love them regardless. Maybe they don't have to construct book-to-film pipelines to feed themselves meaty roles. "Bookish" and "studious" are attributes that can boost a woman's worth beyond how attractive she is, something that might come in handy as her public valuation drifts further away from "hot young thing." Meanwhile, men just have to grow a graying beard to obtain academic daddy tenure. Sutter Home's Pink Moscato doesn't typically pair well with a leading man's career.
And should any of that be even a smidge true, that's a shame. Looking through the comments on Andrew Luck's now-defunct book club, supportive reactions easily outnumbered the handful of folks crudely telling the quarterback, in so many words, to "stick to football." Flea's intermittent book club posts inspire similar enthusiasm, as do LeVar Burton's. Fans and readers are not only receptive to male-led book clubs, they're eager for them. I think it's time—and please indulge my pun—for famous men to take a page from their women counterparts, crack open the spine of a good book, and get to work.