New York Magazine's Alexis Swerdloff profiled professional mingler Derek Blasberg, and the article—which makes the unfortunate comparison between Blasberg and Truman Capote—is packed to the gills with weird anecdotes.
Blasberg, who is Vanity Fair's "Man on the Street," the author of such timeless tomes as Classy and Very Classy, a stationary entrepreneur, a senior staffer at Gagosian gallery, and the host of CNN Style—in which, most recently, Blasberg embarked on a journey to discover the cultural identity of Rio de Janeiro by, in part, interviewing Adriana Lima about her boxing regimen—is probably most well-known for taking extremely #influential selfies with his ever-expanding tribe of celebrity friends.
"For the type of model or socialite or actress swirling through the worlds of fashion and Hollywood, it's now more important to be in certain Instagram feeds than it is to be in the party pages or a Vanity Fair slideshow," Swerdloff writes. "And the Instagram that'll get you noticed, the selfie you want to be in, is Blasberg's."
From NYMag:
"When I first met him, I was a little dubious," [Gwyneth] Paltrow tells me. "I was like, 'Are you a professional best friend of celebrities? And why are you everywhere at once? What's your deal?' " (Then: "After ten seconds, I fell completely in love with him.")
G/O Media may get a commission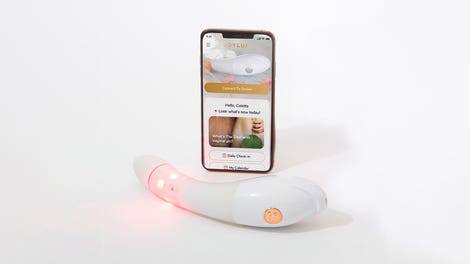 $50 Off
Joylux vFit Gold Device
Lauren Santo Domingo, Vogue editor and billionaire/socialite extraordinaire, also had kind words to say about Blasberg, who counts her among his best friends (his other best friends, according to the profile, include billionaire Zasha Zukova, Karlie Kloss, and WSJ Magazine editor Kristina O'Neill):
People ask me all the time, 'Why is Derek so popular?' " says Santo Domingo. " 'Why does everyone love him?' " Santo Domingo has a simple answer: "Because he's fun to be around! Is that so hard to understand? I mean, so many people make themselves disagreeable!"
Here are some quotes from this article that are somewhat at odds with Santo Domingo's statement:
Blasberg should know a thing or two about summer hostess presents — some Instagram digging reveals that a few years ago, he gave that very toilet raft to real-estate mogul Aby Rosen and his wife, Samantha Boardman. But when I steered the conversation in that direction, Blasberg uncharacteristically snapped. "The way you ask these questions makes it seem like my friendships are so strategic!" he said.

Blasberg himself frequently brings up how nice he is. If you want to be "the person people want to have around," he says, "don't be a gossip, don't be a dick, don't be unkind, have fun, smile more than you frown, laugh more than you cry, that sort of stuff."
[W]hen we found ourselves talking about his friend Karlie Kloss showing up in Taylor Swift's Instagram at her Rhode Island estate splashing around in matching American-flag bathing suits, he refused to entertain the possibility that the photos were professionally staged. "Well, you clearly have a glass-half-empty approach to life," he said when I suggested they couldn't possibly be candid. "I know that a lot of people are rolling their eyes, but I never think of things like that." When he looks at those same photos, he said, he sees a waterslide and thinks, That looks superfun!
The trick to succeeding in the rare and extremely lucrative career of being close friends with famous personalities is unfortunately, it would seem, completely smothering any personality—or inconvenient opinions—of your own. As Blasberg's friend Katy Perry would say, if she weren't busy fucking Orlando Bloom: "So you wanna play with magic? Derek, you should know what you're falling for!"
And despite their tense exchange, Blasberg was evidently interested in adding the author, who is the Strategist editor at New York, to his extremely wide circle.
The night of the Lasher benefit, I emerged from the subway on my way back to my apartment and was greeted with a text from him: "Couch!" followed by the smiley-face emoji with hearts in its eyes. He asked me what I was doing and told me he had just eaten a burger. The exchange was clearly relationship maintenance (one wonders how many other women were receiving hamburger texts that evening), but looked at from a glass-half-full approach to life, Blasberg was just trying to keep the party going. The next morning, I woke up to another text: "We aren't seeing each other today are we? #withdrawal."