After Sarah Jessica Parker called the AnnaSophia Robb-starring Sex and The City prequel The Carrie Diaries "odd," money-making enthusiast MAJOR Carrie Diaries fan Candace Bushnell hit back at SJP for being an old cronehag who doesn't understand how the world works.
"The reality is, that's showbiz. Sarah Jessica's first part was somebody else's part. She played Annie on Broadway. Look, Sarah Jessica Parker is 47. I think with the second movie, Carrie Bradshaw couldn't be an ingenue anymore. But I think they were stuck doing what the audience wanted. Realistically, a middle-aged woman who was married without children would be much more focused on her career and less focused on this Mr. Big: 'Does he love me?' ... 'Does he still not love me?' I mean, I think it was coming to the end of what they could do with the character."
Okay, so no Sex and The City 3: The Things They Carried. But what if you had your druthers, Candace?
"If it were up to me, the second movie would have been Carrie Bradshaw decides to run for mayor and Samantha helps her."
G/O Media may get a commission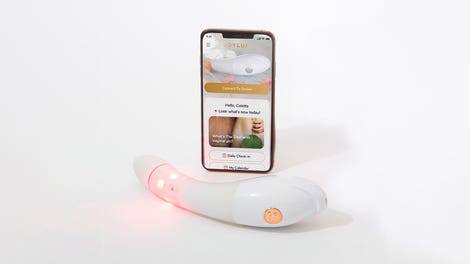 $50 Off
Joylux vFit Gold Device
Right. [The Daily Beast]
---
Women like Rihanna shouldn't have to owe their fans jack shit in terms of their "lifestyle," says Rosario Dawson:
"I don't think individual women do have a responsibility [to set an example for others]. Often they are working within a certain dynamic. Take Rihanna. To put all that responsibility on one woman is outrageous. I don't think we should engage with that 'should and shouldn't do', 'should and shouldn't wear' and 'should and shouldn't look like'. We don't do that with men."
---
James Franco attempted to parse out the Hatha-Hate Wave of 2013 with Howard Stern on Sirius XM Radio (Franco acquiesces: "She does not want me talking about this, but okay.") Stern suggests that people dislike Anne Hathaway for, well, all the reasons people dislike Anne Hathaway, and Franco — who co-hosted the Oscars with Hathaway in the halcyon days before Seth MacFarlanegate — agrees.
"We haven't talked in awhile. It was a really hard time after the Oscars. She wasn't mad at me, I don't think... she didn't say she was mad at me for what happened. The critics were so nasty. [But] Anne and I made up. Let's just get that on the record."
Stern also brings up Franco's rumored sexual rejection of Lindsay Lohan. He squirms. "I don't want to like brag about it. I don't know how that got out. She was having issues even then, so you feel weird. Honestly, she was a friend. I've met a lot of people that are troubled and sometimes you don't want to do that." [Us Weekly]
---
In Interview Magazine, A$AP Rocky tells Alexander Wang that rap's shaken off its homophobic undertones.
"One big issue in hip-hop is the gay thing. It's 2013, and it's a shame that, to this day, that topic still gets people all excited. It's crazy. And it makes me upset that this topic even matters when it comes to hip-hop, because it makes it seem like everybody in hip-hop is small-minded or stupid - and that's not the case.

We've got people like Jay-Z. We've got people like Kanye. We've got people like me. We're all prime examples of people who don't think like that. I treat everybody equal, and so I want to be sure that my listeners and my followers do the same if they're gonna represent me. And if I'm gonna represent them, then I also want to do it in a good way."
[NYDN]
---

The dude that jacked Bryan Cranston's car in Albuquerque last year and stole a Breaking Bad script, as well as an iPad and miscellaneous personal items, was finally arrested, and no spoilers were to be had, thank God. [USA Today]
---
The real reason David Letterman famously banned Harmony Korine from The Late Show after a few clearly drug-influenced appearances on the show in the mid '90s is that he caught the dude going through Meryl Streep's purse in the green room. [Vulture]

One of the men involved in the Joss Stone murder plot trial was previously diagnosed with schizophrenia. [E!]

Shaquille O'Neal's former mistress Vanessa Lopez has tacked even more charges onto the 2010 lawsuit against him. [Radar Online]

John Mayer maybe dated Katy Perry because she's more famouser than him. (Is she, actually?) [411mania]

Hayden Panettiere and her boyfriend Wladimir Klitschko sucked face at a Miami Heat game. [TMZ]

Lady Sybil totally regrets a topless scene she did in 2001. [Daily Mail]

Isla Fisher on her marriage to Sacha Baron Cohen: "It's definitely not a normal relationship. You know, there have been times in the past with the guerrilla style film making of Borat and Bruno where there were surreal conversations: 'How many people are suing us? Are you wanted in any states? Are you alive?'" [Express UK]

Debra Messing and Debra Messing's hideous Smash scarves will star in a new CBS pilot about a woman who lies all the time. [Deadline]

Speaking of Smash, don't ask Katharine McPhee about it, because she refuses to discuss it, period, now get me a latte. [NYDN]

Tori Spelling was grossed out by Scott Disick's alligator hunting. [News.com.au]

Hova is planning a "gentlemen's club" backstage on his Justin Timberlake tour, even hiring a cigar expert to come on board. [The Sun]

The Timberbiels hung out separately with friends in Vegas and Jessica outlasted Justin. [Page Six]

Lindsay Lohan got to the Anger Management set on time and was a consummate professional, supposedly. [TMZ]

Umm, they have "Spray Tan Sundays" on Dancing With The Stars! Wanna go? [People]

Gwyneth Paltrow's opening a blow-dry bar. [People]

Maggie Gyllenhaal got a cute-ass pixie cut. [People]

Justin Theroux expounds in Maxim about how he likes tight pants zZZzzzzzz. [Us Weekly]

LeAnn Rimes picked up her stepson Jake at Little League in black booty shorts. [Us Weekly]

Kim Kardashian actually sounds like a human being:

"There are maybe two or three covers just this week that say I am 200 pounds. I'm like, 'You are 60 pounds off here' ... It wouldn't even bother me if I gained all the weight... I'm waiting for the moments when someone's like, 'Let's go to McDonald's and Taco Bell!' That's not happening for me and I'm kind of sad about it. [...] I'm not going to lie and be like, 'Oh, it's been amazing and I've adjusted great.' At the beginning it was tough for me when your body changes so much… but once you kind of grasp that and embrace it... it's amazing."

Will Smith turned down the lead in Django Unchained because it wasn't the REAL lead (he says that was Christoph Waltz's part.) Welcome to Earf. [NYDN]

Miley Cyrus and Liam Hemsworth's wedding is back on after he told her to "grow up." (P.S. The new definition of adult behavior is this.) [Radar Online]

Ashley Greene was a shitty tenant before her condo burned down, I guess. [The Hollywood Gossip]

This picture of Maxwell Simpson. [VH1]