Although Brad Pitt, Angelina Jolie, Justin Theroux, Jennifer Aniston, Chandler Bing and that duck called a truce at some point, as Brangelina's and Jenreaux's (?) marriages draw nearer, threatening to even land sort of around the same time, some obvious problems become apparent.
As usual, Aniston is depicted one hair away from being the crazed nemesis of Brangelina, who are planning to wed in France just after the Cannes Film Festival ends in May.*
"All that goodwill would go out the window if Brad's wedding date comes close to hers. Jennifer will see it as an attempt to upstage her and there will be a battle over Hollywood guests.

She knows they will be judged on who had the better wedding by pulling in the biggest stars."
To that end, I will now proceed to cut Matt LeBlanc in half the long way. The one who objects is the one who truly deserves him. [The Sun]
*Doesn't that sentence make you want to hock out a hairball?
---

While Selena Gomez's little choreographed videos with her girls are kind of a silent-to-us dog whistle that only appeal to the Youngs (I sure as shit don't get why they exist), her newest one is set to a song with lines like: "Everybody knows your boyfriend is a douchebag." Does this have any special significance because her ex Justin Bieber has been acting like a douchebag? Let's unnecessarily parse this information about two strangers. :D?!
"Selena has kept an eye on Justin in the news and just laughed and laughed. She doesn't give a s**t anymore. Justin is crazy and she doesn't want to be his mom anymore. She feels so free and loves hanging out with her girlfriends. He's weird and she doesn't find his behaviour hot or anything. She just wants a man who has his shit together, and not a weird boy... he's turned into exactly the kind of person she doesn't want to be with."
G/O Media may get a commission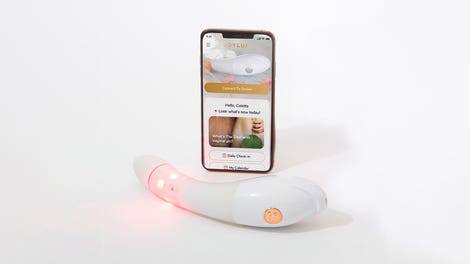 $50 Off
Joylux vFit Gold Device
Zzzzz. Sorry, what? [HuffPo]
Meanwhile, El Beebo cancels a concert in Portugal. [TMZ]
---
Like most of us, Sarah Jessica Parker and her bunions Couldn't Help But Wonder® why the crap The Carrie Diaries is even a thing.
"I'm not sure… You know, I think it's one of those tests of your generosity. She [AnnaSophia Robb, who plays Bradshaw] is a lovely girl and I want her to feel good about it, but it's… odd."

"HBO was very encouraging of the beyond-camera role I played, and I feel that had we not done it, I don't know that would have existed for Girls. It's such a different way of thinking and it's not conventional. I also think [Lena Dunham] came along understanding her voice and with the support of a producing partner [Judd Apatow] experienced enough to say she is capable of this, she needs to be in charge of the story as it's her voice. I do feel Sex and the City's success made that possible, and it would have been different otherwise."
---
In the wake of Elizabeth Hasselbeck and Joy Behar's departure from The View, it's been reported that Brooke Shields is "likely" to join the ABC morning show at Barbara Walters' behest. "She's articulate, has Hollywood connections perfect for nabbing interviews, is the right age, and is a mom!" [Radar Online]
---
Everything your blobby, unformed 7th grade brain gleaned from Velvet Goldmine is basically true, according to David Bowie's ex-wife Angie, who stumbled on Aladdin Sane in the sack with Mick Jagger.
"My assistant was laughing in the kitchen when I got home. She said, 'You won't believe this. David and Mick Jagger.'

"I said, 'Right then, put the kettle on'. I went upstairs and banged on the door and said, 'Morning! Ready for breakfast, boys?'

"I walked into the bedroom and David was there with all these pillows and duvets on top of him and on the other side of the bed was Mick's leg sticking out.

"I said: 'Did you guys have a good night?'. They were so hungover they could hardly speak. I took pity on them."
---