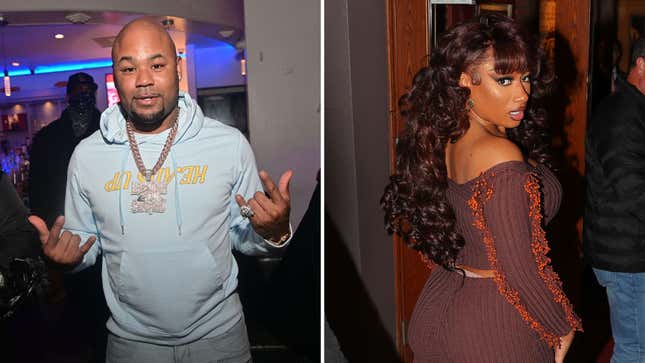 Well, well, well...if it isn't another man issuing a long-overdue apology to Megan Thee Stallion. In January, it was 50 Cent. Now, Carl Crawford, the CEO of 1501 Entertainment, the rapper's former label, has joined the contrition chorus.
In a recent interview with TMZ, Crawford lamented that he hadn't spoken to Megan since 2019, and ultimately blamed social media for their estrangement. Of course, anyone following the ongoing legal battle between Megan and her former label is keenly aware that social media was, in fact, not the impetus. In 2020—just two years after signing with 1501 Entertainment—the rapper sued the label, claiming executives withheld income, weren't forthcoming about financial matters, and misrepresented the expectations of her contract—specifically, what criteria constituted an album.
"I never had any problems with Megan Thee Stallion. It's just the social media stuff, it turned really, really sour," he continued. "You take this social media part out of it, we don't have a problem…I'm done with that."
After she signed with Roc Nation in 2019 and attempted to put out new music, she claimed that 1501 then went so far as to block any forthcoming releases. As a result, Megan sought to break her contract and collect $1 million in damages, not to mention a restraining order against the label as she claimed staffers—including Crawford—sent her "direct and veiled threats."
"When I got with Roc Nation, I got management–real management–and real lawyers," she vented in a 2020 Instagram video. "They were like, 'Do you know that this is in your contract?' And I was like, 'Oh, damn, that's crazy. No, I didn't know.'"

Meanwhile, Crawford repeatedly called her a liar. "It's a whole lie," Crawford told Billboard in 2020."Nothing is true that she said. Me being greedy and taking money from her, that's crazy. I never tried to take nothing from her. The only thing we ever did was give, give, give." I'd be remiss not to note that Crawford was also publicly partying with Tory Lanez as recently as 2022.
Ultimately, Megan fulfilled her contract with 1501, though she continues to seek $1 million in damages. In December 2022, just after Lanez was found guilty in the shooting of the rapper, a judge ruled that her suit against the label could move forward.

All of this considered, it's really no mystery why Crawford suddenly seems stricken with remorse.