The effervescent and very pregnant Cardi B. is on the cover of Rolling Stone, draped in black taffeta and the tender kiss of Offset, the father of her soon-to-be born child. In the story, written by Vanessa Grigoriadis, Cardi discusses her impending motherhood and the kind of mother she hopes to be. Unsurprisingly, it sounds like she will be very, very good at this job.

Famous people tend to have the same worries, wishes, hopes, and dreams for their children as anyone—but because Cardi's rise to the top has been swift, she has yet to acquire the sheen of celebrity that colors the way she speaks about raising her child. Rooted in reality and with strong opinions about the way she grew up, she has many thoughts on how she'd correct for that upbringing.
Raised by a strict Trinidadian mother whose parenting style caused her to rebel, she is going to do what she can to have a different relationship with her child:
Cardi and her daughter are going to be best friends. She's going to teach her English and Spanish, and wants her to start learning French by the time she's four, and she'll be a little genius. Maybe she'll take ballet lessons, though toe shoes can mess up your feet. She'll definitely put her in kid boxing lessons. "I don't want my kid to get picked on and she don't know how to defend herself," says Cardi. "I have a little brother and I always put in his head, since he was two years old, 'Somebody hit you, you kick, you kick, you kick.' "
On the topic of breastfeeding and whether or not she will hand her newborn baby off to a nanny or otherwise:
Cardi is not sure about breast-feeding – she says her breasts are overly sensitive and she can't imagine how she would deal with a little baby "milking" them – but she wants her kid to be with her constantly. "What I envision is my tour bus has my own personal room, and I just want to be with my baby," she says. "Only time I don't have my baby with me is when I'm getting my hair done, makeup done, performing." She adds, dreamily, "I don't want to miss one second. I don't want to miss no smiles, I don't want to miss no new movement, I don't want the baby to confuse me and the babysitter."
G/O Media may get a commission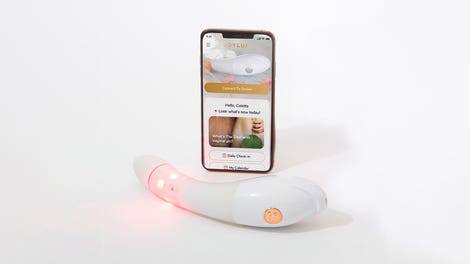 $50 Off
Joylux vFit Gold Device
Cardi's vision of herself as a mother is very much the same Cardi that she is as a pregnant woman—unapologetic and authentic. "I'm going to tell her everything," she says of the conversations she'll have with her daughter about her life. "Everything."
Read the story here.