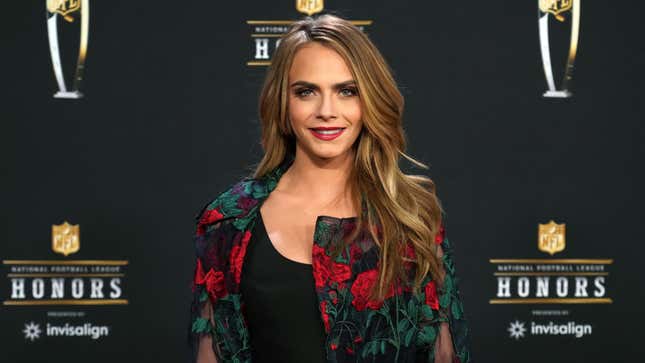 Paparazzi pictures of Cara Delevingne looking deeply disheveled at an airport surfaced last summer prompted lots of speculation about her wellbeing. There were reports that her loved ones were trying to get her help, and that she was abusing drugs and alcohol. Now, four months sober, Delevingne shared with Vogue what happened that day, the events that led up to it, and her resulting sobriety journey.
"I hadn't slept. I was not okay," Delevingne said of the day at the airport. She was just returning from Burning Man and was on her way to a work engagement when paps took the photos. "It's heartbreaking because I thought I was having fun, but at some point it was like, 'Okay, I don't look well.'" She described the photos as a "reality check" that brought her a lot of shame and embarrassment.

At that time, Delevingne said she was at the end of her rope. Soon after lockdown began in 2020, Delevingne and her girlfriend of two years, Ashley Benson, broke up, and, without work, she began to feel the weight of the pandemic's isolation. "I just had a complete existential crisis. All my sense of belonging, all my validation—my identity, everything—was so wrapped up in work. And when that was gone, I felt like I had no purpose," she told Vogue. "Instead of taking the time to really learn something new or do something new, I got very wrapped up in misery, wallowing, and partying. It was a really sad time."
As lockdown restrictions eased, Delevingne continued to lean on partying heavily, which she said she's long used to "escape and change [her] reality." After filming the show Carnival Row in fall of 2021, Delevingne also began filming Planet Sex, her Hulu/BBC docuseries exploring questions around sexuality, which required her to be "super personal," something she said she's always been uncomfortable doing publicly. But things reached a head in the spring of 2022, when her grandmother passed away. When she appeared at the Met Gala soon after, her feeling of being "fucking exhausted" was made evident by her psoriasis flare up. "It was a sign of the major stress in my life that I couldn't cope, that my body, this sensitive organ, couldn't handle it," she said. Instead, she expressed that lack of control at the gala's afterparties. "I went and got blackout afterwards... The day after, I had to travel to my granny's funeral. It was horrible."
As she inched towards turning 30 in August 2022, Delevingne recognized that her lifestyle was "not sustainable" and knew that something had to give. In true Leo fashion, to kiss her 20s goodbye, she planned a three-week getaway in Ibiza, which would culminate in a huge Alice in Wonderland-themed birthday bash. But instead of a blissful vacation, she spent most days locked inside of her room. "There was this need for change, but I was fighting it so much," she told Vogue. "I was welcoming in this new time but I was also grieving. It was like a funeral for my previous life, a goodbye to an era. And so I decided I was going to party as hard as I could because this was the end." Delevingne's self-destructive behavior continued through Burning Man, where her drug use "put herself in danger" because she "didn't care about [her] life."
Delevingne recalls having first experimented with (and pushing the limits of) alcohol at the age of 7 during a family wedding. In the next three years, she would be diagnosed with insomnia and dyspraxia, the latter of which led to self-harm. She then tried various forms of therapy ("art therapy, music therapy, EMDR, CBT") and after a breakdown at age 15, was prescribed antidepressants that "saved [her] life." While battling her own struggles, she saw how heroin addiction chipped away at her own mother's life. "For a long time, I didn't really put myself in her shoes," Delevingne said about her mother, Pandora. "I just needed someone to be angry at and I was angry at her, but it wasn't her fault…The way that addiction took my mother from me was brutal, and it was brutal for her too."

After avoiding therapy for three years, Delevingne was determined to make a change, and went to rehab at the end of last year. "I just kind of pushed everyone away, which made me realize how much I was in a bad place," she told Vogue. She's since enrolled in a 12-step program, a change from the "quick fix" methods she's tried in the past.
"The community made a huge difference. The opposite of addiction is connection, and I really found that in 12-step," she said.
With a long road ahead of her—filled with new therapy strategies like psychodrama and a loving relationship with musician Minke (Leah Mason)—Delevingne seems determined to get better. "People want my story to be this after-school special where I just say, 'Oh look, I was an addict, and now I'm sober and that's it.' And it's not as simple as that," she said. "I always thought that the work needs to be done when the times are bad, but actually the work needs to be done when they're good."