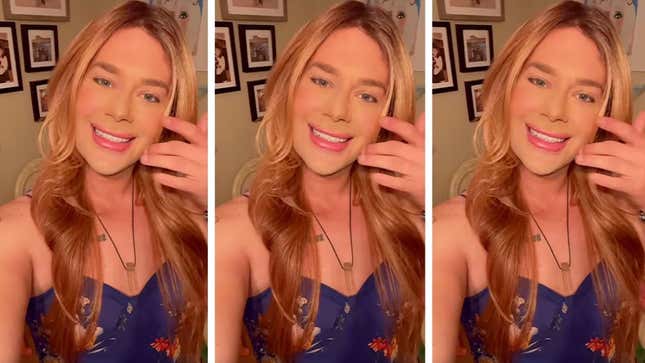 I love it when our celebrity gossip roundup kicks off with something positive. Remember the breakout viral star who made the "Leave Britney alone!!!!" video in response to the backlash Britney Spears received following her 2007 VMAs performance? Honestly, a visionary sentiment given everything we know now... Well anyway, she came out as trans! And she goes by Cara Cunningham now, People reports.

Britney Spears Escapes Family Drama By Going to First Bar
"I'm happy to be in a place where I can embrace who I am," Cunningham wrote in an Instagram post on Wednesday. "I have put my identity and personal happiness aside for so long, out of fear of rejection or me not wanting to embarrass my family. Then I realized anyone who actually loves me for me won't be embarrassed and would've shown genuine interest in how long I have felt this way in the first place. I am transitioning, and I have no more apologies to make for who I am."
"I'm not living out of fear or anyone else's terms any longer," she added.
---
American artist Chuck Close died on Thursday. He was 81. [New York Post]
Does anyone personally know that guy who made the TikTok calling his friend who only ("only") makes $125,000 a year "Broke Bobby"? Because if so, I would really love it if you could send him this story about how Real Housewives of Beverly Hills star Erika Jayne spent like $25 million on her American Express bill, assistants, and glam squad between 2008 and 2020. Medically speaking, I must humble him. [Page Six]
Amber Rose's music executive boyfriend has admitted to cheating on her—just like she said! [Entertainment Tonight]
Even though a British court has already ruled that Johnny Depp is, and I quote, a "wife-beater," the actor has apparently won the right to sue his ex, Amber Heard, for libel in the U.S. [New York Post]
A housekeeper who works for Britney has accused the pop star of slapping her phone out of her hand. Spears' lawyer has denied the allegation, which the Ventura County Sheriff's Office is investigating and could potentially result in misdemeanor battery charges. [NBC News]
Chet Hanks, Tom Hanks and Rita Wilson's most horrible failson and cursèd "white boy summer" propagandist, got served with a $1 million lawsuit during his birthday party. The suit concerns allegations from an ex-girlfriend who claims that Hanks physically assaulted her. [Bossip]
They released stills from the upcoming Maggie Gyllenhaal x Olivia Colman adaptation of Elena Ferrante's The Lost Daughter!!!! [Collider]
Zoë Kravitz and Channing Tatum are fucking and/or dating?? [Us Weekly]
Tip of the day, courtesy of my friend Tyler: Call Channing Tatum "Chunning Tutum," pronounced "chun-ning toot-umm." You're welcome!