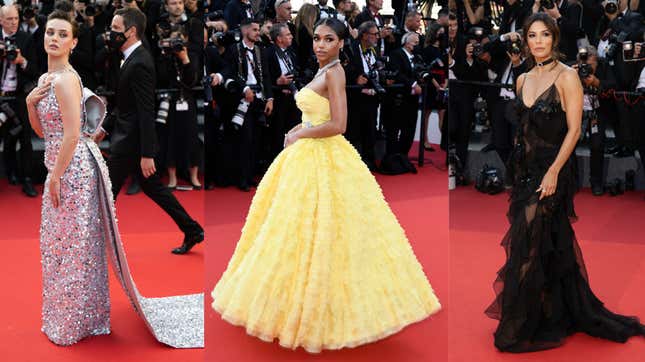 The 75th Cannes Film Festival kicked off this week, yet another event in which the most beautiful and glamorous and richest among us wear things on a red carpet that we can then discuss—in this case, while they celebrate themselves and their movies in a coastal French resort town.
This year's fête, which runs through May 28, is slated to feature a tribute to actor Tom Cruise, the premiere of his film Top Gun: Maverick, the premiere of Baz Luhrmann's Elvis Presley biopic, George Miller's first film since Mad Max: Fury Road, and more. It's already proving to be a buzzy, news-making few weeks as Ukrainian President Volodymyr Zelenskyy gave a live satellite video on just the first day. In his stream, Zelenskyy talked about the connection between film and reality and even quoted Charlie Chaplin's The Great Dictator: "The hate of men will pass, and dictators die, and the power they took from the people will return to the people."
Outside of political appearances and the films they're all there to laud, the celebs really went for it this year. Let's get to the looks.