The Hollywood Reporter has an interesting story about the #AskHerMore campaign. Started in February 2014 by The Representation Project, the campaign aims to encourage reporters to ask women on the red carpet better, and more interesting questions. Namely, to get interviewers to stop asking the time-honored question, "Who are you wearing?" and instead, ask women more substantial questions about the work they've been nominated for.
#AskHerMore gained traction at last year's Emmys. And in small acts of resistance, "this year at the Screen Actors Guild Awards, Jennifer Aniston, Julianne Moore and Reese Witherspoon all refused to put their hands in E!'s famous mani-cam." (E! has since decided to retire the mani-cam.) #AskHerMore seems like a pretty straightforward campaign - ask serious questions, stop being sexist.
Upworthy recently produced a montage of some of the most egregious examples. And Buzzfeed capitalized on the campaign and produced this video at the BAFTAs. Buzzfeed reporters ask Michael Keaton about Spanx and ask Eddie Redmanye to "twirl." The results are both funny and unsurprisingly ridiculous. Together, the videos make pretty compelling case that red carpet coverage is pretty sexist.
But as THR points out, in Hollywood it's never that simple:
So what does this all mean? Is it wrong to ask about couture fashion at a red carpet celebrated for its glamour? E!'s Live From the Red Carpet show last year delivered 3.1 million total viewers. Should such a massive platform be used to promote social issues rather than designers? Would a show such as this one still draw 3.1 million viewers? Without question, it is important to maintain gender equality and avoid treating actresses like mannequins, but does this mean ignoring the style aspect altogether?
Ryan Seacrest tried eliminating the "Who are you wearing" question in 2010, and was criticized heavily for it. "Hey Ryan, Talk to the Dress" read a New York Times style column headline that detailed the backlash from fashion bloggers. "It was almost like he wasn't that interested in the designers," designer Nicole Miller said. "He seemed more interested in the celebrities and their careers."
G/O Media may get a commission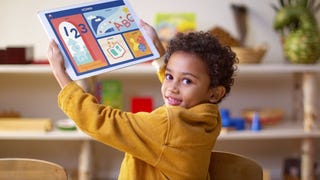 30-Day Free Trial
Homer Learn & Grow Program
It's a fair question - ever since Joan Rivers fundamentally changed the nature of the red carpet (according to THR, "Who are you wearing?" was her innovation), fashion and jewelry designers have had as much proverbial skin in the game as the actresses that wear their clothes. And as THR also points out, actresses can opt-out of the red carpet or, like Nicole Kidman, refuse to answer the fashion question all together.
But, of course, "Who are you wearing?" can co-exist with more substantial questions about work. To facilitate that at tonight's Oscars, Amy Poehler's Smart Girls,
"[has] teamed up with the Representation Project to help come up with pre-made questions people can tweet at reporters with the #AskMeMore hashtag. Questions ask the ladies what inspires them, how they prepared for their roles, what their favorite book is. Digital and video storytelling platform Makers also has a list of questions like this one for Julianne Moore: "'Still Alice' touches upon some primal fears that we all have, like the confusion of memory, the fear of death. What was the greatest challenge of getting inside your character's head for this role?"
I guess we'll found out tonight if any of the reporters take a cue from the campaign.
Image via Getty.