HOW DARE YOU, MCDONALD'S CHINA?! HOW COULD YOU DO THIS TO US?! HOW COULD YOU INFLICT THIS UNCEASING HORROR UPON THE EYES AND SOULS OF GOOD AND DECENT FOLK?! THIS ABOMINATION; THIS CREEPING, SHUDDERING NIGHT TERROR GIVEN FORM; THIS BLEAK, JOY-EVISCERATING GRAYNESS! DESCRIBING AND ADVERTISING WRONG-COLORED FOOD IS THE VILEST OF CALUMNIES! BURRRN THE WITCH! BURRRRRN IT!
Maybe we should back up here for a minute.
For those who missed it, earlier this week, McDonald's China announced the release of a limited-time burger with a bun dyed gray with black sesame. It's actually not a hamburger, but a pork sandwich. For reasons no one has adequately been able to explain, it's being called the Modern Chinese Burger. For reasons that are much more explicable, the internet has been losing its goddamned mind over it.
Jesus tapdancing Christ, internet, calm the fuck down. It's a gray burger bun, McDonald's didn't attempt to blow up the Golden Gate Bridge. Yeah, it looks a little weird, but we both know that's not why people on the internet are trying to top each other over who can make the better faux vomit noises. We see this crap every time a fast food chain* comes up with a weird-colored burger bun; internet writers (and commenters; you're not off the hook either, here) lose their shit about how what is being done is unspeakable and none of us should suffer the abomination to live.** The most annoying part of this is that some of you are the same people who pine for the days of purple fucking ketchup.
Stop it. Just knock it right the hell off. This crap is worse than when we lost our collective minds because someone put peas in guacamole—and if anything has ever served as definitive proof that the denizens of the internet shouldn't be allowed to operate heavy machinery, it was that entire episode. God, don't even get me started.
G/O Media may get a commission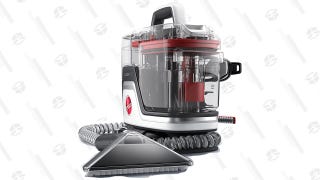 Save $10
Hoover CleanSlate Plus Carpet & Upholstery Cleaner
So yes, you're goddamn right I'd eat a burger with a gray, or blue, or purple bun. If you wouldn't eat any food purely because of the color—if you'd deny yourself something as delicious as, say, squid ink linguine on the basis that the visual concept makes you feel icky in your tummy place—you're a fucking eight-year-old. Have fun with your dinosaur chicken fingers and kindly shut the fuck up so the adults can have an actual conversation about food.
* There's a reason this almost always happens in other countries, where putting the french fries on the sandwich instead of next to it doesn't count as some sort of groundbreaking culinary innovation. Real 'Muricans don't like none of them fancy furren' colors in our food, and our national food tastes are more boring than a Ted Talk about municipal sewage reclamation systems. Americans are fucking terrible.
** Full disclosure: I reacted this way to one of these exactly once. In my defense, that is the single most disgusting thing I've ever seen or of which I could possibly conceive. In a different century, the mind that came up with that would be doing extremely creative things with thumbscrews.
Image via McDonald's China.
---
Contact the author at WilyUbertrout@gmail.com.