The very smart Google employee who concluded that people with balls have more "drive"–and then circulated that conclusion in a 3,000 word thesis in an internal company network–has lost his National Labor Relations Board (NLRB) challenge arguing that Google violated labor laws for firing him in August. Bloomberg reports that in a memo released on Thursday, NLRB associate general counsel Jayme Sophir ruled that "the statements regarding biological differences between the sexes were so harmful, discriminatory, and disruptive as to be unprotected."

James Damore–a man–based his manifesto on key "scientific" points such as:
"Neuroticism (higher anxiety, lower stress tolerance)...may contribute to the higher levels of anxiety women report on Googlegeist and to the lower number of women in high stress jobs."

"Women on average are more cooperative"

"Women on average are more prone to anxiety"
"Women on average look for more work-life balance while men have a higher drive for status on average"

"While I strongly support trying to understand how and why people think the way they do, relying on affective empathy—feeling [emphasis: mine] another's pain—causes us to focus on anecdotes, favor individuals similar to us, and harbor other irrational and dangerous biases. Being emotionally unengaged helps us better reason about the facts."
In an interview after the fact about his feelings, a woman thing, Damore said that he was "hurt" and "betrayed." You can read the argument in its entirety on Gizmodo.
Damore's lawyer, Republican National Committee's Comitteewoman for California Harmeet K. Dhillon, has said that they're now focusing on their class-action suit against the company for discriminatory hiring practices against their Y-chromosomes/job qualifications. The complaint, on behalf of Damore and former Google engineer David Gudeman, argues that they were "ostracized, belittled, and punished for their heterodox political views, and for the added sin of their birth circumstances of being Caucasians and/or males."
G/O Media may get a commission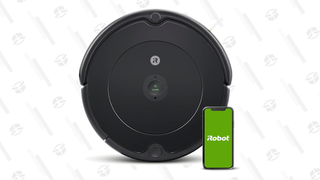 35% Off Black Friday Deal
iRobot Roomba 694 Robot Vacuum
Things women can do: file class-action suits based on data.
Correction: This headline originally contained a word that didn't meet Jezebel's editorial standards.