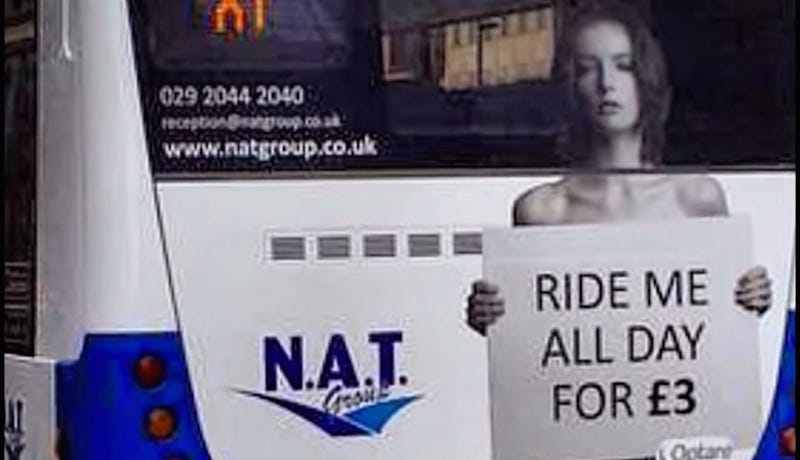 In a society in which "sex sells," who could have thought that putting photos of topless models on the back of buses with signs that read "ride me all day for £3" would be a horrible idea? Certainly not New Adventure Travel.

The Telegraph reports that New Adventure Travel was just trying to undercut the bus competition in Cardiff (their new fares are much lower than anyone else's) when they thought up of the signs and probably didn't expect that regular citizens, much less angel-voiced singer Charlotte Church would come out against them, pointing out how ridiculous it was to promote a money-saving opportunity by suggesting that riding the bus had anything at all to do with "riding a woman." The company was going for "tongue-in-cheek" but ended up with "foot-in-mouth" instead.
Commuter Indianna Murphy said: "This advert is horrendous. Using a naked women and sexual innuendo to promote a bus service is disgraceful and seriously misguided. It makes me seriously uncomfortable."

Customer Marianne Rhiannon said that New Adventure Travel "clearly have a shocking attitude towards half the population".

She added: "This is an absolutely disgraceful advert promoting sexism and rape culture. I will not be using the service until these as removed and assurances are given that women are safe travelling on these buses."
Here's the offending sign, which comes in a variety of female and male forms. According to The Telegraph, witnesses were upset by signs of both sexes, bringing us just one step closer to gender equality through umbrage.
New Adventure Travel released a statement saying that they didn't expect such a negative reaction to their attempted funny ads and will be removing them immediately.

Image via YouTube
---
Contact the author at mark.shrayber@jezebel.com.