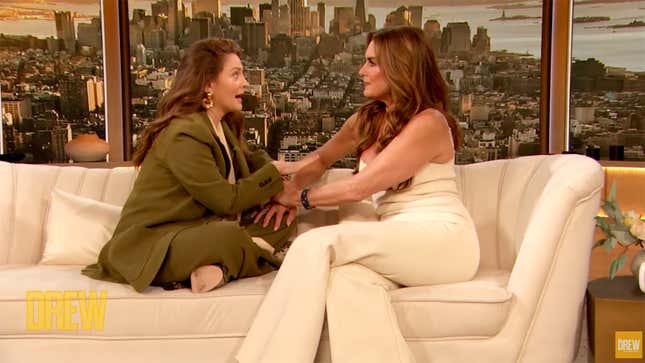 Brooke Shields has been on a press tour virtually all year. It started in January, around the Sundance premiere of the documentary about her life and career, Pretty Baby: Brooke Shields, and remains underway since the doc made its way to streaming (on Hulu) earlier this month. Given how much talking she has done about her past (and talking about talking about her past, as she's shopping a career-spanning documentary), it's astounding that she still has new stuff to say.
Alison Brie on Sex Scenes: 'We Are Actors, This Is Our Job'
But astound she did on Tuesday's episode of the Drew Barrymore Show, in which Shields dropped a bombshell. Barrymore, herself a former child star who appears in the Shields doc (shoelessly, to boot), asked Shields: "My mom, like, went and dated my boyfriends. Did you ever have that weird situation with your mom?" To that, Shields replied, "Um, no because she was in love with me."
She elaborated: "I was her main focus. Both of us were cut off from our sexuality. I was going to stay a virgin. She was going to be just Terri terrific and being there."
Shields has talked about her uncommon closeness with her mother, but to my knowledge, she hasn't quite put it like that before. She further discussed their co-dependency when Barrymore asked her why Terri Shields was typically right by Brooke's side in interviews. "It was: 'No one's gonna get you. I'm gonna be there. I'm there first. You're mine. I'm not going to give you to somebody,'" said Shields, further elaborating that this was done "under the guise of protection, but it was more ownership and fear, I think."
"All I knew was keep my mother alive, keep dancing, and get stuff," added Shields.
Barrymore, who sat cross-legged on the couch, inches away from Shields and sometimes sounded choked up while discussing her young life with one of the few people on the planet who could relate to her upbringing in the spotlight, asked Shields what she made of the #MeToo movement when it emerged. "I experienced so many things that were so inappropriate at such a young age that I'm so confused about what was I accountable for, what did I put myself into, where was I, was I a part of things?" explained Barrymore.
"How did that movement affect you, and did you feel like you could speak to it?" she asked.
"No, because I didn't know where I fell on the spectrum of it," said Shields, whose sexuality was commodified by older male directors like Louis Malle (Pretty Baby) and Randal Kleiser (The Blue Lagoon), but who did not report abuse or resulting trauma, per se.
"I don't know where to interpret my experiences, because I was made to feel culpable and [at] the same time…you victim-shame yourself?" she continued. "But we were so young, and it was so 'appropriate'…I couldn't feel sorry, I didn't even know what it was."
And so, when people began to step up and share their stories about being abused by Hollywood higher-ups, Shields felt adrift. "When it was called out to me as such I was like, 'Nope, uh uh…not going there,'" said Shields. To that, Barrymore responded, "Me too!"