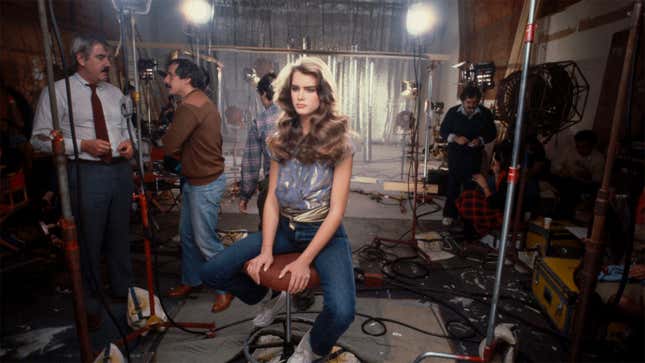 "You couldn't make Pretty Baby now," Brooke Shields concedes in Hulu's upcoming two-part documentary on her life, which premiered Friday at the Sundance Film Festival. "Or a Blue Lagoon. Or Endless Love." Even before the string of movie roles that sexualized a young Shields, her modeling was pushing in that direction. In addition to 1980's Blue Lagoon and 1981's Endless Love, the notorious 1980 ads Shields shot for Calvin Klein jeans further commodified her supposed sexuality: "Do you know what comes between me and my Calvins? Nothing."
Mica Burton's Rebellion Against Her Dad, LeVar Burton, Was Being a 'Star Wars' Fan
One could make the case that Shields' early career, as shepherded by her momager Teri Shields, was built on the notion of child as a sex object—and in a certain way, that is the case that the Lana Wilson-directed documentary does make, albeit with a good deal of compassion and context. But it is the 1978 film Pretty Baby by Louis Malle that remains the most notorious project in her body of work. To Shields' quoted point, it's astonishing that it got made, as it portrays the 12-year-old daughter of a sex worker in a New Orleans brothel whose virginity is auctioned off. As chronicled in the doc, Pretty Baby: Brooke Shields, the movie was extremely controversial, even by the wild-west standards of '70s cinema, not only for its plot but for Shields' nudity (she was 11 when she filmed it).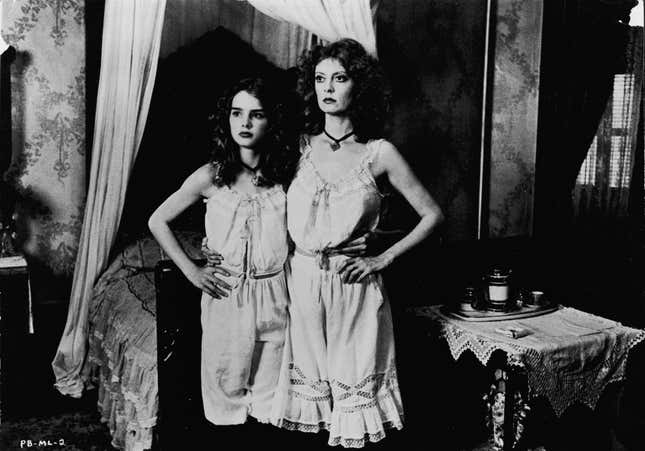 "America's Newest Sexy Kid Star," read one headline announcing Shields' casting. "World's youngest sex symbol?" read another. From the cover of People: "Pretty Baby - Brooke Shields, 12, stirs a furor over child porn in films." In an interview for the film's release that's featured in the doc, a preteen Shields said: "I knew it was going to be done in good taste…and it wasn't any porno movie so I didn't feel so bad about it." Today, at age 57, she has maintained much of this attitude. She says she "knew" the movie was "a real artistic endeavor." She speaks about filming in practical terms: "I wanted to make everyone happy with the job that I was doing. When it came to acting, no one helped me. I was there to say these lines, to do it without any education about how to do it. That's what Louis wanted."

She doesn't offer much new insight on the making of Pretty Baby, either. She wrote about it pretty extensively and unapologetically in her 2014 memoir There Was a Little Girl, and she's previously shared the story of her onscreen kiss with Keith Carradine, 29 at the time, which was her first ever. She scrunched up her face and received admonishment from Malle, but was able to perform it after Carradine took her aside and told her, "This doesn't count. It's pretend. This is all make believe." In the doc, she does reveal that dissociation, like that which Carradine suggested, helped her do her job: "I think I learned to compartmentalize at such an early age, and it was a survival technique: That's not my life. That's not who I am." But where Shields is today isn't that far off from the tone of dismissal—a certain nonchalance—that she adopted in a 1981 interview with Phil Donahue: "I did it just as another job and I didn't take it seriously, like I was going to grow up to become a prostitute or anything." Maybe she's just pragmatic.
More incisive comments come from the doc's cultural-critic talking heads. "Is Pretty Baby a critique of the sexualization of young girls, or is it intentionally ambiguous? Louie Malle does not tell you how to feel about it," says one, positing the movie as a Rorschach test. That Malle was praised for the film while Teri Shields' parenting was openly questioned "is a whitewash of what is actually happening and what is happening systemically," according to another expert. Certainly, that there would be a market at all for Shields' supposed sexuality (a market so hungry that it promoted her to icon) says more about greater culture than any one of its constituents.
Make no mistake: Shields is a fascinating constituent. Perhaps no single person has embodied the Madonna-whore complex in American pop culture as thoroughly as she. When she was 15, she shot Randal Kleiser's The Blue Lagoon, a story about two teens stuck together on an island. "They wanted to make it a reality show," recalls Shields of what would become a massive hit. "They wanted to sell my actual sexual awakening." But, she points out, "The irony was, I wasn't in touch with any of my own sexuality." In fact, in her 1985 book On Your Own, she revealed that she was a virgin, creating another avenue for the press's obsession. If they couldn't get enough of her invented sexuality, that it was nonexistent put the media in overdrive.
There's perhaps even more irony that the two-hour-plus doc fixates on Shields' sexuality and love life (losing her virginity to Dean Cain, her marriage to Andre Agassi, and Michael Jackson lying about dating her are all covered). You get the sense that her sexualized image is one that she'll never escape, that all she can settle for is perspective on it. She also opens up about being raped—it occurred after she graduated from Princeton and tried to get her career back on track. She says she met with an unnamed filmmaker and went back to his hotel room, where he disrobed and jumped on her. "It was like wrestling," she says. She discusses her mental calculus during the time, fearing he would grab her if she attempted to run out. So she froze, prioritizing staying alive and getting out.
"God knows I knew how to be disassociated from my body. I practiced that," she says, threading the needle of the doc's focus. Her comment, coming when it does, provides a subtle and devastating call back to her description of learning to compartmentalize in her youth.
Recently shot fly-on-the-wall scenes of Shields' life are sprinkled in, and none is more effective than one of the doc's final scenes, when she discusses her work with her teenage daughters, Rowan Francis and Grier Hammond. When one mentions hearing about Pretty Baby on TikTok and not wanting to watch it, Shields attempts to contextualize: "It was a true story about something that happened in the early 1900s. So to depict that now would not be [permissible]." She tells her daughters that she's "nude twice" in the movie, which one labels "weird."
"What's weird about that?" asks Shields. "It's called child pornography…technically," answers Rowan Francis. In what reads like consolation, Grier Hammond offers, "You were 11, you weren't mature enough to be making your own decisions."
And then, perhaps the most telling moment of the entire documentary: Rowan Francis asks if her mother would have allowed her daughters to appear in such a movie at age 11. Her mother's answer? A simple, resounding, "No."