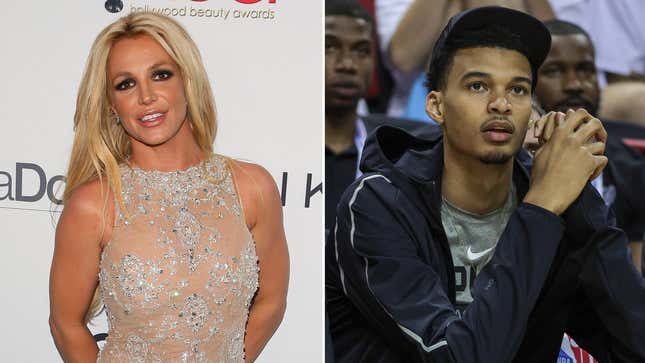 In a Tuesday night Instagram video, Britney Spears addressed people who are saying that she "deserved to be smacked" for approaching NBA star Victor Wembanyama in Las Vegas last week.

This incident, you'll recall, involved a security guard (Damian Smith, the Spurs' director of team security) for Wembanyama who appeared to push Spears' hand back after she tried to tap the basketball player on the shoulder. After being pushed, TMZ video later showed that Spears' hand appears to hit her face and nearly knock her glasses off.
The confrontation sparked some fairly nauseating online debate over whether Wembanyama's security guard had acted appropriately. Some people (like the radio host Spears references but doesn't name), argued that Smith was just "doing [his] job and protecting their client."
Spears disagrees. "I've been with the most famous people in the world. NSYNC, at one time, girls would literally throw themselves at them," she said in her Instagram post. "On my way into the place, I was knocked down by, like, three 12-year-olds trying to get my picture. My security, not one time, touched them or even came near them." On top of all of this, the singer emphasized that she didn't "deserve to be hit because no woman ever deserves to be hit."
Spears' comments on Tuesday echo her statement last week in which she called the incident "traumatic" and lamented that "physical violence is happening too much in this world." She says she's still yet to receive a public apology from Wembanyama or the Spurs organization, which she said in her statement last week that she'd appreciate.
Shortly after TMZ first reported on the Wednesday night incident, Wembanyama addressed it in a Thursday interview. He recalled that something had happened but he didn't know until hours later that it was Spears who had approached him. He claims he didn't "see what happened" and didn't "know with how much force but security pushed her away."
Spears' camp filed a police report against Smith over the incident, but by last Friday, local police announced that no charges would be filed.