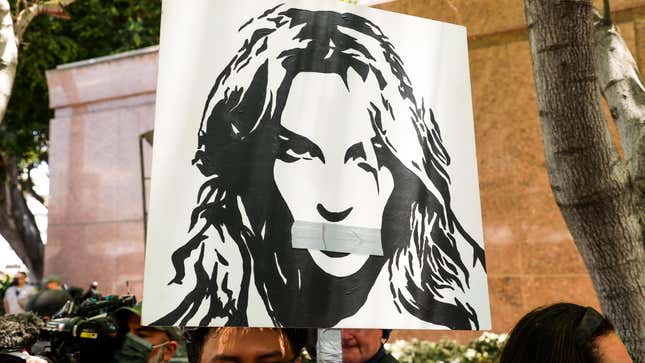 In a lengthy reported feature for The New Yorker, journalists Ronan Farrow and Jia Tolentino unearth harrowing new details about Britney Spears already quite harrowing 13-year conservatorship. Among them:

Britney Spears Escapes Family Drama By Going to First Bar
Britney called 911 on the eve of her conservatorship hearing in June to report that she'd been the victim of conservatorship abuse
Remember that night in 2008 when she was wheeled out of her home on a gurney and involuntarily hospitalized after locking herself in a bathroom with one of her sons? Turns out she was upset and distressed over her custody arrangement with ex-husband, Kevin Federline, and wanted more time with her kids.
Her dad, Jamie Spears, allegedly yelled "I am Britney Spears!" while establishing his daughter's conservatorship, from which he ultimately benefited greatly.
Many of the people close to Spears around the time her conservatorship was set up, including a court-appointed monitor and one of the psychiatrists who provided the necessary declaration that she lacked mental fitness, agree that her conservatorship should have ended by now.
Jamie was allegedly more concerned about Britney's weight gain than her mental health through all this.
Her dad also fired everyone who'd previously worked for her before the conservatorship was established, effectively isolating her. He also didn't let her have a phone and would have any phone snuck into her possession confiscated.
Industry folks that Britney had often worked with like makeup artist Billy B. noticed how distant and closed-off she'd become by around 2012.
Kim Vo, Spears' former hairstylist, implied that Britney's conservators got rid of her boyfriends whenever they got "too close."
Britney already talked about this in her June hearing, but the IUD she's not allowed to take out...just appalling.
Read the full feature here.