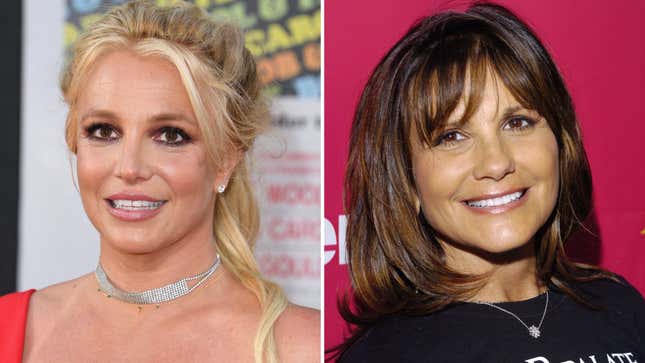 Britney Spears Escapes Family Drama By Going to First Bar
With reserved optimism, I'm happy to report that Britney Spears has spent the afternoon with her mom Lynne Spears for the first time in over three years. And it seems like it went well?! Nice, even?! World fame and conservatorship aside, spending time with with your mom always runs the risk of drama. So it's encouraging to hear this reunion went...OK!
Britney posted on Instagram last night that her mom showed up to her door after not seeing her for three years. In classic fragmented Britney prose, along with a photo of herself as a child, she captioned the post:
"it's been such a long time … with family there's always things that need to be worked out … but time heals all wounds !!! And after being able to communicate what I've held in for an extremely long time, I feel so blessed we were able to try to make things RIGHT"
While it was Britney's dad, Jamie Spears, who was in charge of her conservatorship, Britney has suggested in the past that it had been her mother's idea. Right before the conservatorship was lifted Britney wrote in a now deleted Instagram post, "I will never get those years back. [My mom] secretly ruined my life… So take your whole 'I have NO IDEA what's going on' attitude, and go fuck yourself," she went on."
Almost a year later, Lynne posted a photo of her and her daughter on Instagram after Britney released a 22 minute diatribe on Youtube detailing her "abusive" conservatorship.
" I have never and will never turn my back on you! Your rejections to the countless times I have flown out and calls make me feel hopeless! I have tried everything. I love you so much," part of the post read. It's been a tumultuous journey, to say the least. I'm glad they've at least taken their communication off social media and are spending time with one another in person.
Britney ended her Instagram caption with an allusion to the (many more than three) years of family turmoil amid the conservatorship: "I'm so blessed we can have coffee together after 14 years !!! Let's go shopping afterwards !!!" Considering all of the trauma this family has gone through and the roller coaster of obstacles they've endured- I think a casual approach like coffee and shopping is the perfect level of intimacy these two should take on at the moment. Keep it light, keep it fun. Maybe we can get Lynne twirling in some low-rise jeans alongside her daughter. That would be nice. :)
---