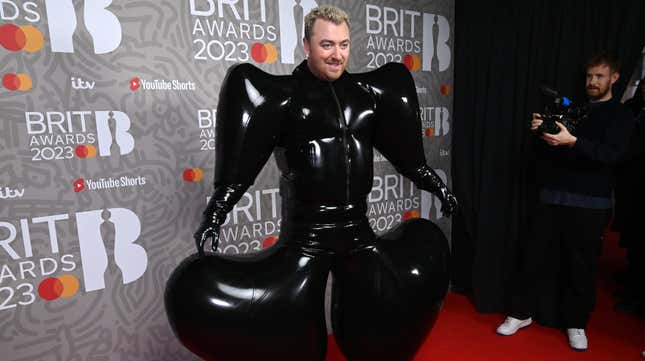 Update, 5:15 p.m.: Harry Styles did, in fact, win Artist of the Year. "I wanna thank my mum for signing me up for the X Factor without asking me," he said in a charming acceptance speech. "I also wanna thank Niall, Louis, Liam and Zayn." 
The Brit Awards, the biggest night of the year in British music, kicked off on Saturday at the O2 Arena in London, hosted by Mo Gilligan. I am fully expecting Harry Styles to sweep in every category, especially considering that his new album is apparently better than Beyoncé's Renaissance. Perhaps it also helps that not a single woman was nominated alongside him this year in the now-gender-neutral Artist of the Year category, which...is an interesting choice, I guess, considering the wealth of options.

Amid blowback to all five nominees being male, a spokesman for the Brits told HuffPost:
"We are pleased to see Wet Leg leading the nominations with four nods and FLO winning the Rising Star, and artists such as Nova Twins also included in this year's shortlists, and while it's disappointing there are no nominations in the Artist of the Year category, we also have to recognise that 2022 saw fewer high profile women artists in cycle with major releases as was the case in 2021.
"These trends based around the release schedule are a feature of the music industry, but if, over time, a pattern emerges, then this puts the onus on the industry to deal with this important issue – and the BPI is already carrying out a major study to identify barriers that may inhibit more women becoming successful in music, so that there can be solutions that result in meaningful change."
Bit of a head-scratcher, that statement is.
Anyway, the celebrities really brought it to the red carpet carpet this year; they wore a lot of black and showed a whole lot of skin. Let us momentarily forget about gender politics and feast our eyes instead on some beautiful fits.