Michelle Fields, the Breitbart reporter who alleges she was physically assaulted by Donald Trump's campaign manager Corey Lewandowski, has filed a criminal complaint, according to the Independent Journal Review.

Fields says she tried to ask Trump a question about affirmative action, but was interrupted when Lewandowski grabbed her arm.
On Thursday, Politico published a transcript of audio of a conversation between Fields and Washington Post reporter Ben Terris that took place shortly after the confrontation:
Terris: "You OK?"

Fields: "Holy sh*t."

Terris: "Yea he just threw you down."

Fields: "I can't believe he just did that that was so hard. Was that Corey?"

Terris: "Yeah, like, what threat were you?"

Fields: "That was insane. You should have felt how hard he grabbed me. That's insane. I've never had anyone do that to me from a campaign."

Terris: "Can I put that in my story?"

Fields: "Yeah, go for it — that was really awful. That's so unprofessional."

Terris: "He really just almost threw you down on the ground."

Fields: "He literally went like this and was grabbing me down. "I don't even want to do what he just did to me. Oh my God, that really spooked me that someone would do that."

Terris: "What threat were you?"

Fields: "Nothing. I was asking about affirmative action."

Terris: "And he probably knows you, right?"

Fields: "Yeah, I don't understand. That looks horrible. You're going after a Breitbart reporter, the people who are nicest to you?"

Terris: "I know, I'm going to put it in my story."
Lewandowski has been tweeting articles from troll-bait website GotNews.com denying the encounter took place.
G/O Media may get a commission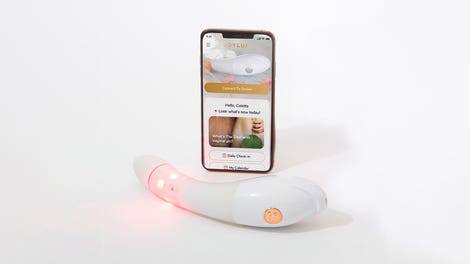 $50 Off
Joylux vFit Gold Device
Lewandowski also cites a Breitbart article by Joel B. Pollak which argues that the incident did not happen as Fields said it did, but offers that if it did, the offender might have been a security guard, and not Lewandowski. Terris denies that possibility. The Daily Beast reports that a source claims Lewandowski told Breitbart's Washington political editor Matthew Boyle that he did grab Fields because he thought she was a member of the hostile, mainstream media.

On Thursday evening after the debate, Trump suggested Fields "made the story up." The Trump campaign issued a statement on Friday morning:
"The accusation, which has only been made in the media and never addressed directly with the campaign, is entirely false. As one of the dozens of individuals present as Mr. Trump exited the press conference, I did not witness any encounter," a statement reads. "In addition to our staff, which had no knowledge of said situation, not a single camera or reporter of more than 100 in attendance captured the alleged incident."
Update (4:15 p.m.): Breitbart spokesperson Kurt Bardella has resigned.
"When you can't give an organization 100 percent of your ability," Bardella told BuzzFeed News, "the best thing to do is move on just for yourself and for them."
When asked if he was departing because of the organization's handling of Fields' assertion, he said he wouldn't say it himself, but "it would be fair for you to say that."
"What I personally feel is one thing, but as someone who's supposed to represent them at the public-facing side of this, I was at the point where I couldn't give 100 percent of myself and best thing to do was to let them know that."
---
Contact the author at joanna@jezebel.com.