Sometimes, racism in the modeling industry is semi-coded in euphemisms. In Brazil, on the other hand, a top modeling scout studies maps of colonial history to scout for European blondes. Hey, it's what the market wants!
With its story today, The New York Times is not the first to observe the efforts to spot the next Gisele Bundchen in her native southern Brazil. It is, however, the first to explicitly report out and draw attention the racial implications of all this for a broad audience.
Writes Alexei Barrionuevo:
The goal, he and other model scouts say, is to find the right genetic cocktail of German and Italian ancestry, perhaps with some Russian or other Slavic blood thrown in. Such a mix, they say, helps produce the tall, thin girls with straight hair, fair skin and light eyes that Brazil exports to the runways of New York, Milan and Paris with stunning success....Scouts say that more than 70 percent of the country's models come from three southern states that hardly reflect the multiethnic melting pot that is Brazil, where more than half the population is nonwhite.
G/O Media may get a commission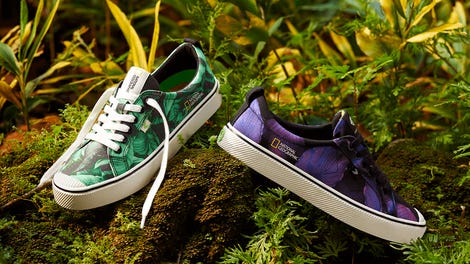 New New New
Cariuma + National Geographic
If it were any more explicit, these scouts — with the beauty and fashion industry behind them — might as well be citing Josef Mengele.
The packaging of Gisele — of recent German and Italian immigrant descent — as an exotic, fiery beauty says a lot about our fucked-up notions of race and beauty. In this imagining, Gisele is both foreign and familiar: white and blonde yet deeply tanned, a Barbie-like body that is somehow vaguely associated with what we think of as Brazilian curves.
Although Brazil's complex set of racial identifications makes exact counts difficult, the country has the largest population of people of African descent outside of Africa. Barrionuevo notes that the econoic conditions of black Brazilians are rapidly improving, and names several darker-skinned pop culture figures within Brazil to note the dissonance between Brazil's own beauty ideals and the one it exports.
The implication in the story is that the Brazilian scouts are merely meeting the market demand for fair-skinned, blonde girls, while maintaining their own standards at home. At the time that The Wall Street Journal wrote about Dilson Stein, the ex-model turned scout who discovered Bundchen, he had never even been outside Brazil, but he clearly knew what the foreign demand was.
It's a common refrain in Brazil that racism doesn't exist there — I heard it from people of all colors when I spent a few months there, and the existence of this myth is well-documented in academic literature — because everyone is so mixed, and that Brazil's only problems are class problems. Not like the U.S., it would often be added, which is so racist.
But among other evidence that disputes that the U.S. is alone in its racism, why else would a recent São Paulo Fashion Week include only 28 black models among 1,128, according to The Times? After a discrimination lawsuit, the organizers have "been forced by local prosecutors to ensure that at least 10 percent of its models are of African or indigenous descent." By all appearances, in addition to exporting blonde adolescents, Brazil has long been importing European-minted beauty ideals.
In the excellent accompanying video (sadly not embeddable), both Stein and Alessandra Ambrosio suggest that darker-skinned girls or even "real women" are coming into fashion, which may rob the southern state of Rio Grande do Sul of its modeling supremacy. We'll believe it when we see it.
Off Runway, Brazilian Beauty Goes Beyond Blond [NYT]
Related: In The Brazilian Farm Belt, A Hunt For The New Gisele [WSJ via DilsonStein.com]