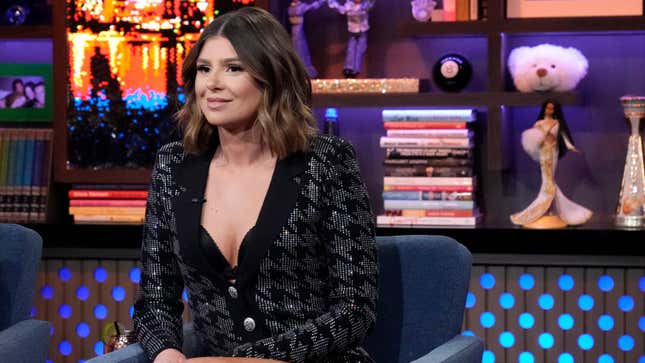 Just when you thought you'd heard enough about Scandoval, the cast has already begun filming Vanderpump Rules' next (11th!) season. And it looks like the entire cast may be returning, including the woman at the center of last season's television-shattering cheating scandal: Raquel Leviss.
Raquel Leviss Told Us 'I'm Like, A Good Person' Just 48 Hours Before #Scandoval
According to TMZ, Bravo didn't want to start negotiations with 28-year-old Leviss until she left the mental health facility she's been staying in since filming the Season 10 reunion back in March. But sources told TMZ that she is set to do exactly that "soon"—so they've apparently already begun contract talks in earnest.
Aside from money, clout, and notoriety, I'm not sure why Leviss—who infamously was the woman with whom Tom Sandoval cheated on his longtime girlfriend, Ariana Madix—would even consider returning the show. Perhaps for vengeance, but if I were her friend, I would strongly recommend she protect her peace and stay the fuck away from reality television for good.
She is, of course, an adult who consented to be in super inappropriate relationship with a co-star, but Vanderpump Rules is also where she met said manipulative narcissist co-star (Sandoval), who turned her life upside down. Now, all the friendships Leviss made on the show have been destroyed. Why launch herself back into the cannon only to get lit up all over again?
But reality television producers love a wounded woman to exploit and I'm sure are sweetening the deal for her. Sources told TMZ that, in the gossip rag's words, "production is ready when she is ready."

---