They definitely don't, OK? They're dolls!
Yesterday, we got a press release that, "Just in time for the 58th GRAMMY® Awards, Bratz are back with a new music-minded collection that inspires and encourages kids to explore different genres of music from retro swing and hip hop to country and electronic dance." The collection includes four dolls who have each been assigned a genre (above is "Electro Pop Jade," who is a doll and couldn't do molly if she tried because her mouth won't open, OK GUYS)—as well as a "Vibes Tent."
VERY TIGHT! I was alerted to the existence of the Bratz Music Festival Vibes Tent by my coworkers, who know that I am essentially a human version of a Music Festival Bratz Doll named "Electro Pop Jade."
Uh...Kelly? It's a vibes tent? And we all know what happens in the vibes tent! "Damn," I thought. "Bratz edgy as fuh."
G/O Media may get a commission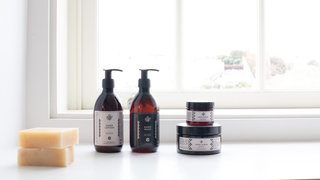 Exfoliate and Hydrate
The Handmade Soap Company
I blogged a quickie:
These dolls love music, so they are going to Bratzaroo and Bratzchella, toting their lucky "vibes tent" that keeps them safe before they take some bratz molly and get trampled at the Bratzadamus EDM set. The Bratz Music Festival Vibes tent includes a "guitar accessory, a bonfire, and 2 smoothie cups," and the death knell of uncommodified experience continues apace.
This morning, I received a message from Bratz PR saying:
The client has reached out in regards to some of the messaging. They would really love to have "bratz molly and get trampled at the Bratzadamus EDM set" edited out.
OK. Well, I can't change the past, but I can change the future. So, once and for all, Bratz Dolls do NOT do molly and they do NOT like big-tent EDM! They would never!!!!! This collection isn't about that!!!!!! It's about encouraging kids to listen to music and buy iTunes downloads of the artists nominated for Grammy® awards!
I am sorry, Bratz—admittedly, Electro Pop Jia over here can be a real bitch sometimes—but brands should be warned: don't align a toy collection for children around the music festival, an institution that serves almost exclusively a portion of the population that really, really loves drugs.
---
Contact the author at jia@jezebel.com.

Image via Bratz, Shutterstock. Photoshop by Bobby Finger.