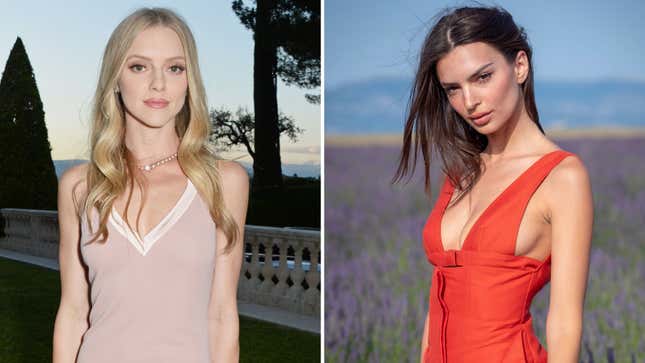 A little over a year after Emily Ratajkowski first accused Robin Thicke of sexually assaulting her while filming the "Blurred Lines" music video back in 2013, Elle Evans, another model on the set, has corroborated Ratajkowski's claims in an interview with Bustle published this week. Evans didn't recall witnessing Thicke grope Ratajkowski firsthand, but she did recount how much things shifted on set after Ratajkowski and Thicke finished filming their one-on-one scenes.

Paulina Porizkova On The Hypocrisies Models Must Navigate
"All the stuff with Emily and Robin there together, that was a closed set. So they had no one else watching," she said. "But what I remember is that, toward the end of the shoot, Emily did leave very abruptly. There was kind of a bit of a scramble among the production team, like, 'What are we gonna do? How do we shoot the rest of the video without her?'"
In Ratajkowski's memoir, she described the alleged assault:
Suddenly, out of nowhere, I felt the coolness and foreignness of a stranger's hands cupping my bare breasts from behind," she wrote. "I instinctively moved away, looking back at Robin Thicke. He smiled a goofy grin and stumbled backward, his eyes concealed behind his sunglasses. My head turned to the darkness beyond the set. ["Blurred Lines" director, Diane Martel's] voice cracked as she yelled out to me, "Are you okay?"
Shortly after Ratajkowski's allegation emerged in 2021, Martel, speaking with the Sunday Times, confirmed that the incident happened, claiming that Thicke had been drunk and "sheepishly apologized" to Ratajkowski afterward. "I don't think he would have done this had he been sober," the director said, which might be true but certainly doesn't matter. You may recall that at the time, Ratajkowski was in her very early 20s and just coming up in a notoriously predatory industry.
Thicke, who's never addressed Ratajkowski's allegation, has also yet to face a single consequence for it. His alleged behavior in that instance isn't an anomaly: In 2017, a judge granted his ex-wife Paula Patton a restraining order against Thicke after she accused him of being physically and emotionally abusive during their marriage. Per USA Today:
Patton's sworn declaration includes several allegations that Thicke was abusive during their marriage and pushed her to the ground and kicked her during a fight in April 2013. … Her attorneys cited a California law that Thicke's behavior during their marriage made Patton currently feel a "reasonable apprehension of imminent serious bodily injury to herself and the child."
And yet, Thicke remains gainfully employed as a judge on Masked Singer, where just this week, audiences fawned over a supposedly heart-warming moment between him and a contestant who sang his late dad Alan Thicke's favorite song.
It just can't be emphasized enough at this point that "cancel culture" for allegedly abusive men isn't real. Social media-driven outrage cycles are extremely sporadic, and when accountability for powerful men relies exclusively on what is or isn't being talked about on the internet, many abusive people will simply keep moving through their lives and careers unscathed.
In Thicke's case, these aren't even "he-said-she-said" situations—he has never once publicly denied Ratajkowski's allegation. And while he denied Patton's allegations in court, the judge certainly found them credible enough to grant her a restraining order. It's all fairly cut and dry: People in power simply don't care about violence against women enough to allow it to cut into their profit margins.