Here is one thing I probably have in common with Angelina Jolie: I have no desire to see Billy Bob Thornton and Brad Pitt in a movie together.

Regardless of my desires and also most likely Angie's, Billy Bob Thornton recently told Playboy that if the opportunity presented itself for him and his ex-wife's soon-to-be-ex-husband to star in a movie together, he'd be down.

"This might surprise people, but I'd love to do a movie with Brad Pitt. I think we'd be great together. We'd play a couple of Southern guys," he said. Hmm. Okay. Maybe you have my interest. I'm picturing some sort of Thelma and Louise romp, just two dudes on the run from some unseen villainous force. I'd also take a weird sort of Brokeback Mountain redux, just for fun.
For the record, Billy Bob and Angelina still sort of keep in touch, though he hasn't reached out to her since her very public impending divorce. "Every now and then we talk, you know? Whatever," he said. "But when people are going through their trials and tribulations I try to leave them alone unless they want to talk to me."
That's a great rule to live by, bud.
[People]
---
Hold onto your butts, people: Prince Harry and Meghan Markle have been wearing matching bracelets for at least a month!!!! Matching bracelets!! Love! Passion! Amour!!
G/O Media may get a commission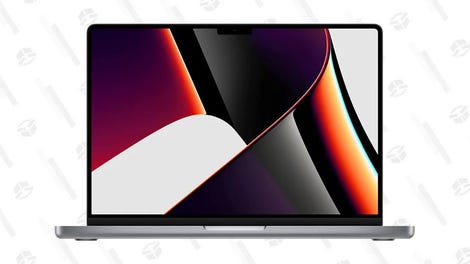 Save $300
2021 14" 1TB MacBook Pro
Here's a heavily-filtered #TBT of Meghan, taken in the UK if her hashtags are to be believed (they are). Focus your attention not on that lovely patio table but on the blue beaded bracelet adorning her wrist. Sear its likeness into your brain.
Here is a photo of the Ginger One.
LOOK AT THAT BRACELET IT'S THE SAME AS HER BRACELET THEY ARE CLEARLY MEANT TO BE TOGETHER FOREVER.
[E! News]
---
Edited to clarify that Casey Affleck and his accent are not dating Supergirl, but an actress from the show.